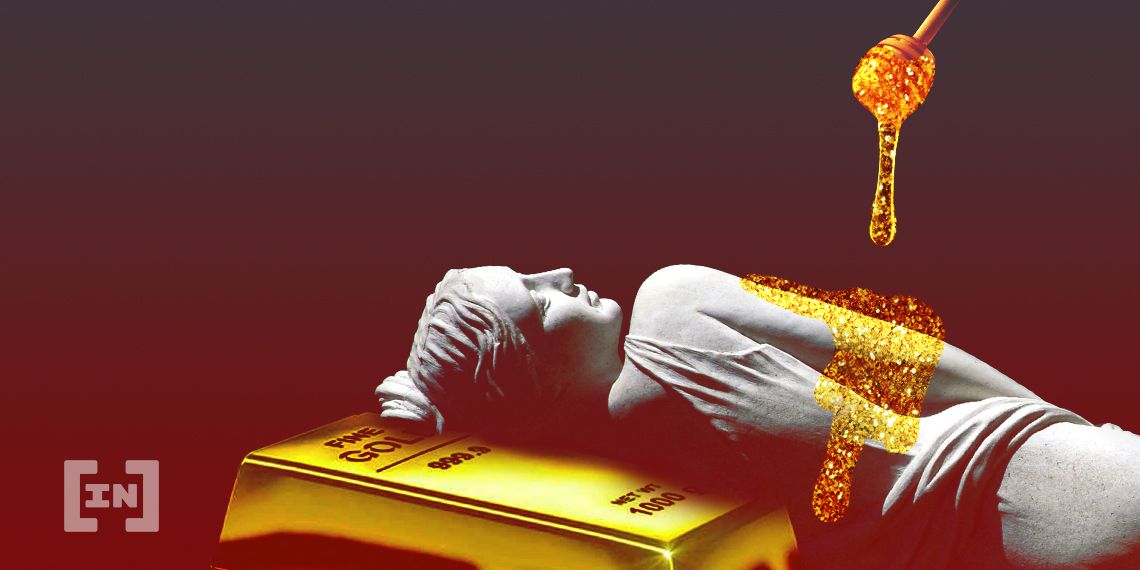 Shorter Alternative:
XAU/USD Aims for ATH, Gold Price Break $1,800, Trade Gold's Next Big Move With PrimeXBT
Gold and silver are just one of many markets offered by the award-winning Bitcoin margin trading platform, PrimeXBT, in addition to cryptocurrency, commodities, stock indices, and forex.
But few of the markets offered on the advanced trading platform have the momentum behind it that gold does.
Cryptocurrencies are just now beginning to build momentum following a prolonged downtrend, and stock markets are reeling after a record collapse following new all-time highs being set.
Even the relatively stable forex market has been on fire due to the dollar weakening under the current economic conditions.
The World's Safe Haven Asset Shines as It Should
Those same economic conditions are precisely why gold is one of the top traded assets by volume on PrimeXBT.
Gold has long been considered a safe haven asset during economic turmoil and a hedge against inflation.
When the dollar first detached from gold's backing, the asset was trading at around $35 an ounce. Decades of inflation resulted in gold's historic climb to over $1900 an ounce at its all-time high.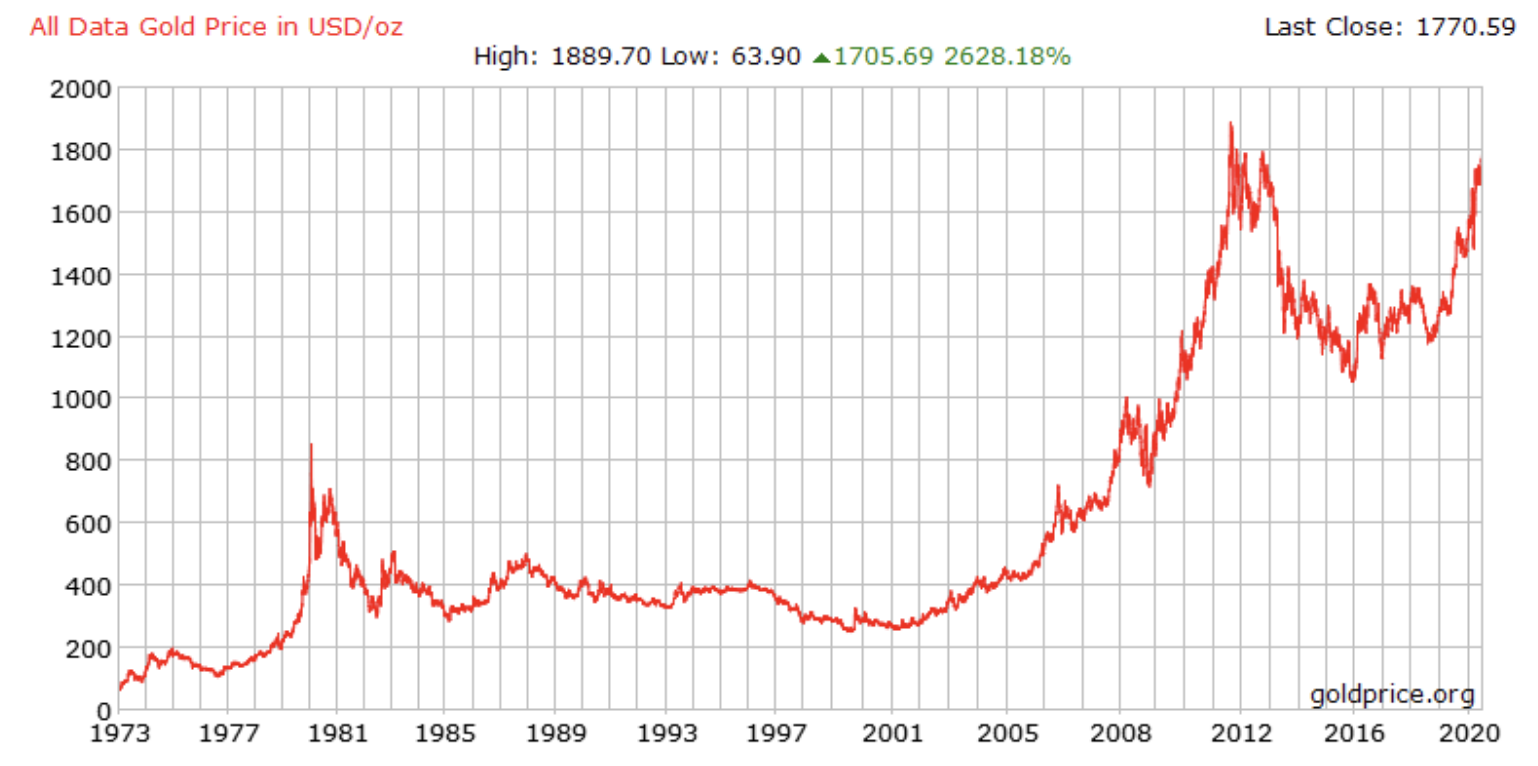 This record was set during the Great Recession that saw the creation of Bitcoin. The cryptocurrency was designed as a solution to the major bank and corporate bailouts going on at the time.
While Bitcoin was taking its first baby steps, gold went on a powerful bull run.
XAU/USD Hits Highest Level Since 2011. Breakout to New All-Time High Possible?
Now, XAU/USD breaking out as the price of gold has reached $1,800 – a price last seen in 2011. This is also a price that takes the precious metal close to a new all-time as it lines up $1,920.
If the asset can carry on building, a push higher to retest all-time high prices will be next. A pullback, however, cannot be ruled out.
Gold has grown by over 40% and $500 an ounce since the start of 2019. It has recovered over 70% from the low set in 2016 and has been on a slow and steady climb since.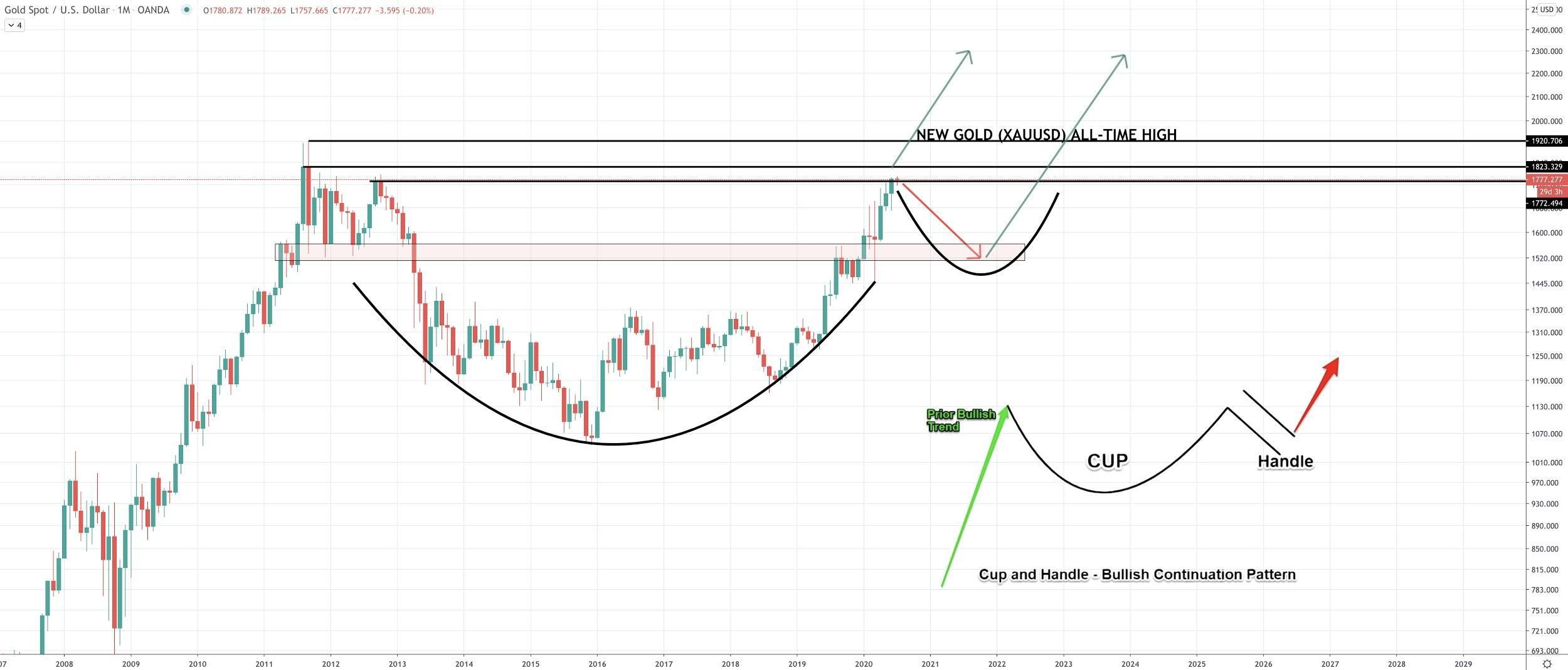 Any pullbacks to roughly the $1,500 range would be an ideal area to find higher timeframe support. This would also set the stage for a cup and handle chart pattern, which is typically a bullish continuation pattern.
Technical Indicator Shows Uptrend Has Strength, Continuation Likely
Further upside in the precious metal market is highly likely. Hyperinflation is coming due to the ongoing efforts to print more and more stimulus money to save a dying economy.
Smart investors are moving their capital to gold to protect themselves from the coming storm. If the dollar collapses, by as much as 35% against some forex currencies, it could be the catalyst for an explosive move in XAUUSD charts.
Gold is also showing a powerful uptrend brewing on the Average Directional Index. The indicator suggests healthy continuation either through a breakout from resistance now or after a pullback and cup and handle pattern confirmation.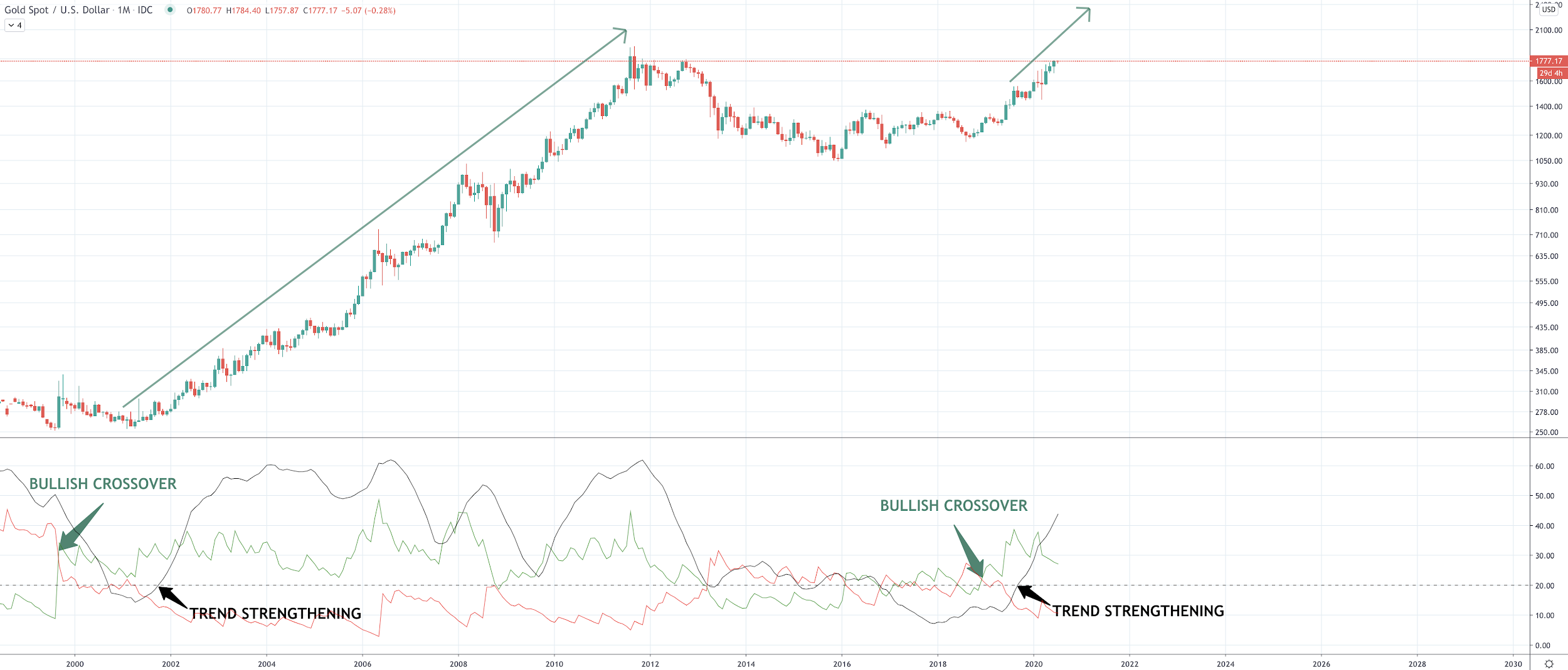 In the chart above, the last time the ADX read over 20 and kept going, profitable gold trading strategies would have called for a long position that could have been held all the way to an all-time high.
The ADX only recently broke above the 20 reading, suggesting that this trend is only just getting underway now, and has a lot left to go.
Long or Short Gold's Next Major Move With PrimeXBT
If gold does pullback, it is potentially a short on the XAUUSD trading pair, back down to support around $1,500 where the handle may form. Below that, the uptrend may be in jeopardy.
However, according to the ADX, traders may be better off taking a long position, or waiting to long the dip in gold markets, to ride this current uptrend to new record highs.
Whatever the plan, PrimeXBT, an award-winning margin trading platform, has all the tools traders need to get prepared for gold's next significant move.
Technical analysis indicators like the ADX can tip traders off as to trend direction and strength. Other indicators can assist with short term breakouts and pullbacks, while stop-loss orders protect capital and take profit orders to maximize returns.
With gold ready to set new records and already has shown explosive growth, it is causing a modern-day gold rush to PrimeXBT and a surge in traders flocking to the XAUUSD trading pair.
Register for PrimeXBT today and get your long or short limit order set.
The post XAU/USD Heading for New All Time High as Gold Price Break $1,800, Trade Gold's Next Big Move With PrimeXBT appeared first on BeInCrypto.
Source: Be In Crypto