Cameron and Tyler Winklevoss have jumped into the bitcoin price prediction fray. Winklevoss Capital, which provides capital to entrepreneurs, has published a thought piece, making the bullish case for bitcoin $500K.
To be clear, it's not one of those random price predictions of bitcoin reaching the moon by next Friday. Instead, Cameron and Tyler do a deep dive into the history of store-of-value assets — with a focus on gold, oil, and the U.S. dollar — ultimately drawing the conclusion that bitcoin is the true "long-term protection against inflation."
If there ever was a time to hedge against inflation, that time has come. @tylerwinklevoss and I make the case for $500K #Bitcoin
https://t.co/VwCdEh6uzG

— Cameron Winklevoss (@winklevoss) August 27, 2020
Bullish Camp
Cameron and Tyler Winklevoss are joining a chorus of many in the bitcoin community who can see the writing on the central bank walls.
Hard not to be excited about #Bitcoin in today's environment:

– emerging and empowered gen-Z investor base
– growing distrust of govt
– social unrest
– low yields on almost every asset class
– US Fed printing trillions of $

Store of value + asymmetric upside potential.

— Zachary DeWitt (@ZacharyDeWitt) August 27, 2020
The Winklevoss twins are also joining the ranks of some other perma-bulls that have put their pride on the line as well. Venture capitalist Tim Draper is targeting BTC $250,000, while Max Keiser of the Keiser Report is predicting BTC $28,000 before a pullback that ultimately catapults the price to the six-digit range.
One, Two Punch
In their argument, the Winklevosses go into great detail on the problems with store-of-value assets gold, oil and the U.S. dollar. For the purposes of this article, we'll focus on bitcoin's chief rival asset, which is precious metal gold. Suffice to say that the supply of the USD has ballooned by $3 trillion since the onset of COVID-19 thanks to a dovish Fed and aggressive money printing.
Oil can no longer be considered a reliable asset, given the changes in the supply/demand dynamic in large part due to the pendulum swinging toward renewable energy and lower carbon footprints, not to mention storage issues that sent the price of WTI oil tumbling to negative territory in the spring.
A solution for the root problem. #Bitcoin pic.twitter.com/XoW92PBycj

— Kraken Exchange (@krakenfx) August 27, 2020
Bitcoin vs. Gold: It's the Scarcity, Stupid
Bitcoin's rivalry with precious metal gold has been well documented, igniting debates between the two camps despite some correlation.
Bitcoin = digital gold

Uncanny correlation during J-Pow's speech. pic.twitter.com/rAeGHtohjL

— Mati Greenspan (tweets ≠ trading advice) (@MatiGreenspan) August 27, 2020
Despite their similarities, there are also key differences. For instance, it's a known fact that the bitcoin supply is finite and capped at 21 million coins being mined. Gold, on the other hand, while considered scarce on earth, is less known when you consider the supply in the galaxy. The Winklevoss twins state:
Scientists believe that asteroids contain a plethora of metals, including gold, and have compiled a database of over 600,000 asteroids and their compositions.
The galaxy theory isn't too far fetched, considering that SpaceX Founder Elon Musk has a vision for life on Mars. If anybody can figure out how to drill for oil in space, Musk is probably the one to do it.
Bitcoin is getting scarcer. pic.twitter.com/QFhW2ljzDW

— PierreRochard.com (@pierre_rochard) August 27, 2020
Another problem with gold is its lack of portability. It is bulky and difficult to carry around, let alone transact with it. Try carving off slices of a gold bar next time you are paying at the grocery store. The Winklevosses question what it would be like trying to move gold around during a time of emergency, such as a pandemic or a war, reminding us,
If you've ever seen "Die Hard with a Vengeance," you know it can take dump trucks to move gold.
And while they don't deny gold's ability to act as an inflation hedge, their argument comes down to the fact that bitcoin is simply better and will dethrone the precious metal for the following reasons: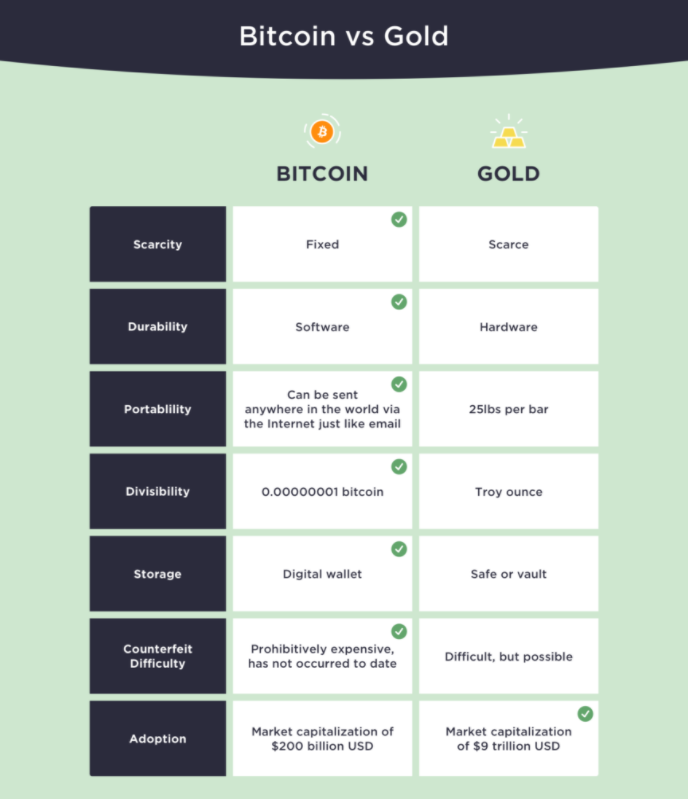 Cameron and Tyler Winklevoss warn that "inflation is coming" and "money stored in a bank will get run over." While gold has more history behind it, bitcoin will have the upper hand, they predict:
And money stored in bitcoin will run the fastest, overtaking gold.
And while bitcoin has its risks, not the least of which is that it is a nascent market, the Winklevosses expect it will begin dramatically cannibalizing gold over the next decade.
Gold's market cap currently hovers at roughly $9 trillion, while bitcoin's has shot up from zero to more than $200 billion in less than 10 years. That appears to be the method behind the Winklevosses madness:
If we are right about using a gold framework to value bitcoin, and bitcoin continues on this path, then the bull case scenario for bitcoin is that it is undervalued by a multiple of 45. Said differently, the price of bitcoin could appreciate 45x from where it is today, which means we could see a price of $500,000 U.S. dollars per bitcoin.
The post Winklevoss Brothers Come Out Swinging With Case for Bitcoin $500K appeared first on BeInCrypto.
Source: Be In Crypto