On July 12, the Tezos (XTZ) price broke out from a long-term descending resistance line.
It has been declining since, however, it did validate the support line and has possibly set itself up for a continuation of the upward move.
Descending Resistance Breakout
The Tezos price had been following a descending resistance line that formed on February 19. The price broke out from this line on the third attempt, on July 13, and validated it as support shortly afterward. The price also validated the 50-day moving average (MA), above which it is now trading.
However, technical indicators look weak. Volume was extremely high during a bearish candlestick on July 15, and the RSI is decreasing, currently in the process of falling below 50. In addition, the MACD is losing steam, having almost turned negative.
Therefore, while the trend is bullish, it has lost most of its momentum.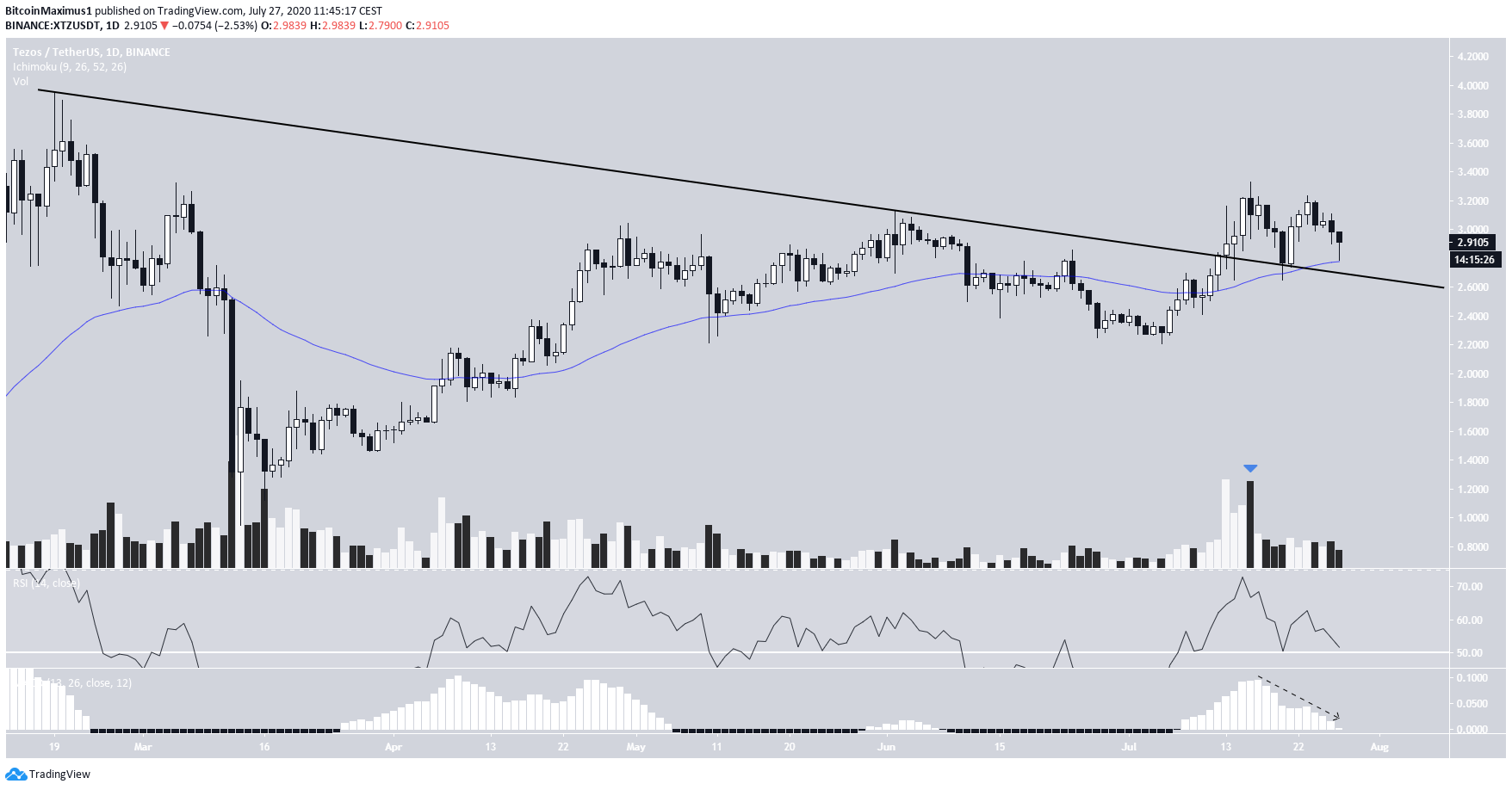 The short-term chart reveals the main resistance and support areas, which are found at $3.2 and $2.75, respectively.
The volume has been extremely high during a recent bearish candlestick, and there is no bullish divergence on the RSI, which is below 50. The MACD is also decreasing in strength. Therefore, technical indicators show no reversal signs.
However, it's possible that the price is trading inside a symmetrical triangle, having currently bounced at the support line. Coming after an upward move, a breakout from this triangle would be likely. But, due to numerous wicks, the slope of the line is not exactly clear.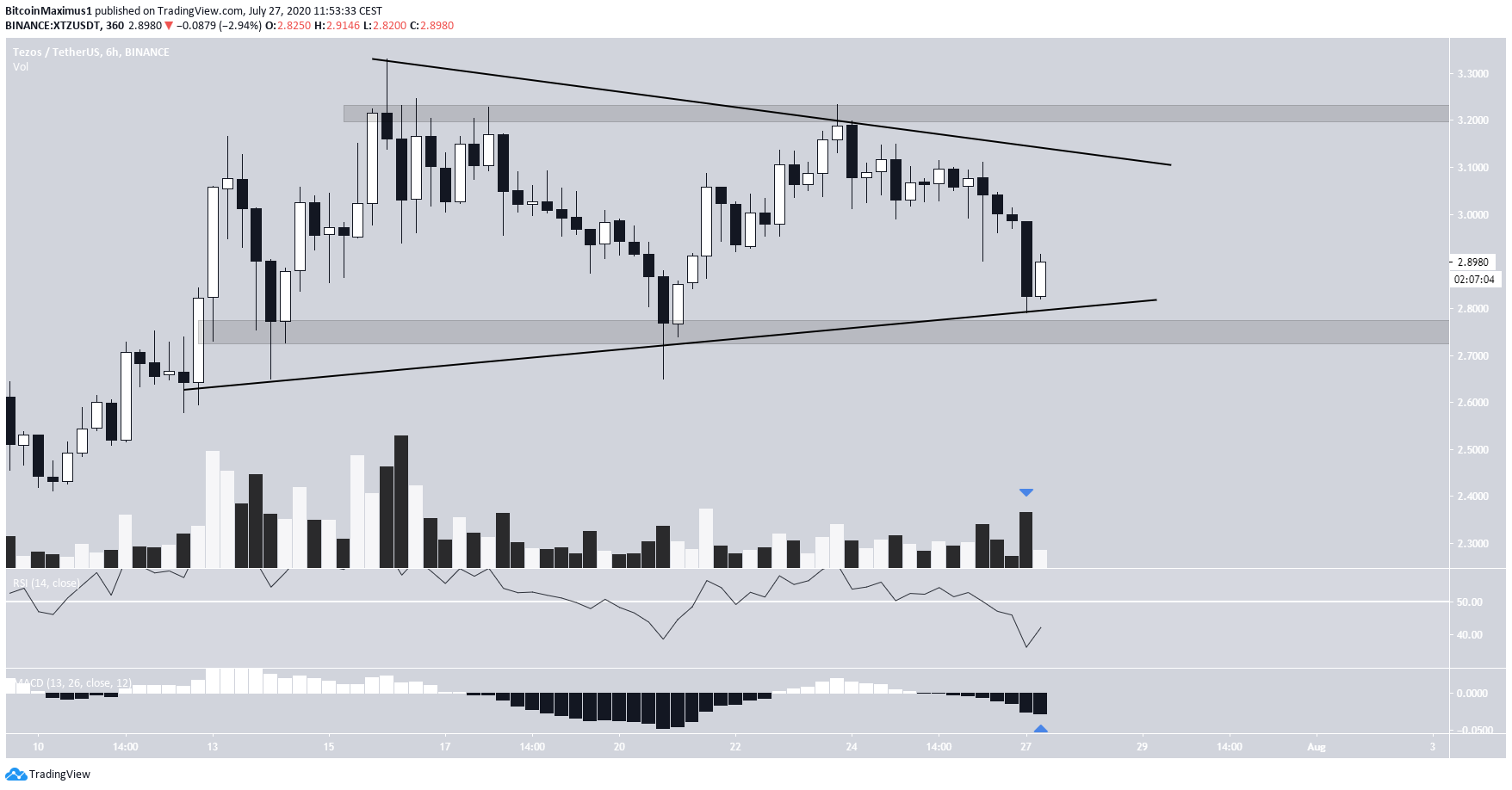 Cryptocurrency trader @CryptoMichNL outlined an XTZ chart, showing that the price is resting at support. The area coincides with our support slightly below the line of the triangle, so an upward move could take place.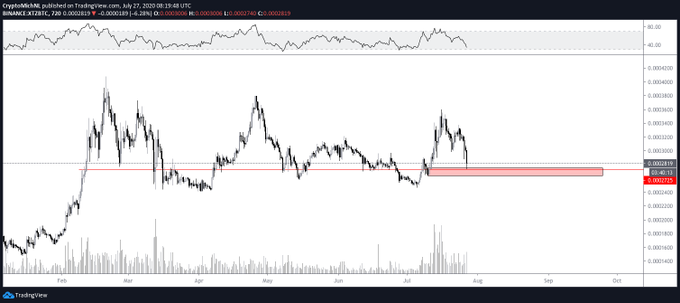 XTZ Wave Count
It is very likely that XTZ began a five-wave Elliott formation (blue) on July 6, and is currently in the third wave which has extended.
Therefore, the current symmetrical triangle looks very much like the fourth sub-wave (white), which is corrective. Triangles appear either in wave B or wave 4, and since the trend is bullish, it's more likely that this is the fourth sub-wave.
A breakout from the triangle would validate the bullish wave count, while a decline below $2.5, the top of sub-wave 1 (white) would invalidate it.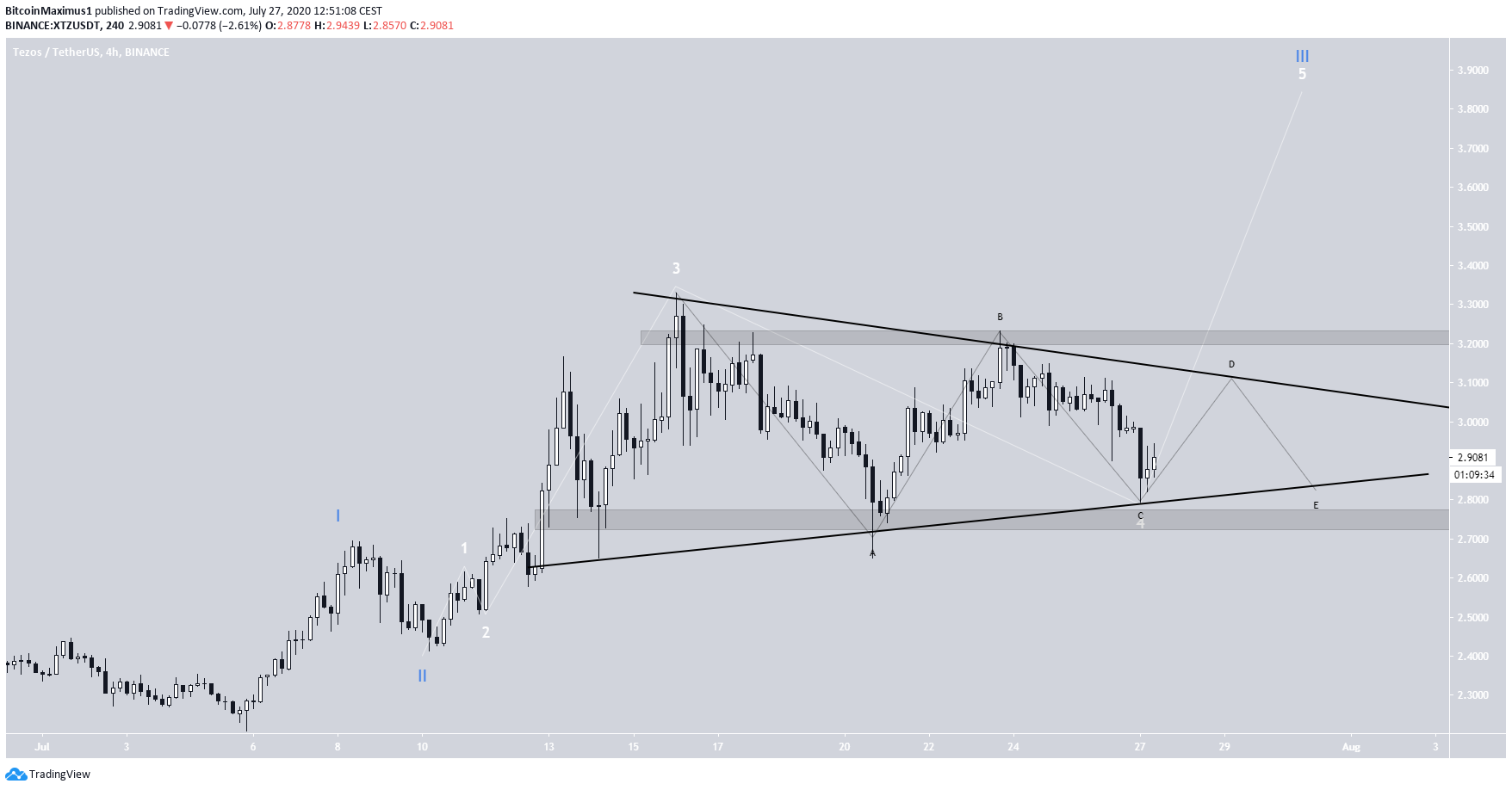 To conclude, while it's very likely that XTZ is still in a bullish trend, there are no reversal signs that suggest the price will soon resume its upward move. The direction of the move outside the current pattern will likely determine the direction of the future trend. Currently, a breakout is more likely.
The post Will Tezos (XTZ) Resume Its Upward Movement? appeared first on BeInCrypto.
Source: Be In Crypto