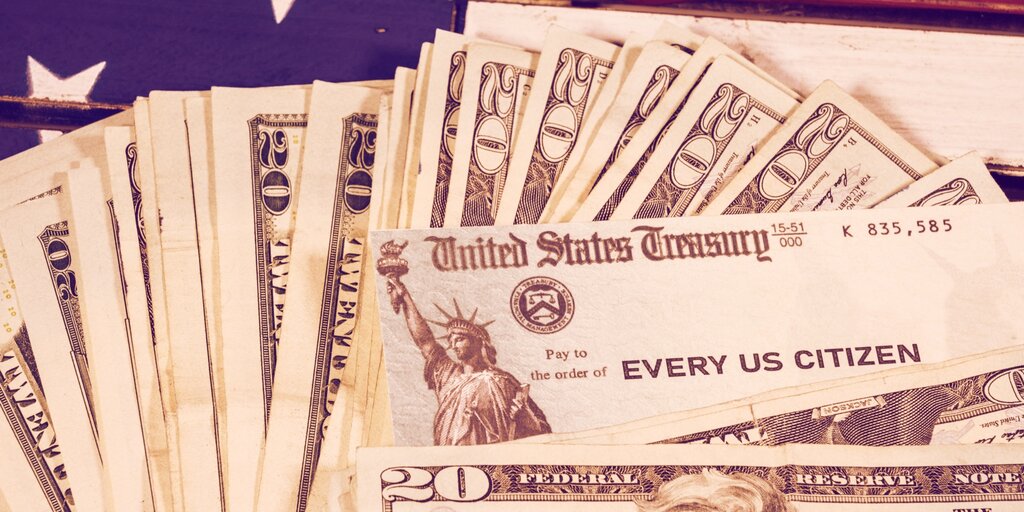 Senate Republicans have finalized another coronavirus relief bill, and—assuming it's passed—Americans will soon have another $1,200 check in their pockets.
"There's a $1,200 check coming, that's going to be part of the new package," White House chief economic advisor Larry Kudlow told CNN over the weekend.
Kudlow's confirmation comes prior to the official unveiling of a $1 trillion coronavirus relief package, set to be introduced later today. Alongside another $1,200 check, Kudlow nodded toward an extension to existing relief, including unemployment and tax benefits. 
The price of gold swelled following yesterday's announcement, rising 4.5% and establishing an all-time high against the dollar. At the same time, Bitcoin went on a slightly less pronounced break, climbing 2.7% and hitting $10,000 for the first time in seven weeks.
Are people putting their stimulus checks into Bitcoin?
Cryptocurrency evangelists immediately seized on the opportunity to tout the benefits of buying Bitcoin with the stimulus checks.
"If they government sends out a $1,200 stimulus check, the entire #crypto community is going to put it into #Bitcoin," wrote journalist David Gokhshtien. 
If they government sends out a $1,200 stimulus check, the entire #crypto community is going to put it into #Bitcoin.

— David Gokhshtein (@davidgokhshtein) July 27, 2020
Similar sentiments were heard when the last round of stimulus checks was announced. However, Jason Deane, an analyst at analytics website Quantum Economics, noted that relatively few people actually jumped on board the Bitcoin bandwagon last time around. "There does seem to be some evidence that specific amounts of $1,200 were transferred to exchanges such as Binance (US) and Coinbase, and used to buy Bitcoin at the time of the last stimulus, but it didn't appear to be significant enough to affect price," Deane told Decrypt.
However, Deane said that this time could be different. "The effects of devaluation are starting to be understood more broadly," he said, adding that Twitter accounts such as @bitcoinstimulus "have continuously broadcast how well the original investment of the check has fared." That may, he added, increase the propensity of people to invest this time round in larger numbers. "With an already bullish move in progress, this could have a positive impact on price."
According to the @bitcoinstimulus Twitter account—which dedicates itself to tracking the ROI of stimulus-funded Bitcoin investments—those who took the plunge into Bitcoin with their last round of stimulus checks would have seen a near 50% ROI so far.
$1795 (+49.61%)#bitcoin

— $1200 Stimulus Is Now Worth (@BitcoinStimulus) July 26, 2020
Still, as countless Americans struggle to make ends meet, and with unemployment touching record highs, it's unlikely that Bitcoin will be foremost on peoples' minds as their stimulus checks arrive.
The views and opinions expressed by the author are for informational purposes only and do not constitute financial, investment, or other advice.
Source: decrypt