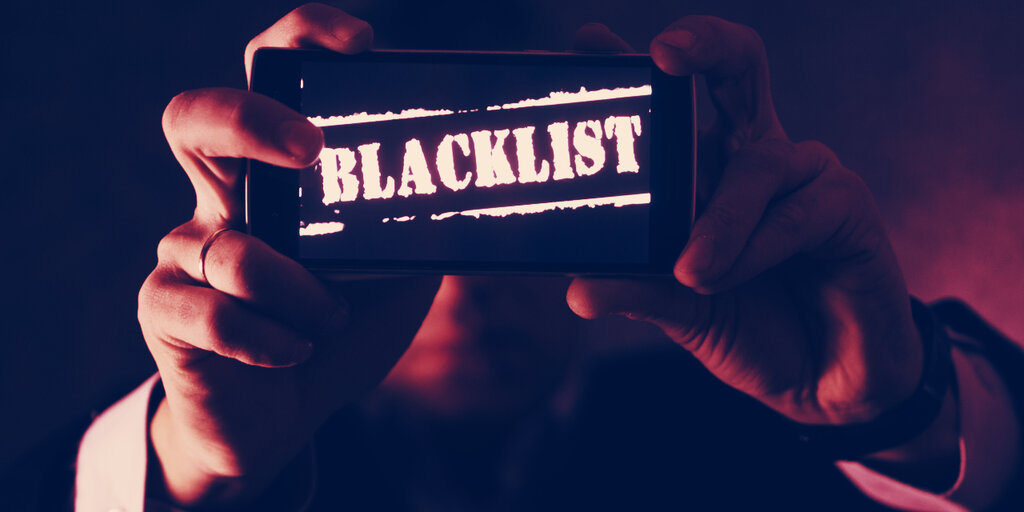 When the decentralized stablecoin, DAI was on its last legs amid the mid-March coronavirus market crash, its community elected to have a chunk of its peg to the US dollar collateralized by the centralized US dollar-pegged stablecoin, USDC.
Now, Centre, the company behind the centralized US dollar-pegged stablecoin, USDC, has blacklisted an Ethereum address holding $100,000 worth of the token. 
Suddenly, MakerDAO's DAI doesn't seem so decentralized. 
"Imagine if some of the USDC is sitting in a Maker vault," Stani Kulechov, CEO of DeFi lending protocol Aave told Decrypt. (Putting cryptocurrencies in Maker vaults generates DAI). "What can happen is that Centre could use the blacklisting function and the funds would be locked there in a vault," he said, undermining DAI's peg to the dollar.
And while DAI might very well "survive the shock," as our friends at The Defiant pointed out earlier today, that stablecoins are even blacklist-able to start with potentially undermines the DeFi protocols that integrate them.
Why did Centre blacklist the address? 
Crypto companies, though operating in a largely unregulated environment, must still comply with law enforcement, and Centre appeared no different. Now, "USDC blacklisting has gone from a hypothetical concern to a real risk," tweeted Jake Chervinsky, general counsel to Compound, the new king of DeFi.
Centre, the project of crypto exchange Coinbase and payments company Circle, confirmed the blacklisting to Coindesk. "While we cannot comment on the specifics of law enforcement requests, Centre complies with binding court orders that have appropriate jurisdiction over the organization," it reportedly said. 
Though apparently a first for USDC, Tether, the company whose eponymous US dollar-pegged stablecoin is the largest in the market, has blacklisted 39 Ethereum addresses holding millions of dollars, according to a dashboard created by Phillipe Castonguay, a blockchain software developer. It's been doing so since November 2017. 
Turns out 39 addresses have been banned from using USDT on Ethereum as of now. Made another dashboard to keep track of USDT bans here:https://t.co/uuQd1kW28Y https://t.co/sUAw5hnWur pic.twitter.com/72G7OKNlfI

— Philippe Castonguay (@PhABCD) July 9, 2020
That Centre and Tether, two (centralized) companies, have the power to block transactions and work with law enforcement is at odds with the principles of decentralization championed by the crypto faithful.
Nevertheless, a policy document from Centre shows that the company will blacklist addresses when failure to do so would threaten the USDC network, or to comply with US court orders. "Centre reserves the right to block the transfer of USDC," wrote the company in the document. 
Bitcoin doesn't freeze your account

— Plazmic Flame (@PlazmicFlame) July 9, 2020
"I don't think a few frozen transactions will make USDC useless as a stablecoin (especially for traders), but I do worry that normalization of this trend will set a bad precedent," Kadan Stadelmann, CTO of Komodo, told Decrypt. 
"It is entirely possible that authoritarian actors could exert even more power if there is widespread adoption of stablecoins with backdoors." 
DeFi's centralization problem
Michael Anderson of DeFi venture capital fund Framework Ventures told Decrypt that this is why he's not invested in DAI. "This highlights that when you have a central entity, anything can be stopped because they can freeze those assets," he said. Instead, he's invested in Synthetix, which he claims is more decentralized. Other decentralized stablecoin companies also claim to be outside the clutches of their issuers.
This won't be the last stablecoin to blacklist an address.

This is why I'm excited about Haven, a completely decentralized stablecoin with the privacy of Monero. No one can touch your $xUSD $XHV

— Steadydee (@steadydee) July 8, 2020
"If there's one takeaway here, I think the whole incident highlights the continued global need for bitcoin," said Stadelmann. "Sure, bitcoin remains volatile and is suboptimal as a savings vehicle," he said. "but at the end of the day, it remains the best tool for unseizable, unstoppable value transfer." 
That's as long as you keep it away from centralized exchanges, of course.
Source: decrypt