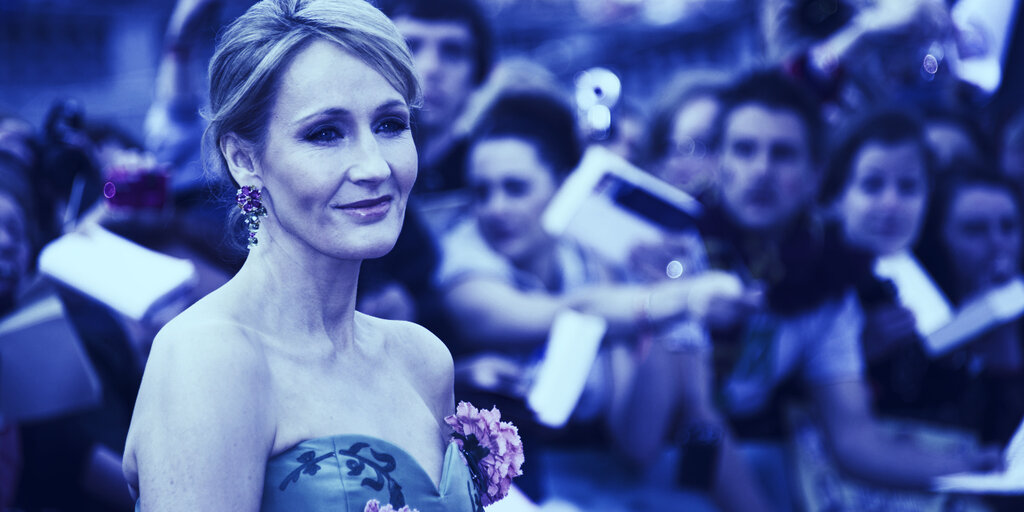 A whole lot more people are improving their crypto literacy during this time of economic upheaval, and the latest is famed Harry Potter author J.K. Rowling.
That's assuming she reads the mass of replies to her tweet today. In response to a Twitter conversation between CoinDesk reporter Leigh Cuen and lawyer Marvin Ammori, Rowling tweeted, "I don't understand Bitcoin. Please explain it to me."
I don't understand bitcoin. Please explain it to me.

— J.K. Rowling (@jk_rowling) May 15, 2020
As you might expect, the internet pounced on the opportunity to inform one of the all-time most popular novelists about cryptocurrency. And yes, many of them tried to describe it in Harry Potter terminology.
"Wizards still need to trust Gringotts Bank. Bitcoin fixes this," replied the Bitcoin account.
"Remember when Dobby was freed by a sock? Bitcoin is that sock," tweeted Dogetoshi.
Hagrid was into Bitcoin before everyone else but he lost the laptop he kept it on in 2011 and has been searching a garbage dump near Hogwartz for it ever since. @jk_rowling

— Ben Mezrich (@benmezrich) May 15, 2020
"Imagine if Voldemort couldn't infiltrate the Ministry of Magic, and Harry couldn't break into Gringotts bank, and house elves were able to interact with the Wizarding World's economy with just an internet connection," added Bitcoin Magazine.
It went on and on. Time will tell whether Bitcoin just piqued her curiosity or whether she's considering it as her next big investment—but with a net worth of approximately $1 billion, she could quickly become one of the highest-profile hodlers around.
Update: By 5:55PM ET, J.K Rowling has read enough explanations and decided she wanted absolutely nothing to do with Bitcoin.
God bless every single one of you now earnestly explaining bitcoin to me as though I'll grasp it if you break it down properly. Things like this are white noise to me. I cannot and will not ever understand Bitcoin, but I love you for thinking that I can or will.

— J.K. Rowling (@jk_rowling) May 15, 2020
Well done, Crypto Twitter. You've outdone yourselves.
But, wait! There's more! What celebrity crypto Twitter tweetfest would be complete without an appearance by Elon Musk?
Pretty much, although massive currency issuance by govt central banks is making Bitcoin Internet money look solid by comparison

— Elon Musk (@elonmusk) May 15, 2020
What next? Will fellow Bitcoin lover Jack Dorsey weigh in to make it a trifecta? Why not—it's not as if anyone is out on the town on this magical Friday night.
Original Source: Decrypt What's Bitcoin? J.K. Rowling gets an earful and Elon Musk chimes in