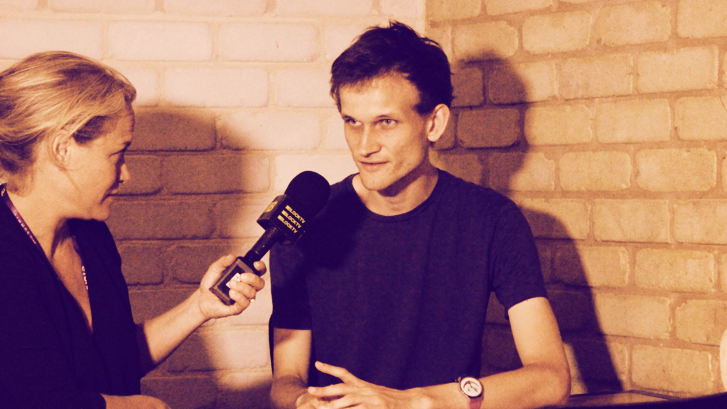 Vitalik Buterin, co-founder of Ethereum, had to sell half of his personal Bitcoin in 2013 to avoid going broke, according to a tweet published today. 
Buterin is one of the most well-known names in the crypto industry. As well as co-founding Ethereum, Buterin also co-founded Bitcoin Magazine. Several years ago, Buterin commented publicly on his personal wealth, saying he earned 137,000 CHR per year ($154,000) from the Ethereum Foundation. More recently, estimates put his net wealth at around $100 to $200 million. But it hasn't always been easy for the mind behind Ethereum. 
"Seven years ago, before Ethereum even began, I had only a few thousand dollars of net worth," Vitalik said, adding, "I nevertheless sold half my Bitcoin to make sure that I would not be broke if Bitcoin went to zero." 
7 years ago, before ethereum even began, I had only a few thousand dollars of net worth. I nevertheless sold half my bitcoin to make sure that I would not be broke if BTC went to zero.

— vitalik.eth (@VitalikButerin) December 14, 2020
The tweet followed Buterin's advice to "never take out a personal loan to buy ETH or other Ethereum assets." In saying so, he was referring to podcaster Peter McCormack (who is being sued for libel by CoinGeek chief scientist Craig Wright), who had tweeted that he took out a loan to buy Bitcoin.
McCormack wryly replied that he wouldn't recommend taking out a loan to buy Ethereum either.
How much crypto does Buterin have?
Recent disclosures on Reddit provide some insight into Buterin's current personal crypto wealth. 
His main Ethereum address contains approximately 333,348 ETH ($195 million). However, he previously used another address—which contains approximately 430 ETH ($252,000)—to donate 1,000 in ETH for development grants—at the time describing it as "YOLO."
According to an archived Reddit post published one year ago, his personal crypto holdings include Bitcoin, Ethereum, as well as several other assets. 
These include BCH, DOGE, and ZEC. What's more, Buterin's "non-ETH Ethereum ecosystem tokens" include KNC, MKR, OMG, REP. 
The Ethereum co-founder also disclosed "significant corporate shareholdings" in Clearmatics and Starkware. 
Clearmatics is a London-based blockchain company that builds member-owned and governed decentralized network platforms. Starkware—based in Israel—aims to solve what it describes as the two "most pressing problems of permissionless blockchains," namely scalability and privacy. 
But all of this might have ended prematurely if Buterin had dropped Ethereum to work for Google. Or even Ripple.
Source: decrypt