While major cryptocurrencies like Bitcoin maintain dominance, stablecoins seem to be gaining ground. So much so that they are seeing more transaction volume on major blockchains.
There are thousands of cryptocurrencies in existence but some are undoubtedly more popular than others. Bitcoin, for example, is the world's most sought after crypto and has maintained that position for years.
However, a series of July 20, 2020 tweets from Messari researcher, Ryan Watkins, suggests that this dominance may be under threat.
Move Over Bitcoin?
According to Watkins, Bitcoin is witnessing some stiff competition from Tether (USDT), a popular stablecoin. USDT has surpassed Bitcoin as the top cryptocurrency on public blockchains. This is based on recent data from both the DeFi boom and the second quarter of 2020.
Another tweet alluded to not just the growth of USDT, but also stablecoins as a whole. Watkins stated that the stablecoin monetary base grew to $2.4 billion in the first quarter of 2020. This resulted in a total base valued at roughly $8 billion.
By the second quarter of 2020, substantial growth was added. This time, $3.8 billion. As of now, the total base represents about $12 billion.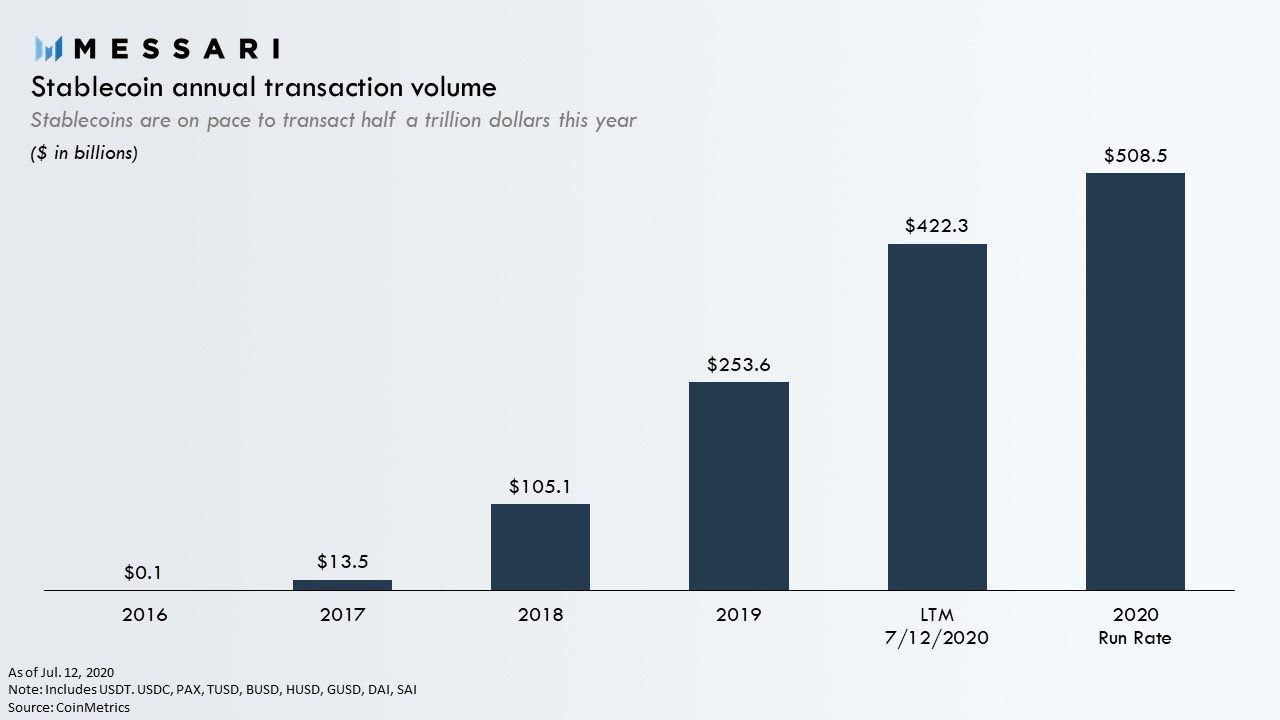 This growth in stablecoins is particularly evident when considering their use on public blockchains. For the second quarter of 2002, for example, public blockchains settled about $144 billion in stablecoin transactions.
Including the 12 days after the end of the second quarter, public blockchains have settled $270 billion in stablecoin transactions.
Blockchains and Stablecoins
Stablecoins represent a transaction volume of about $508 billion so far in 2020. The fiat alternatives are even catching up with some industry heavyweights. In recent months, stablecoin transactions regularly constituted over 40% of the combined daily settlement value for Bitcoin and Ethereum.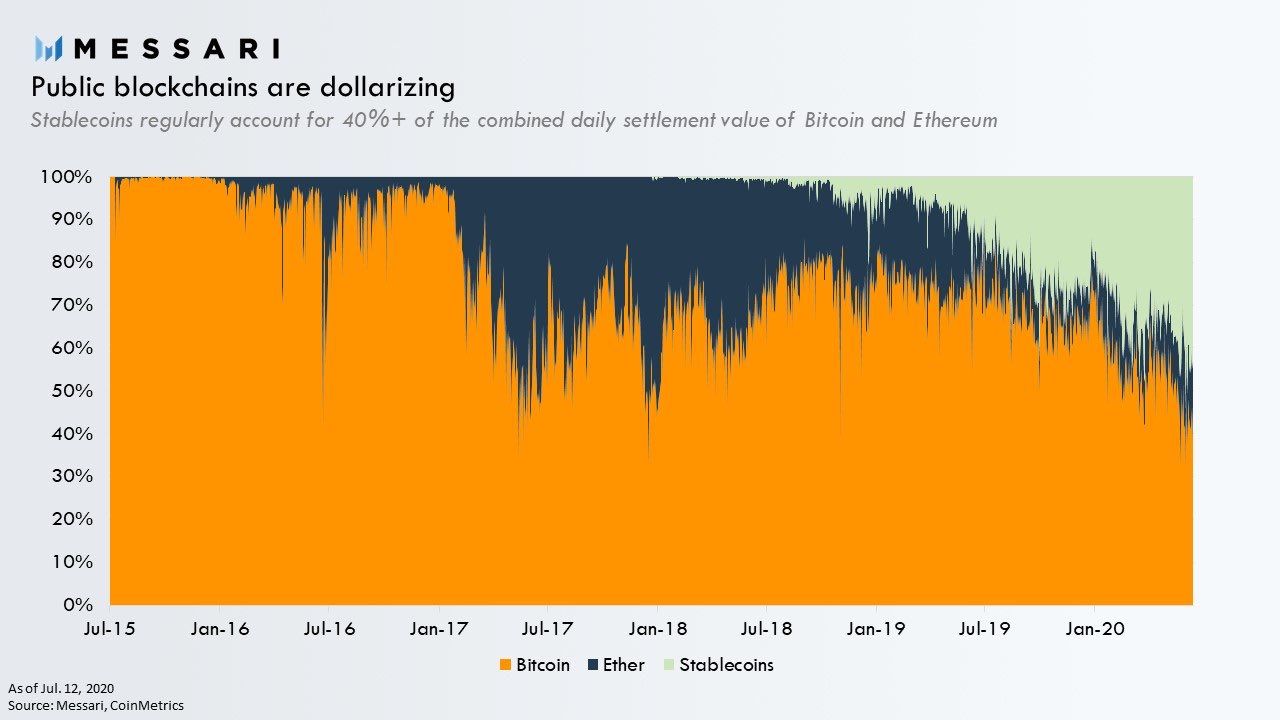 This is significant given the reputation of these high-profile cryptos. If stablecoins continue to compete with them at this level, it could signal big changes for the industry. There is, however, some division on which public blockchains are conducting these transactions.
Currently, Ethereum, Bitcoin, and Tron are the three public blockchains that have significant amounts of stablecoin transactions.
Among them, Ethereum is perhaps the most popular. Data from Messari shows that Ethereum accounts for 65% of all stablecoins use. Furthermore, it accounts for over 85% of stablecoin transaction value.
Ethereum on the Rise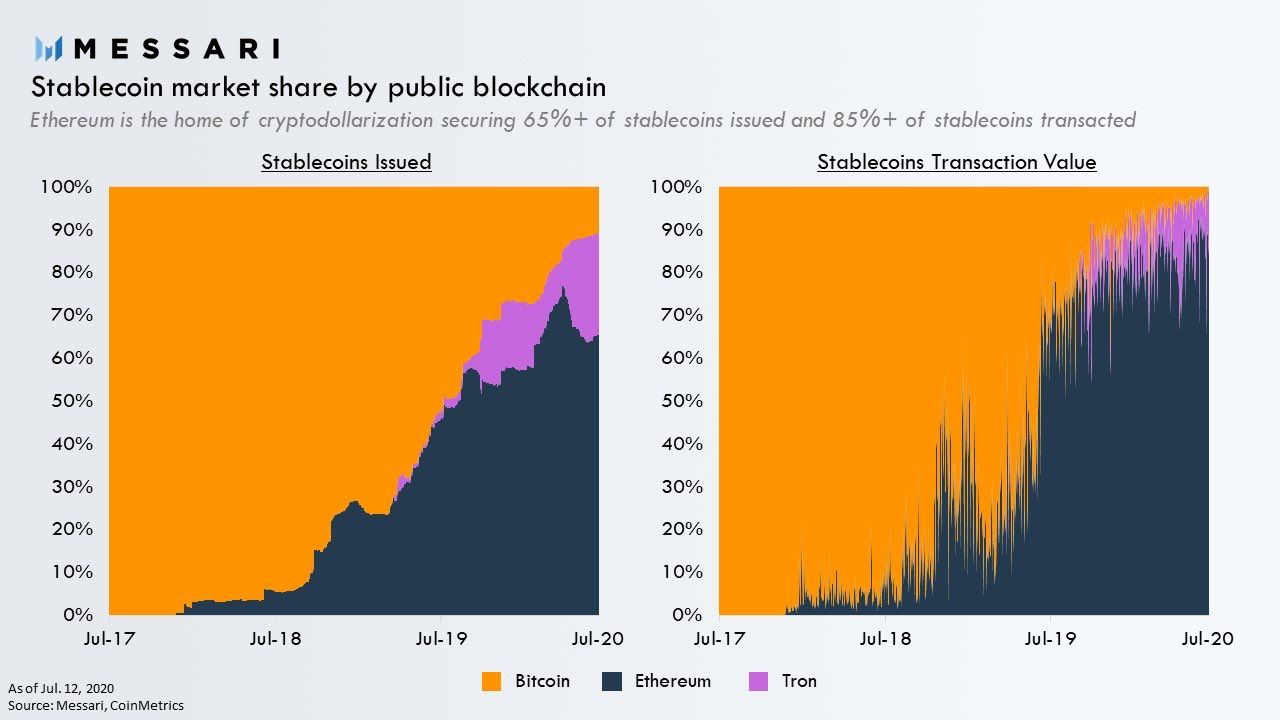 In the first quarter of the year, Ethereum had matched Bitcoin in terms of daily settlement value. Since then, it has surpassed it. Watkins predicts that this change will be permanent, considering the increased economic activity on the Ethereum blockchain.
There are a number of factors that have driven demand for stablecoins, one of them being DeFi. The issuance of new stablecoins was apparently driven by the liquidity mining craze. This, in turn, caused the Dai peg to rise to $1.02 after Compound's June 30 distribution patch.
Both Dai and USD Coin (USDC) saw an increase in issuance around this time. USDC issuance rose from $355 million to $1.1 billion, and $250 million USDC made its way into Compound. For Dai, issuance rose to $72 million, with more than $78 million worth of Dai going to Compound.
Also, despite the recent DeFi platform hacks and the uncertainty surrounding the newest version of Ethereum, the progress has continued. In fact, daily Ethereum active addresses continue to grow, hitting a two-year high recently.
Challenges So Far
Despite all of this, it hasn't been all smooth sailing. A July 7, 2020, FATF report outlines new standards that will apply to various stablecoins. The report implies that there is a need for a centralized version.
Stablecoins have been a source of much controversy within the industry as some purists insist they aren't valid due to their respective fiat currency pegs. Watkins' thread, however, shows that they are growing in popularity nonetheless.
The post USDT to Surpass Bitcoin in Blockchain Transactions: Messari appeared first on BeInCrypto.
Source: Be In Crypto