The Tron (TRX) price has been decreasing since June 7, when it reached a high after breaking out a week prior. It appears to be at the end of its retracement phase, indicating that a trend reversal is near.
Long-Term Breakout
On June 2, the TRX price broke out from a long-term descending resistance line that had been in place over the past five months. Bulls won the battle on higher than average volume, increasing the significance of the move. In addition, the price has also moved above the 50-day moving average (MA).
However, the price was rejected by the 200-day MA. To continue moving upwards, it needs to flip this MA as support. If it does, the next closest resistance level is found at 205 satoshis, namely the 0.5 Fib level of the entire downward move.
If the price reaches this level, it would likely create a bullish cross between the 50 and 200-day MAs, a sign that a longer-term upward trend has begun.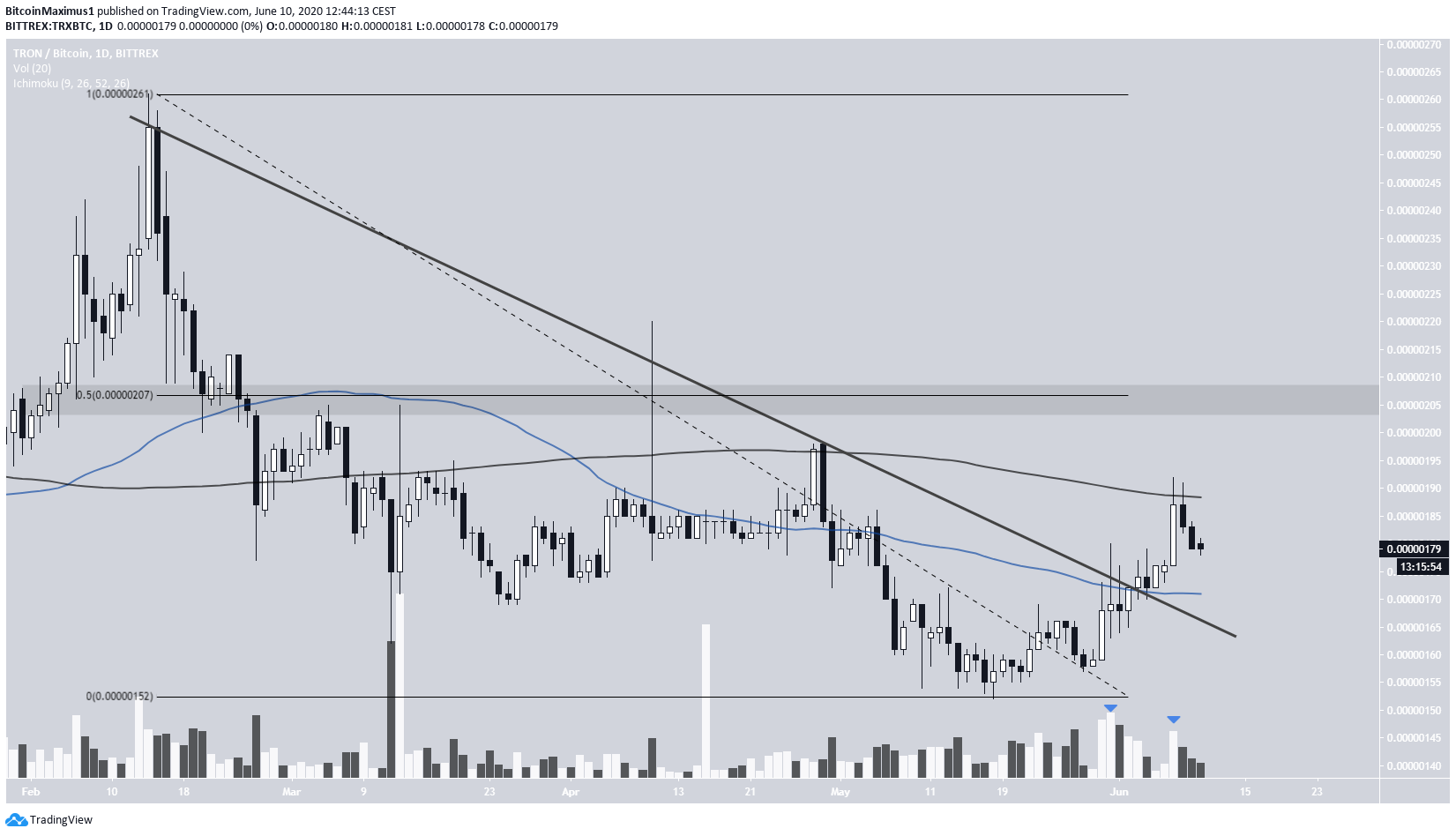 As for future targets, trader & investor @TheEuroSniper outlined the 285 satoshi resistance area as the likeliest candidate. Prices have not traded in this area since June 2019.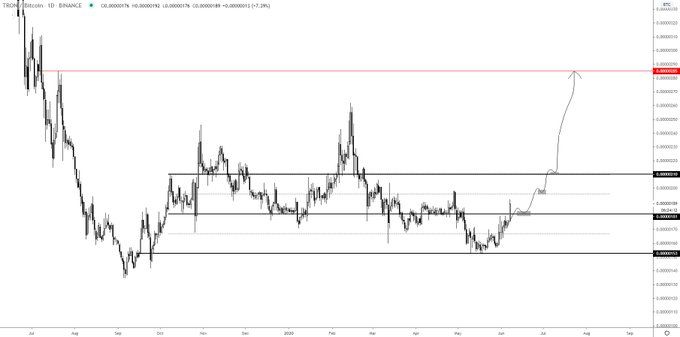 Future Movement
On the 6-hour chart, the previously mentioned bullish cross between the 5- and 200-period MA's has already taken place. Furthermore, the price is following a rising support line and trading above it.
At the time of writing, the price was trading right at this support and the 189 satoshi support area, which previously acted as resistance. The current decline resembles a validation of that resistance area as support.
Therefore, the current price level has a high possibility of a reversal, which would mark the beginning of the longer-term upward move outlined in the previous section.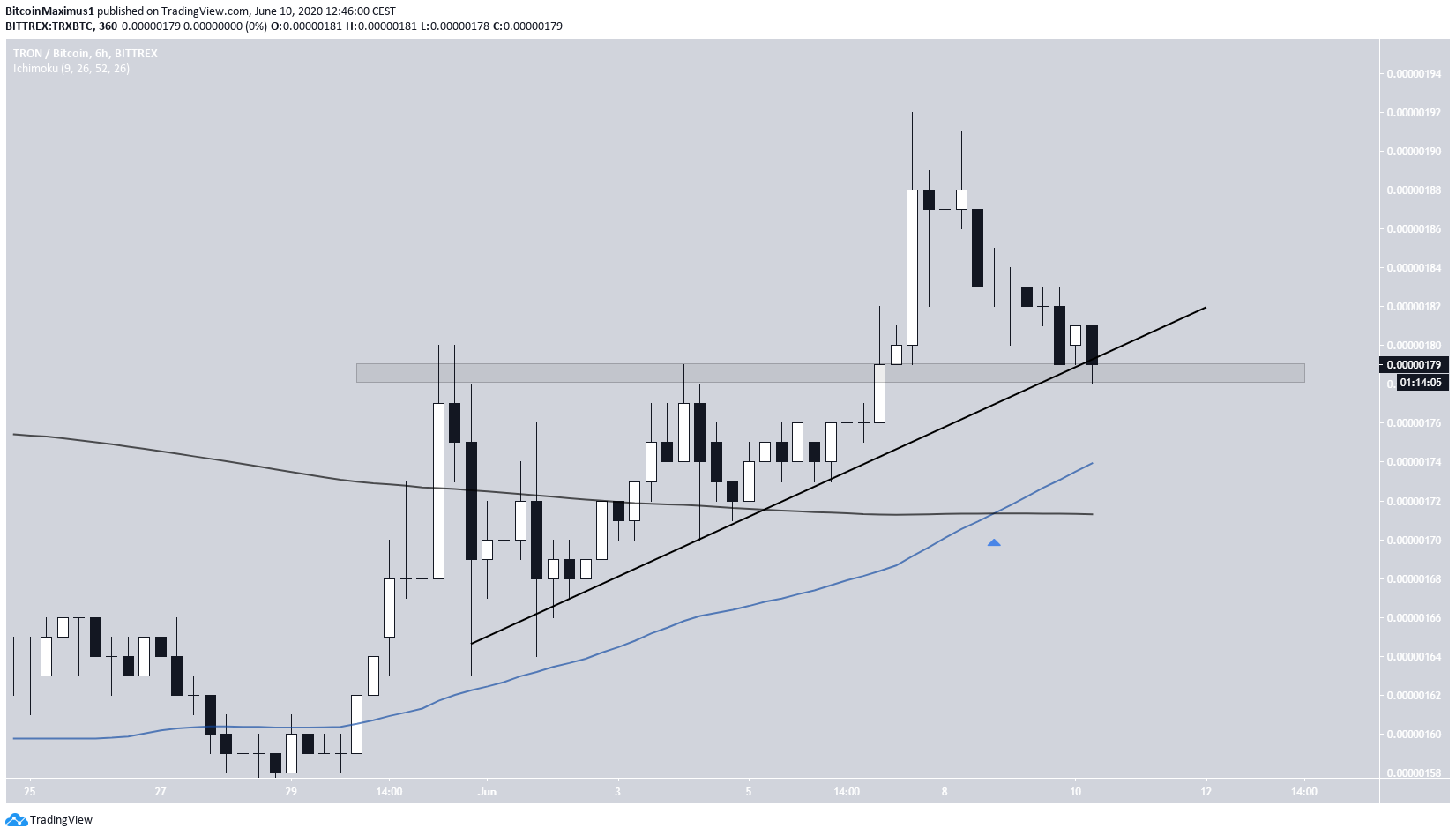 The shorter-term chart reveals a descending wedge, as well as bullish divergence on the RSI.
Since the wedge is considered a bullish reversal pattern, it aligns perfectly with the longer-term view. Thus a breakout from this pattern is expected.
To conclude, the TRX price has broken out from a descending resistance line and is in the process of confirming a long-term bullish trend. In the short-term, the price seems to be close to finishing its retracement, paving the way for a breakout that could lead to the beginning of the longer-term bullish trend.
The post Tron's Continuation Move Could Take It Above 200 Satoshis appeared first on BeInCrypto.
Source: Be In Crypto