The open-source community is building medical kit to fight coronavirus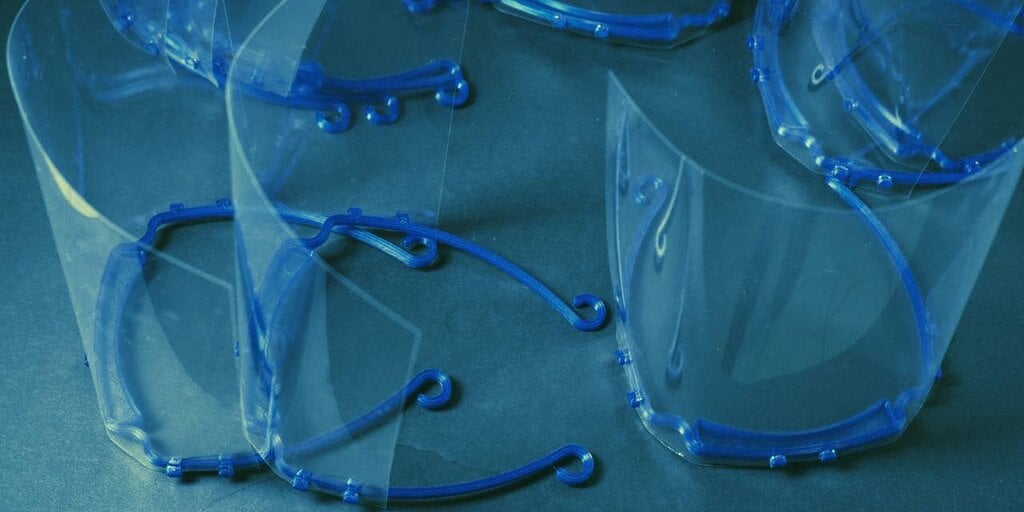 Amid shortages of personal protective equipment (PPE)—like face masks, face shields and gloves—the coronavirus pandemic has spurred the world's hobbyists into action. 
At-home DIY experts are collaborating en masse on online forums to come up with designs for homemade protective equipment, as well as medical equipment, in a huge effort to kit-out the world's doctors and prepare them for the front line. 
The solutions are nothing short of genius. For instance, snorkels left buried in cupboards after old beach holidays have been dug up and refashioned into medical equipment. 
Making masks
Manu Prakash, a bioengineer at Stanford, was among the first to do so. Stuck at home under quarantine in mid-March following a trip to France, Prakash dreamt up the Pneumask, a reusable PPE face mask that claims it is as efficient as an N95 medical grade face mask.
His mask comprises three parts: a filter that captures air droplets that contain coronavirus particles; a full-face snorkel mask; and a 3D-printed connector. 
The @Stanford @PrakashLab designed a reusable "Pneumask" based on a full-face snorkel mask to combat #COVID19 PPE shortages. https://t.co/Pa9isAFTXr pic.twitter.com/Gm5FWxToYg

— Stanford Center for Ocean Solutions (@oceansolutions) April 14, 2020
"It's been really inspiring to see how many people both in and outside of our lab have engaged, conducted their own experiments, made their own 3D printed parts and used our data in many ways," Prakash told Stanford's Scopeblog. 
He is seeking FDA approval for his design, 2,600 of which have been deployed by him and his lab at Stanford; within nine days, he wants to hit 50,000. 
"As a clinical anesthesiologist who also works in intensive care, aerosols are an everyday hazard.  For us PPE is critical and there is not enough for everyone. In this crisis, Pneumask can be a real game changer for all of us," said Dr Cristián Muñiz Herrera, a doctor in a Chilean hospital, according to Pneumask's website. 
And of course, the design is open-source; anyone with a 3D printer and an air filter, and, well, a snorkel, can create one. 
The design isn't perfect—what design, created in a matter of weeks, can be? And it's still seeking approval from the FDA. But it's surely better than nothing—inventory supplies in hospitals have been rinsed amid the influx of new patients. 
Here's one I made earlier
"It's this or nothing for a lot of nurses," Ronald Meeuwissen told Decrypt. Meeuwissen, from the Netherlands, has been working with a European group of volunteers to coordinate the production of 3D printed face shields. And Meeuwissen, like Prakash with his snorkel masks, is shooting in the dark. 
He is no expert (Meeuwissen is an account manager at an e-commerce company), but he's collaborated with other citizen manufacturers online to produce face shields and distribute them around his country. "To be clear. These are not medical face masks. These are emergency face masks," he said. 
But armed with the combined intellect of the Internet, Meeuwissen and his 26-person team—which mostly comprises members of an Airsoft association he's a part of—produce around 2,000 face shields a month, and he has material to make another 12,000. 
His designs are based on an open-source version of the popular "Verkstan" design for face shields that he's tweaked for "slightly better ventilation." Now, they're distributed to people in "basically all 'touching' professions," he said. Hospitals, dentists, general practitioners—even hairdressers.
Wat een week! Inmiddels maken Titan & Partners 1500+ Gelaatsschermen voor zorgverleners! Alle hulp is welkom; materiaal (PLA filament), donaties etc. Zelf een 3D-printer? Kom in actie! Kijk voor info op https://t.co/67iNdeCkVw; #3DVFaceShied #coronacrisis #helpdezorgverleners pic.twitter.com/OhaH8fBT7g

— Ronald Meeuwissen (@rmeeuwissen) April 12, 2020
Lucas van Beers, an 18 year old on a gap year, is among Meeuwissen's recruits. He prints the plastic bands that attach to clear plastic face shields at a rate of 420 a day. All according to open-source designs. 
And van Beers rejigged his 3D printer so that it clears the designs off the plate so he can print automatically. He prints fewer face bands this way, "but it saves me lots of hours per day," he told Decrypt. 
Open-source hospitals
But the plans get even more ambitious. In Egypt, a company called KarmSolar Group has made designs for a whole hospital open-source. The designs, called the Re'ayit Misr (رعاية مصر) initiative, are for an emergency ICU field hospital, complete with 156 beds, 13 modular wards, 24 beds for recovering patients, and 12 beds for triage for unconfirmed patients. And they're up for grabs, entirely for free, online. 
#KarmSolar, Karm Construction provide open source design of #COVID19 field hospital https://t.co/nFRjPsYVzK

— Daily News Egypt (@DailyNewsEgypt) April 18, 2020
The design for the one-storey hospital is for 3,455 square meters, but it can "easily be smaller and larger depending on needs," reads the website. Decrypt couldn't find any instances of the field hospital in the, well, field, but similar hospitals have been built in record time. In both China and the UK, emergency field hospitals were built in under ten days.
Harnessing people power
Stuck at home without a 3D printer, or the resources to fashion an entire hospital? There's still a way to contribute. Take inspiration from Zelos: an Estonian volunteer project that rushed out its app in just two days. 
"When the COVID-19 crisis hit, we started to brainstorm ways in which we could help our local community, fast," Ana Falcon, who handles outreach for Zelos, told Decrypt.
The app jury-rigs Trello with a helpline. The elderly call the helpline, an operator confirms receipt of the call and logs it on Trello, and Zelos pushes the ticket to the volunteers of smartphones. It's a simple solution with huge effects on the community; in its first few weeks, over 2,500 volunteers took part. "This crowdsources items and help from the community, so the emergency services are less stressed," said Falcon. 
She added, "COVID-help has proven that crowdsourcing people who really want to help, and items, is possible. With such a vast number of volunteers signing up for the Estonian community within the first two weeks, there is no doubt how relevant this is right now. It clearly shows that we have every reason to plan for volunteer crowdsourcing in crisis relief." 
Falcon said that the team doesn't "have the resources to scale this beyond Estonia." But because the code is all open-source, and the API is free, anyone can implement the system in their community. "People only have to cover the line and minor software costs," she said. 
The coronavirus pandemic has proven that distributed manufacturing is ready for business—and that crowdsourced innovation is a mean, worthy foe against the pandemic. Open-sourced manufacturing is here, hopefully to stay.
Original Source: Decrypt The open-source community is building medical kit to fight coronavirus