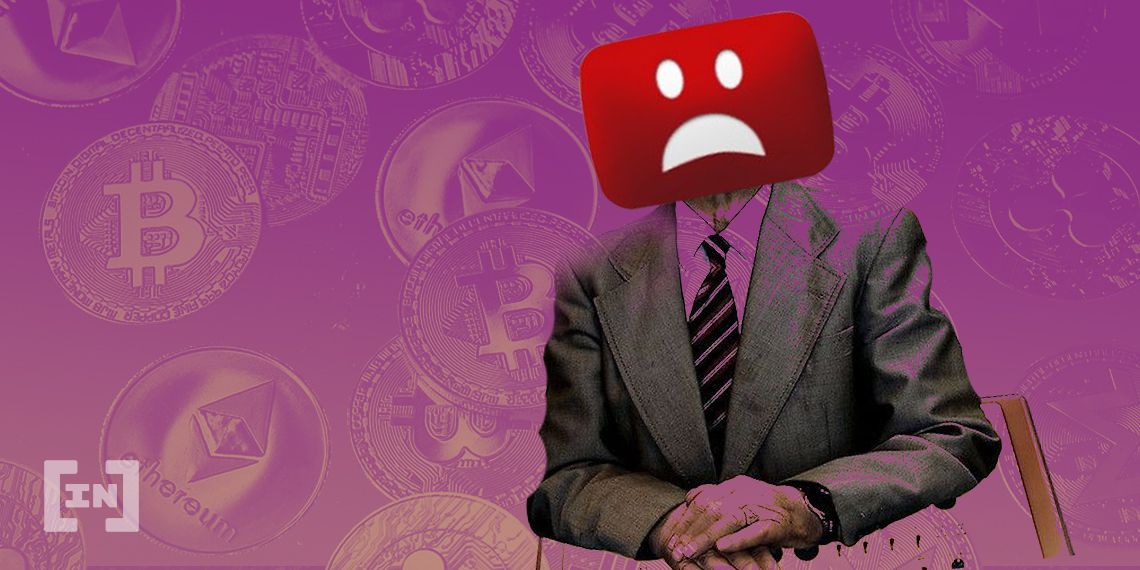 Injustice is apparently happening all over the crypto-sphere. Popular YouTuber and cryptocurrency analyst @TheMoonCarl suffered a blow when the Google-owned platform decided to censor a video on his channel, The Moon. He tweeted about the unfortunate situation, urging his followers to spread the word.
It appears that @TheMoonCarl, who makes a Bitcoin video daily, may have been caught in the crossfire of Google's latest core algorithm update, which didn't leave BeInCrypto unscathed, either.
According to a chain of events documented by @TheMoonCarl, his "latest Bitcoin video was deleted by YouTube" for allegedly breaking community guidelines. The scolding was broad in nature and lacked specific details, leaving the YouTuber to wonder where he crossed the line. He is asking YouTube to reconsider, reminding them about "too much of this censorship in the past few months."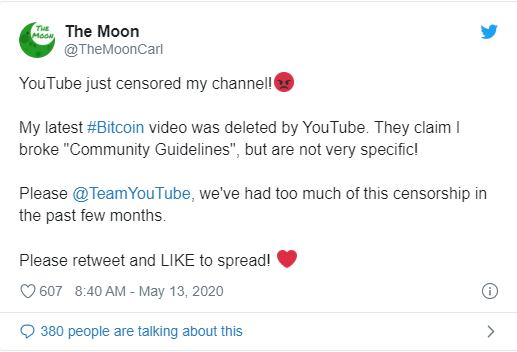 The Moon, who describes himself as a "Bitcoin maximalist," wasn't shocked by the censorship, agreeing with one follower in the thread that it's "completely insane" and adding,
Yes, but I guess we are getting used to this by now…
He added,
We are getting mass-censored… So annoying….
Indeed, @TheMoonCarl isn't the only one. For instance, Christopher Jaszczynski, co-founder of MMCrypto, told Forbes that Google's core algorithm update this month targeted YouTube cryptocurrency channels.
All big bitcoin YouTuber's including our MMCrypto channel are now being shadowbanned…It limits the reach of YouTube videos, and as a result, this significantly decreases the number of views that we receive.
Jaszczynski pointed to other YouTube channels that took a hit, including —
DavinciJ15
Ivan on Tech
Sunny Decree
Altcoin Daily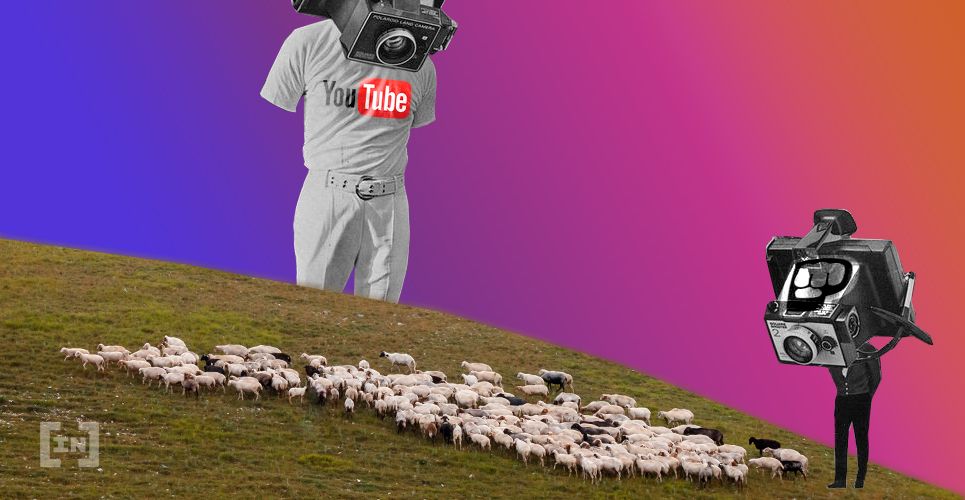 Warnings and Strikes
BeInCrypto had the opportunity to chat with The Moon Carl last month in a conversation in which incidentally YouTube's cryptocurrency purge was among the topics tackled. The Moon Carl explained at the time how YouTube was targeting crypto channels with warnings and strikes that eventually led to channels being deleted, revealing at the time that he had also received a strike for an innocuous Bitcoin video.
Eventually YouTube backed off, chalking it up to a mistake, but now they are back to their old tricks again. The Moon Carl appears particularly frustrated at the way YouTube is lumping its actions under violations of its Community Guidelines umbrella, which are very broad.
We're never getting any off response; we're not getting any tips on how we can  prevent this in the future; and also there's never an explanation as to exactly what we did wrong.
Mainstream Adoption
Google's timing to target cryptocurrency-related content comes when adoption is on the rise and high-profile investors are entering the space. For The Moon, it appears it's not the first time he's dealt with YouTube's shenanigans and probably won't be the last.
*BeInCrypto has since received the following statement from Google: 
The user appealed the decision in product, and after a re-review we've determined that it does not violate our policies. Accordingly, we've reinstated it.
And from YouTube –  
With the massive volume of videos on our site, sometimes we make the wrong call. When it's brought to our attention that a video has been removed mistakenly, we act quickly to reinstate it. We also offer uploaders the ability to appeal removals and we will re-review the content.
The post The Moon Carl Bemoans YouTube Censorship amid Unforgiving Algo Update appeared first on BeInCrypto.
Source: Beincrypto The Moon Carl Bemoans YouTube Censorship amid Unforgiving Algo Update