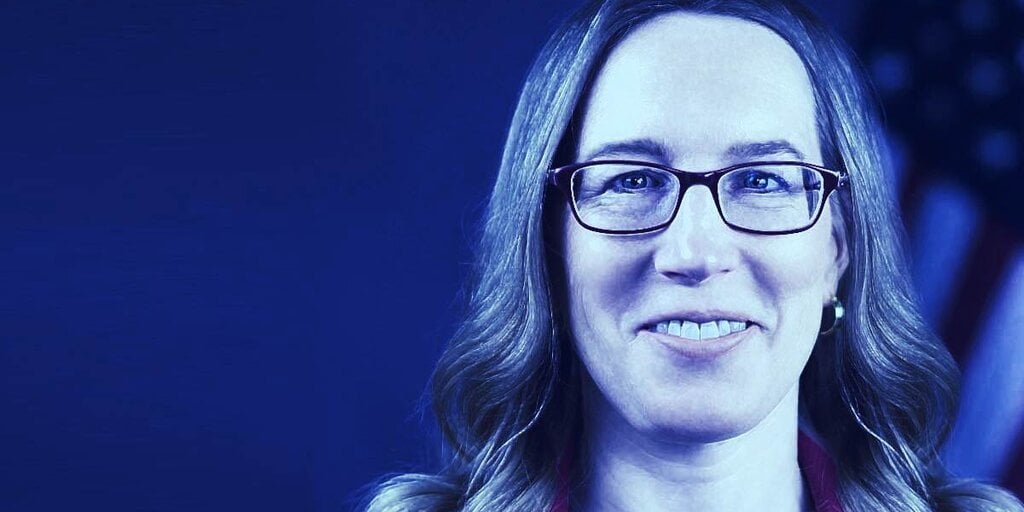 Hester Peirce, the crypto lovin' commissioner of the US Securities and Exchange Commission, said that the SEC made an error in taking legal action that led to the shutdown of the Telegram Open Network, the $1.7 billion crypto project from Telegram, a popular chat app.
Since October 2019, the SEC had waged war against Telegram, securing injunction after injunction against the launch of the network, TON. It took Telegram to court, alleging that its ICO, which ran in 2018 and raised $1.7 billion, constituted an unregistered securities offering and was thus illegal.
The law case went on for so long that Telegram eventually had to return most of the money to investors. In May, Telegram abandoned its project; a month later, Telegram settled with the SEC and agreed to pay a $18.5 million fine. 
In a speech given at the virtual Singapore Blockchain Week, published online today, Peirce, often called "Crypto Mom" for her support of the crypto industry, said that last month's settlement with Telegram was "the unsatisfying culmination of an enforcement action that I did not support from the beginning."
"Moreover, the settlement produced an unsatisfying result—the abandonment of the project."
Making clear that her views did not represent the SEC—whose lawyers had hounded Telegram for many months—Peirce said: "Telegram had built an operational network, made good faith efforts to comply with the federal securities laws in raising funds to build that network, and engaged extensively with the SEC staff."
The SEC's main battle against Telegram concerned the way it structured its ICO.
Here's a quick overview of the safe harbor and some initial reaction. H/T to @FintechDiego for the "If this is it" theme song, and to @prestonjbyrne for stating unequivocally that it's not it: https://t.co/aQzHhHfu6g

— Hester Peirce (@HesterPeirce) February 18, 2020
Telegram used something called a Simple Agreement for Future Tokens, or SAFT. With SAFTs, investors buy the right to tokens, which are distributed much after the network launches. The idea is that investors wouldn't buy Telegram's tokens, "Grams," for speculative purposes, but rather would use them on the network when it had launched.
In theory, this would neatly sidestep US securities laws and mean that Telegram didn't have to register with the SEC. 
But the SEC said that the SAFT didn't make a difference: Telegram was still, essentially, selling securities, it argued. The court, appearing to prefer this argument, prolonged delays to the network, and these delays then prompted TON's collapse. 
Peirce didn't like how things went down. She said that the court applied the Howey test—the SEC's test to work out if an asset is a security—at the point of transaction, when it really ought to have considered the distribution as a different thing. "By focusing the Howey analysis exclusively on the original transaction, the factual reality of the transaction that the court halted was lost," she said.
Peirce said she didn't support the settlement. I do not support the message that distributing tokens inherently involves a securities transaction," she said. "What the SEC's Telegram complaint cast as evidence of an illegal securities offering[…] I see as a necessary prerequisite for any successful blockchain network."
"Who did we protect by bringing this action?" Crypto Mom asked her virtual audience. "Would-be innovators, who will now take additional steps to avoid the United States?"
Source: decrypt