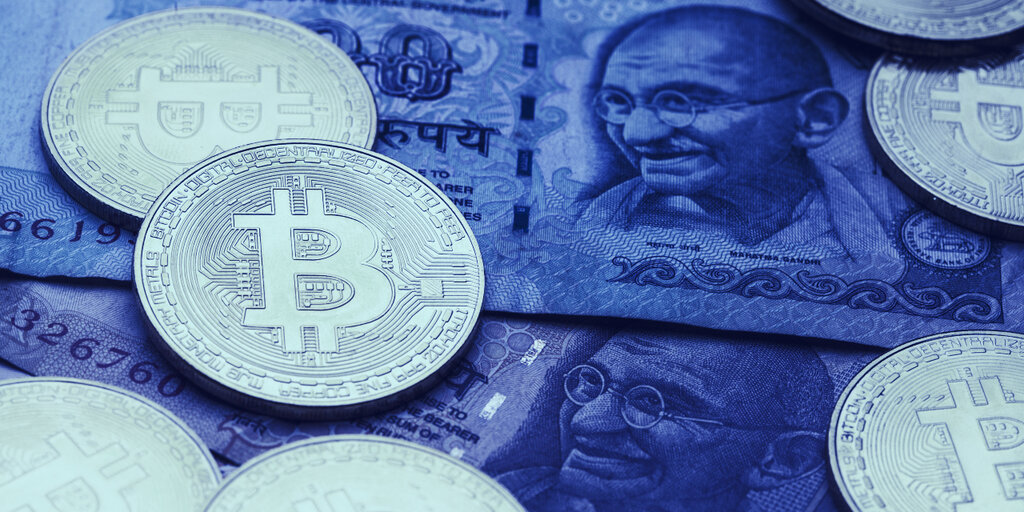 India's cryptocurrency market is currently wracked by uncertainty; although the country's Supreme Court recently reversed the Reserve Bank of India's blanket ban on crypto, it didn't propose a policy framework on how to legalize it. 
Now, settlement and remittance network Ripple has stepped in, publishing a whitepaper that outlines a proposed legal framework for digital assets in India.
We've published a policy paper to provide Indian legislators with recommendations for transparent digital asset regulatory frameworks. Read more on Insights. https://t.co/VfOMJvs9Pz

— Ripple (@Ripple) June 18, 2020
"India is currently presented with an opportunity to develop a regulatory framework for a native digital assets ecosystem. We are optimistic about that after a careful deliberation and consultation with industry participants," Sagar Sarbhai, Ripple's regulatory boss for Asia, said in a release. That framework, Sarbhai added, should be "technology-agnostic, principles-based, and risk-adjusted, in order to provide clear regulatory guidance that can manage and mitigate any associated risks."
Uncertainty in India's crypto market
Ripple's proposed framework would resolve the uncertainty lingering over India's crypto market. While the country's supreme court reversed the Reserve Bank of India's decision to ban crypto on the grounds of constitutionality—the government can't ban what commodities one chooses to hold—it didn't follow up by creating a legal framework for crypto in the country. 
The RBI told its member banks that there was no prohibition on them doing business with crypto companies, but banks, nervous about the lack of a comprehensive legal framework, often declined to onboard crypto companies as customers. Now, India's cabinet is allegedly considering an outright ban on cryptocurrencies, according to a cabinet note seen by the Economic Times. 
In order to satisfy regulatory concerns, Ripple's policy proposal includes a digital asset taxonomy consistent with global practice, and a modification to the RBI's Regulatory Sandbox Framework to remove "cryptocurrency" and "crypto asset services" from the negative list.
India's crypto industry wants regulation
Indian crypto exchange CoinDCX agrees that regulation is the right way to proceed is through regulation to weed out bad actors and ensure liquidity in the market. 
"The one-minute fix would be to regulate the exchanges," CoinDCX founder and CEO Sumit Gupta told Forkast in an interview, adding that it would make it easier for the government to track wrongdoing by individuals. "This makes the government's job very important as well, so that they can come up with a regulatory framework as soon as possible," Gupta added. "Now that the banking ban is removed there will be a lot of exchanges that will come up."
According to CoinMarketCap, CoinDCX does about $4.6 million USD in daily volume, making it the 27th largest exchange by volume. It lags behind other regional exchanges like Huobi Korea, which pulls in around $16 million in volume a day. On CoinDCX only about 2.4% of all volume is from the Bitcoin – Indian Rupee currency pair. 
Gupta added that India's domestic crypto market opening up would lead to an influx of new investment. "This will drastically improve the overall economy and we will see a lot of innovative businesses coming out from India in the near future," he said. 
Waiting for clarity from India's lawmakers
India's parliament will head back into session in July, and crypto legalization will definitely be on the table. 
Despite the lingering uncertainty over crypto's legal status in India, Ripple is confident that lawmakers in the country will see the economic advantage of smart regulations and create a framework that is conducive to growth.
"Responsible usage of blockchain technology and digital assets can introduce tremendous potential to the Indian economy"
"Responsible usage of blockchain technology and digital assets can introduce tremendous potential to the Indian economy," Navin Gupta, Ripple's managing director for Southeast Asia, said in a statement. "Under a clear regulatory framework, individuals and businesses can confidently take full advantage of and operate within a safe environment that encourages the use of innovative technology."
This story was produced in collaboration with our friends at
Forkast
, a content platform focused on emerging technology at the intersection of business, economy, and politics, from Asia to the world.
Source: decrypt