A bitcoin investor has issued a dire warning to the crypto community after getting scammed out of some funds attempting a transfer to Coinbase, according to a Reddit thread.
Reddit Member seraf1990 published a post today detailing the unfortunate chain of events in a thread that has received dozens of responses.
seraf1990 is out of pocket $350, meant for an upcoming rent payment, after falling for what appears to be a copy and paste malware scam. While it's not a great sum of money, the lesson learned from the episode could be priceless for other crypto investors.
First Mistake
According to the post, the user decided to cash out on some bitcoin holdings through Coinbase. First, they followed the crypto exchange's prompt to copy the assigned BTC wallet address using the trading platform's copy function.
Next, they headed over to Binance where they attempted to send the BTC by simply pasting the correct clipboard-copied wallet address, or so they thought.
Somewhere between the copy and paste functions, the BTC wallet address had changed. And seraf1990 only realized the interception when it was too late, saying that "only the first four symbols" matched and,
"somehow my copy-paste buffer changed the address from [the] right one to [the] wrong one."
The PC, which uses the Windows operating system, was seemingly infected with malware.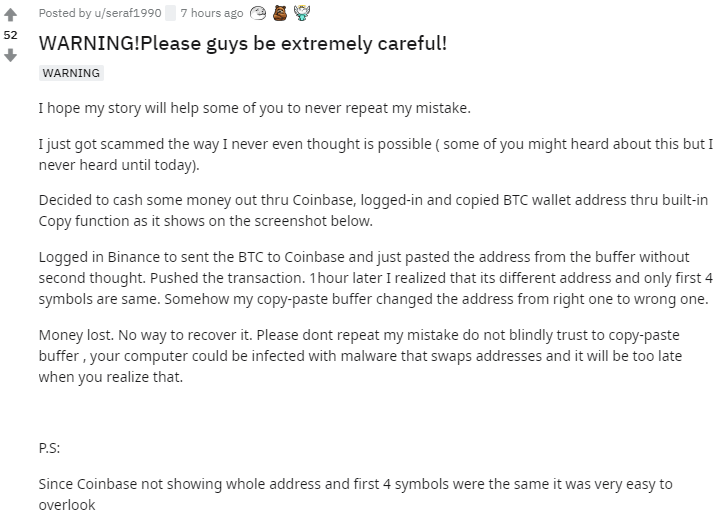 Crypto Response
At times, the crypto community will kick you while you're down, with a bunch of 'I told you so' remarks. However, in this case, Reddit members were largely supportive, empathizing with this individual's pain.
The lesson that Reddit users hammered home was not to rely on the copy/paste function when it comes to money and instead to double and triple check the wallet address. After all, the crypto industry attracts bad actors just waiting for an opportunity to intercept a transaction.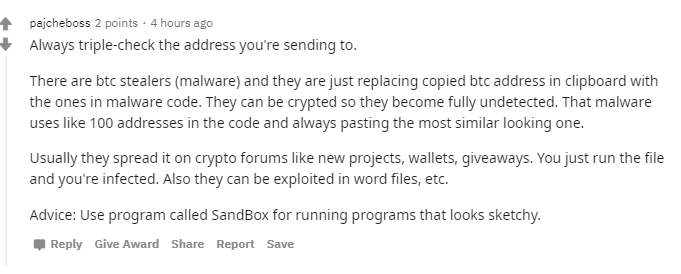 One member seemed to point the finger of blame at Coinbase, saying,
It is horrible that Coinbase doesn't show the full address.
seraf1990 knows this all too well, pointing out that scammers are using this feature to their benefit. Another member suggested that they would have made the same mistake under the circumstances, adding,
Definitely best to check the first 4 and last 4 as you said — so it's a bummer that Coinbase of all places isn't formatting addresses.
Yet another commenter suggested that "installing a random browser extension" could have been the victim's downfall. But seraf1990 said they only had MetaMask installed. They were also using Kaspersky antivirus software.
Perhaps one of the top responses came from a simple piece of advice,
Don't mess with Windows and crypto.
seraf1990, who has since changed all of their important passwords and formatted the drive, followed up in the Reddit thread exclaiming that they were done with Windows forever.
The post Reddit User Suffers Copy & Paste Crypto Malware Scam appeared first on BeInCrypto.
Source: Be In Crypto