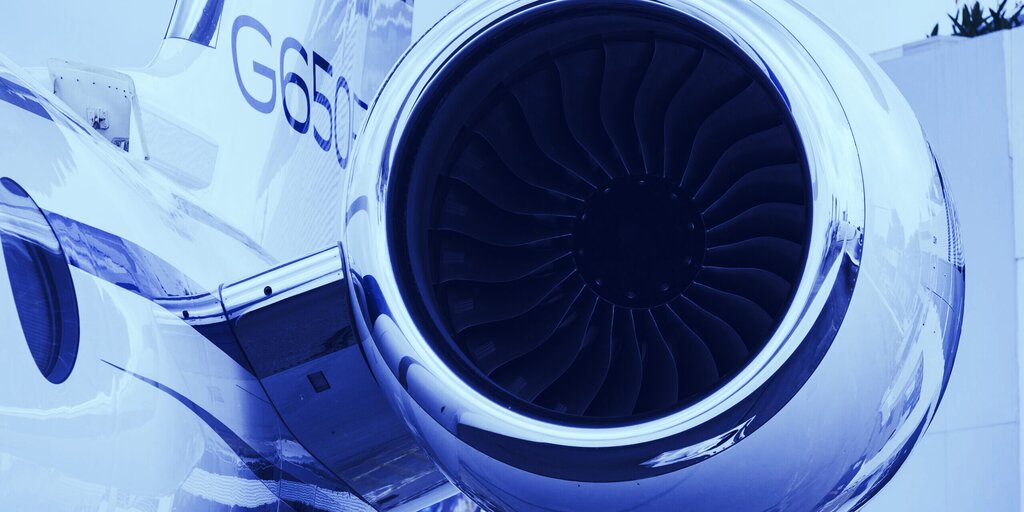 Aviatrade, a private airplane sales agency, has launched a new payment platform enabling Bitcoin and other cryptocurrencies as payment for its multimillion-dollar aircraft, according to news site, Business Insider. 
A Gulfstream G650ER, similar to models owned by Elon Musk and Jeff Bezos, is the first aircraft available to buy with cryptocurrencies and is featured on Aviatrade's website.
The six-year-old plane is the Gulfstream flagship—the largest aircraft in the American manufacturer's range. It's a snip at $40 million or 3,859 BTC (for those with ultra-deep pockets.) 
As covid-19 transforms the aviation industry, Aviatrade's move illustrates how private airplane sellers are turning to cryptocurrency to lure international buyers.
Payment in cash would be subject to cross-border restrictions in some countries, and buyers could save substantially by looking to an alternative method to fund such an expensive purchase, Aviatrade's president Philip Rushton told Business Insider. 
But Aviatrade is not the first to sell private jets for cryptocurrency. Kaizen Aerospace, a company engaged in private jet sales, leasing, and management, accepts Bitcoin for all its services, according to its chairman, Fabrizio Poli.
"We're offering clients the opportunity to pay in Bitcoin and other cryptocurrencies for our services, whether they're buying an aircraft, doing maintenance, chartering, or whatever it may be. Because, if someone calls you on a Saturday for a charter, they can't do a wire transfer," he said during a recent broadcast on BizJet TV (which also features blockchain advocate and aviation buff Andreas Antonopoulos.)
Blockchain payments service Bitpay, has also enabled around 15 transactions where cryptocurrencies have been used as payment for private jets, said Poli. But the money was first changed over to fiat, with a one percent fee levied on the buyers. 
Aviatrade and Kaizen Aerospace join a growing list of firms that accept cryptocurrencies as payment—for anything to flights and hotels, to gold and art. 
It's a phenomenon that's being fuelled by the coronavirus crisis, as merchants turn to digital payment platforms that accept Bitcoin and other cryptocurrencies, such as Jack Dorsey's Square. 
And, with Bitcoin, no matter whether you're buying a Gulfstream or a box of vegetables, the transaction fee is still the same. 
Source: decrypt