Privacy, antitrust drums beat again as Facebook acquires Giphy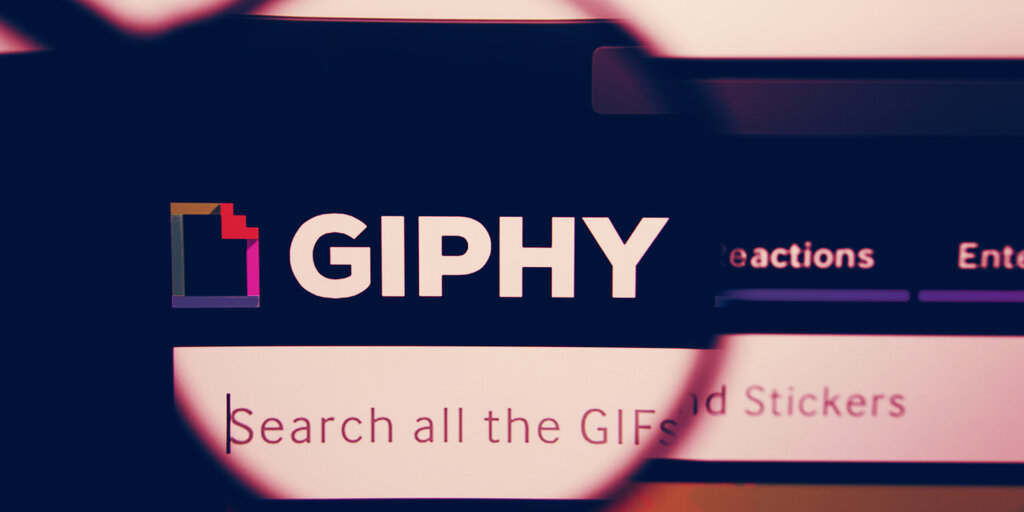 Facebook has US regulators talking anti-trust again, as the social networking giant has acquired another prominent photo app, Giphy. And the merger of Facebook with the popular GIF search engine may have serious data privacy implications for its users as well.
Last Friday, news broke that Facebook had agreed to purchase Giphy for $400 million. The database of GIFs is already integrated into dozens of popular apps, such as Twitter, Signal, Slack, iMessage, Tinder, Tik Tok, Snapchat, and the entire Facebook suite. But the move sparked concerns that Facebook had gained yet another massive pool of data, considering the company's poor track record of user privacy.
The source of the controversy appears to be that Giphy already collects a large amount of data about its users—perhaps more so than its users even realized—which will all now be at Facebook's disposal. According to develop and OneZero columnist Owen Williams, searches through Giphy's app "allows the company to track how and where the image is being shared, as well as the sentiment the image expresses." 
On third-party apps, Giphy can even track each keystroke that's used when searching through its database, wrote Williams. All apps who make use of Giphy are required to give it access to such data which can be used to identify users across apps—and all of that will now be in Facebook's hands.
By purchasing giphy I guess Facebook siezed the memes of production

— dan nolan (@dannolan) May 15, 2020
Giphy currently has built-in integrations to Twitter, iMessage, Mailchimp, Signal, Slack, Snapchat, Telegram, TikTok, and I know I'm missing a bunch others. That's a disturbing data lake they are pulling from. https://t.co/4FT9ZS68gy

— Comorienne (@_ShamGod) May 16, 2020
The acquisition irked many of Giphy's users online, and hundreds of users said on Twitter they were deleting Giphy from their devices:
Time to delete @GIPHY
It's been a pleasure pic.twitter.com/FfDQuRZAjU

— Salahmander VI (@novaMoMino) May 17, 2020
It didn't take long for Facebook to ruin Giphy. pic.twitter.com/4bXyC6ZWEe

— Stephen Hackett (@ismh) May 15, 2020
Facebook responded to the backlash today by saying that "data was not the motivation" for the acquisition. But the move nevertheless bothered some members of the US Congress, which has shown signs of becoming increasingly concerned with Big Tech and its influence.
This acquisition, in particular, may have raised red flags since Giphy was initially valued at $600 million in its most recent funding round, meaning it may have just sold at a steep discount amid the coronavirus induced economic crisis. 
Over the weekend, former US presidential candidate Elizabeth Warren and other politicians sounded off on the Giphy deal:

"Facebook's acquisition is yet another example of a giant company using the pandemic to further consolidate power—this time it's a company with a history of privacy violations gaining more control over online communications," a Warren spokesperson said.
In recent weeks, Warren and fellow Democrat Alexandria Ocasio-Cortez have pushed for a "Pandemic Anti-Monopoly Act," to place a moratorium on mergers and acquisitions until small businesses were no longer in financial distress. Some have said that with the economic crisis weakening companies and startups, a wave of corporate M&A could be coming.
1/5 Seems like the Giphy deal is strategically great for FB and probably gave Giphy the lifeline it needed.

FB gets valuable intelligence – Giphy is embedded into many top apps and the SDK requires disclosing user deviceIDs.

What? You thought they bought it for the gifs?

— V i v e k (@VivekxK) May 15, 2020

US Senator Richard Blumenthal concurred with Warren, calling for antitrust enforcers to "stand up & make sure that the COVID-19 pandemic is not a pretense for corporate behemoths to prey on struggling startups." 
Facebook's acquisition of GIPHY is yet another attempt to dominate the market & taunt our competition laws. Antitrust enforcers at the DOJ & FTC must stand up & make sure that the COVID-19 pandemic is not a pretense for corporate behemoths to prey on struggling startups. https://t.co/UqKkHCPUvp

— Richard Blumenthal (@SenBlumenthal) May 15, 2020
Meanwhile, the Giphy user revolt is very reminiscent of the way Keybase users reacted to the company's purchase by Zoom just two weeks ago. Like Facebook, Zoom has faced its own set of privacy concerns stemming from data misuse and connections to Chinese servers. These privacy concerns are exacerbated as coronavirus lockdowns around the world pushed millions to use Zoom and other work-from-home platforms. 
As some regulators push for the breakup of Big Tech behemoths like Facebook, leaders in the Web3 space instead have called for decentralized alternatives to emerge and take the lead.
Two weeks ago, Tyler Winkevoss—the crypto venture capitalist known for his battles with Facebook in the past—called for crypto entrepreneurs to build uncensorable social networks that provide viable alternatives to the Web2 incumbents.
For now, until decentralized alternatives take hold among mainstream users, the battle over data privacy on Internet platforms may be just getting started.
Original Source: Decrypt Privacy, antitrust drums beat again as Facebook acquires Giphy