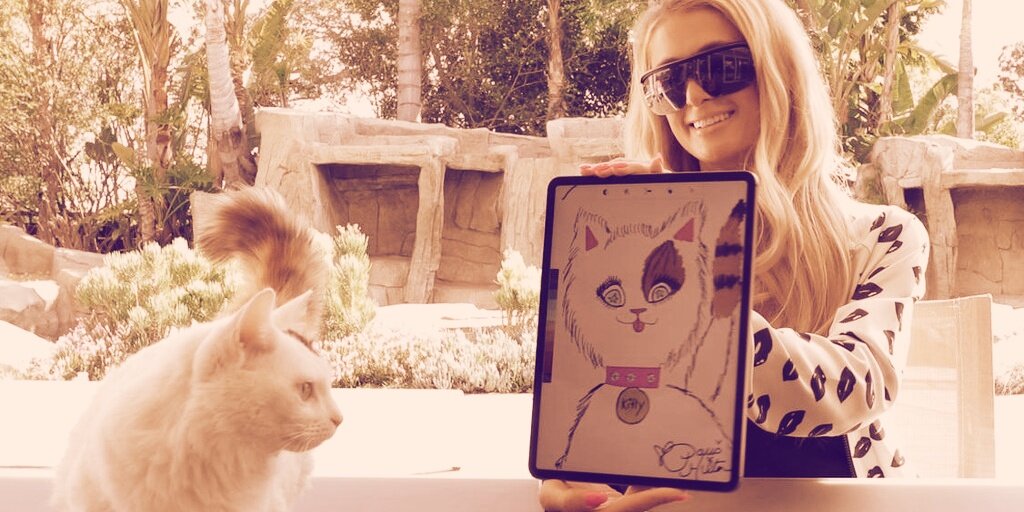 Paris Hilton, a famous heiress of the eponymous hotel network, has auctioned off a digital painting of her cat for 40 ETH—worth around $17,000—on recently launched Ethereum-based auction platform Cryptograph.
Today I am auctioning off my @Cryptograph of #Munchkin to benefit 3 amazing charities: @LAFoodBank @MealsOnWheels @BB4Homeless. The auction is live now for the next 72 hours at https://t.co/rCroea8vCg pic.twitter.com/XP18LGtHsi

— Paris Hilton (@ParisHilton) August 13, 2020
"Paris' Cryptograph is a hand drawn portrait of one of her cats named Munchkin," Cryptograph explained, adding that "This is Paris' first ever NFT and so the fact that it is a portrait of a Kitty is some would say rather appropriate given how NFTs and Crypto Kitties are so synonymous."
As Decrypt reported, Cryptograph allows famous personalities to auction their digital artworks—also called cryptographs—in the form of unique non-fungible tokens (NFTs) stored on the Ethereum blockchain. And they contribute to charities in the process.
"Every Cryptograph that is sold on our platform supports a charitable cause and every time a Cryptograph is bid on or transacted, it automatically raises money for its charity, creator, and for our company Perpetual Altruism," Cryptograph co-founder Hugo McDonaugh previously told Decrypt.
Starting on August 12, the auction for Hilton's painting warranted only four bids, ranging between two and 40 ETH. The winner, a pseudonymous user called Adirolls, won the auction on August 15. Prior to this, he also bought artworks made by Bitcoin.com founder Roger Ver and Ethereum Foundation researcher Vlad Zamfir for 7 ETH (around $3,000 today) and 25 ETH ($10,800), respectively.
The first cryptograph was created and sold by Vitalik Buterin, a co-founder of Ethereum, for 77.35 ETH ($33,300 today) on July 11. At the time, Adirolls also tried to buy it for 70 ETH ($30,200 currently) but was outbid.
The profits from Hilton's auction will now benefit three charities focused on feeding and housing the vulnerable: Los Angeles Regional Food Bank, Meals on Wheels and Backpack Bed for Homeless.
Notably, this is not the first Paris Hilton's foray into the crypto space. In a now-deleted tweet from September 2017, she claimed to be "Looking forward to participating in the new @LydianCoinLtd Token" sale, adding "ThisIsNotAnAd" hashtag.
All the while Gurbasksh Chahal, the founder of the Signapore-based LydianCoin, was already facing jail time.
Source: decrypt