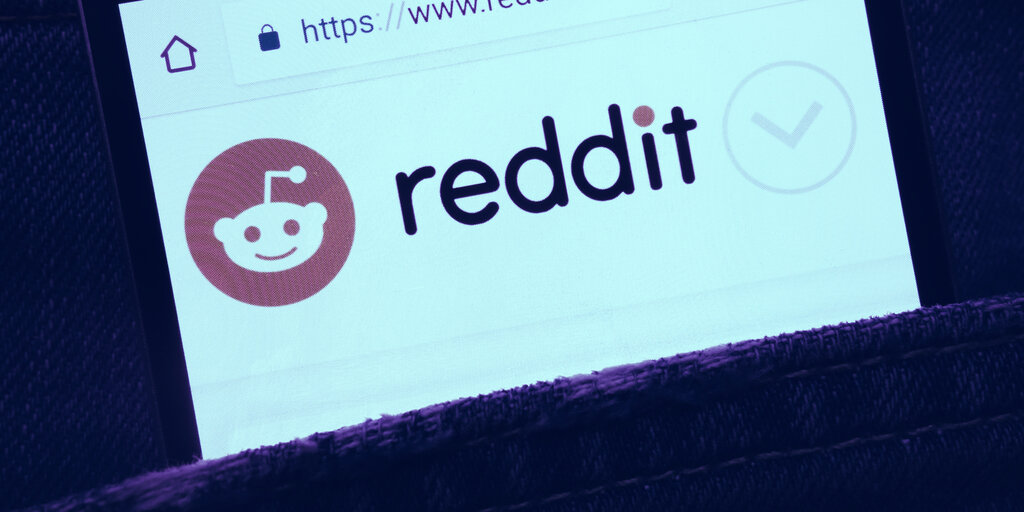 Reddit sees cryptocurrency as a key part of its future growth and evolution, as the popular discussion community believes token rewards will encourage "quality" posts and comments.
Here's the thing, though: with some 430 million monthly users across its many, many different boards, Reddit is absolutely immense. And when the company first debuted its Ethereum-based "Community Points" crypto rewards in May, it picked just two communities to start with, or less than 1% of its active user base.
To potentially reach the vast majority of other users, Reddit—in conjunction with The Ethereum Foundation—turned to its Ethereum community and its 474,000+ subscribers to solicit detailed pitches on how to potentially scale up its crypto project in a resource-efficient manner.
"The Great Reddit Scaling Bake-Off" launched in mid-June and concluded its submission window on Friday, and while any chosen solution brings only fame and exposure to the creator (not money), the competition still saw 22 comprehensive pitches, including from some noted projects in the crypto space.
Here's a look at a few of the key proposals:
Matic Network: Matic's layer-2 solution proof-of-concept handled a purported 3 million transactions in a day at a cost of just $3.52 in fees. As one top-voted comment noted, "I did a single transaction on Ethereum a few days ago that cost $10. Matic looking good."
1/ #Reddit
We submitted our POC for Reddit Scaling Bake-off!!!

Matic sidechain processed 3mn transactions over 12 hours with a total gas fee of USD 3.52!!!

Our Submission is here: https://t.co/mziWvFUVfr

Detailed blog is here: https://t.co/45Ogjj9Kxa pic.twitter.com/7uyk0lqwY3

— Matic (@maticnetwork) July 29, 2020
OMG Network: This highly-upvoted proposal comes with a working Google Chrome browser extension and zero fees, although it didn't handle nearly as many transactions in its current state. "The time for experimentation and theoretical design is over; it's time for production-ready software to take center stage," reads OMG's post.
ICYMI: The Community Points Engine powered by OMG Network is a Chrome Extension that works on the r/omgnetwork subreddit and allows users to transfer community points for FREE. Want to learn more? Join our virtual demo on Monday! https://t.co/rEkOF9ExD2

— OMG Network (@omgnetworkhq) August 2, 2020
Solana: Solana has the highest-upvoted proposal as of this writing (OMG's not far behind), with a working proposal that's running on its own blockchain. "It's cheap and fast as hell," reads the post—although not as cheap as Matic, given Solana's $10 in fees per $1 million transactions.
Hey everyone – Solana has officially made a submission for the 'Reddit Scaling Bake-Off'. Solana tackled the Scaling Bake-Off this week and completed the entire 5-day challenge in under six minutes for less than $5 USD. https://t.co/9EyXyPpfjL

— Solana (@solana) July 29, 2020
SKALE: SKALE's pitch didn't get very many votes at all, but its layer-2 solution promises zero fees for Reddit users and would see Reddit creating its own blockchain on the SKALE network. Pricing is based on capacity and utilization… and Reddit would probably need the largest option available, at least in time.
SKALE enters The Great Reddit Scaling Bake-Off!@reddit gets:

7.2 Mln Txs per hour
Redditors pay zero
Frictionless UX on Web3 (YES!)
Decentralized *Reddit-specific* chain (no need to share TPS with anyone)

More here https://t.co/ZD4GM38jXx#Ethereum pic.twitter.com/TTIvH5rYh1

— SKALE Network (@SkaleNetwork) July 31, 2020
NEAR: NEAR is one of the latest buzzy "Ethereum killers" that relies on sharding to handle scalability. And while the team recently raised $21.6 million, its proposal has earned divisive responses from Reddit users, including one who left an upvote and replied, "You probably won't win this battle, but keep up the good work."
Ultimately, however, upvotes won't sway the battle for any of these teams. Reddit is currently evaluating the proposals to see which, if any, could help fuel the growth of Community Points—and if any of these teams can claim to be the one to help Reddit fully embrace crypto.
Source: decrypt