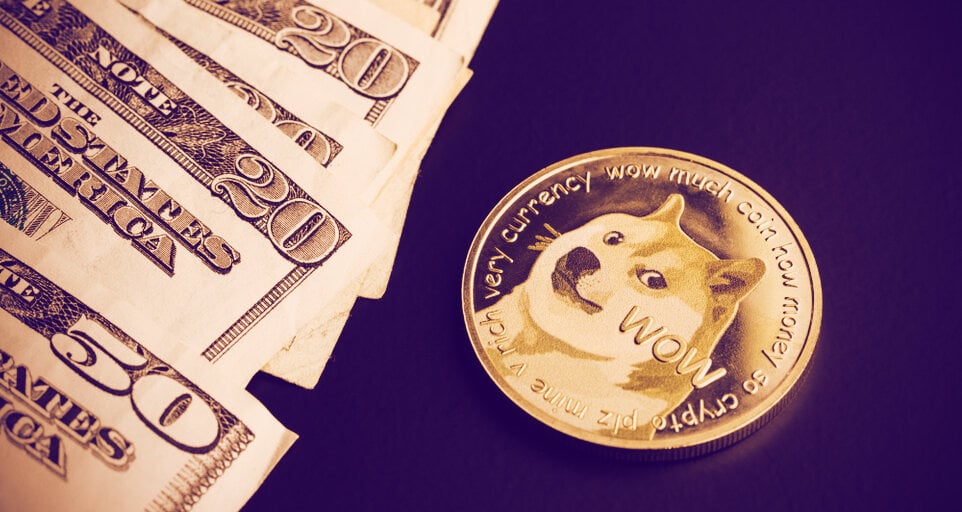 Dogecoin (DOGE) experienced one of its largest-ever, single-day pumps today, and is up 43%.
The famous Shiba Inu dog-inspired meme coin pumped from $0.0027 yesterday morning up to a peak of $0.0053 earlier today, before cooling off to fall back to its current value of $0.0038. From trough to peak, this represents a pump of 94.3%—one of the biggest in Dogecoin's cluttered history of dramatic price swings.
This sudden positive momentum has seen Dogecoin's market cap grow from $344 million to $489 million. Dogecoin is now the 27th largest cryptocurrency by market capitalization after climbing 14 positions since July 5. It overtook several other promising projects while doing so, including the likes of Compound (COMP), Basic Attention Token (BAT), Kyber Network (KNC), and Aave (LEND).
Much of this growth appears to be the result of a Dogecoin challenge that is currently going viral on the popular social networking app TikTok. As part of the challenge, TikTok users are urged to invest $25 into the cryptocurrency with the goal of pumping its price up to $1. So far, it appears to have been somewhat successful, since DOGE trading volumes have more than quintupled in the last week.
"Let's all get rich! Dogecoin is practically worthless. There are 800 million TikTok users. Invest just $25. Once it hits one dollar, you'll have ten grand. Tell everyone you know." said huckx8 in his viral TikTok video. This should not be seen as financial advice.
Starting today, we'll focus on more TIK TOK content…stay tuned for #TRON videos going viral! #TRX @tiktok_us

— Justin Sun (@justinsuntron) July 8, 2020
The recent pump has also caught the attention of Tron CEO Justin Sun, who looks poised to muscle in on the action by ramping up Tron marketing efforts on TikTok.
At its current price point, Dogecoin is now at its high value since July 2019, but touched its highest point since April 2018 at its peak earlier today. So far, the cryptocurrency has racked up gains of 90.1% YTD, making it one of the best performing cryptocurrencies in 2020—but still edged out by Cardano (ADA), VeChain (VET) and Chainlink (LINK), all of which climbed by more than 200% this year.
The views and opinions expressed by the author are for informational purposes only and do not constitute financial, investment, or other advice.
Source: decrypt