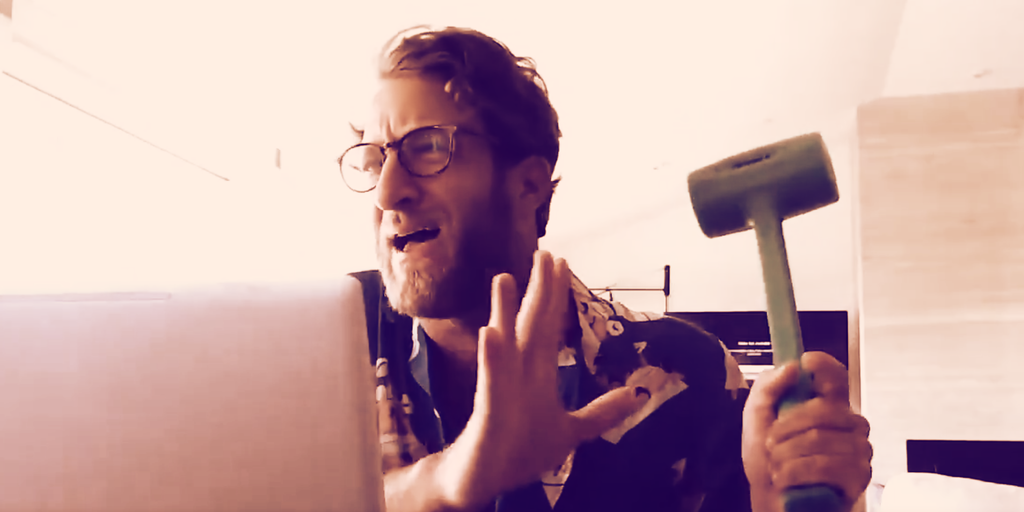 Barstool Sports president Dave Portnoy has clearly been bitten by the crypto bug, and after last week's collaboration with Gemini's Winklevoss twins and claiming that he had bought at least $1 million worth of Bitcoin, he's back at it again today.
In this morning's Davey Day Trader stream, which Portnoy proudly announced is now sponsored by crypto lending firm BlockFi, "El Presidente" claimed that he was up more than $100,000 on his Bitcoin investment after a week. Portnoy, who referred to himself as the "King of Bitcoin," added, "At this rate, I'll make a million dollars a month in Bitcoin."
Beyond frequent chatter about Bitcoin throughout the episode, he also turned his attention to a couple of other coins: Chainlink and Orchid (which he repeatedly called "Orchard").
Confirming what appeared to be a previous purchase of Chainlink's LINK token last week, he labeled himself one of the infamous Link Marines and said that he's amassed a fair bit of it now. "I am a Link Marine, I fuckin' love it," he said. "I'm a huge Link Marine. I think I'm $300,000 of one and that thing just rips."
He also consistently pointed viewers towards Orchid's OXT, which has pumped considerably in recent weeks. It's up 227% in the last 30 days according to CoinGecko.
"It's like a fucking little wimpy coin, and we're gonna push OXT to the fuckin' moon.. that's a little cheap-ass Bitcoin," he said. "Go buy OXT. Get in on it, and then get out on it. Let's fuckin' pump and dump it."
"It's a shitcoin," he added, explaining in terms that Orchid Protocol might not be too keen to promote. "Push the shitcoins, push the shitcoins. Just grab a hunk of shit and throw it against the mirror, and watch it drip, go up, down, zigzag—so that's what I did."
Interestingly, however, OXT doesn't appear to have benefited from the "Portnoy pump." The coin has sunk like a rock since Sunday, and is currently down more than 20% in the last 24 hours. So you can take that however you'd like.
Everyone knows you don't say what crypto you're about to buy until you've cryptonized it. #DDTG pic.twitter.com/LFAqzkkkmC

— Dave Portnoy (@stoolpresidente) August 17, 2020
Portnoy has recently been retweeting people who note his perceived influence on crypto prices, thanks to his 1.7 million Twitter followers and considerable overall reach. He says that while he avoids pumping and dumping stocks in the traditional market due to SEC oversight, he has no problems whatsoever trying to do it with cryptocurrency.
"The thing I like about pump-and-dumps in crypto is it's encouraged," he said. "In crypto, you can pump and dump all day long."
The views and opinions expressed by the author are for informational purposes only and do not constitute financial, investment, or other advice.
Source: decrypt