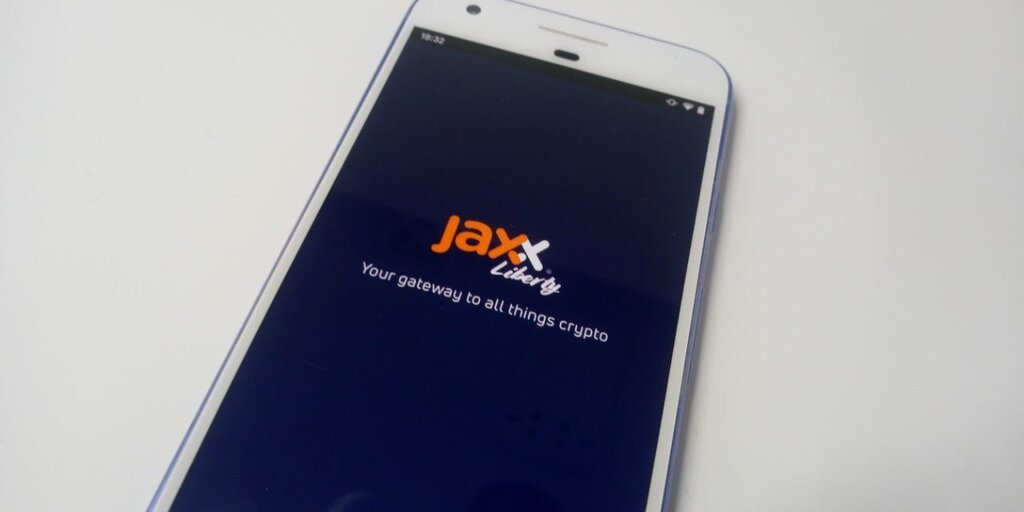 Decentral's Jaxx Liberty is one of the most popular mobile cryptocurrency wallets, with more than 100,000 downloads across the Apple App Store and Google Play store.
The wallet first launched in May 2018 and has evolved substantially since then, adding new features, and support for an increased range of digital assets.
Jaxx Liberty stands apart from other mobile wallets thanks to its attractive design and simplicity. However, its security features are subject to some baffling decisions that leave them struggling to measure up to those of its competitors.
Jaxx Liberty review: Design and UX
Like most popular mobile cryptocurrency wallets, Jaxx Liberty has an attractive, functional design that makes navigating around the app a pleasant task.
Each section of the app is clearly defined and easy to navigate, while more advanced and less prominent features are tucked away in a separate side menu.
Jaxx Liberty is clutter-free for the most part, but it does suffer from overcrowding on some of its menus, which can be problematic for users on high resolution and small screen devices.
Jaxx Liberty review: Getting started
Jaxx Liberty's excellent design also extends to its setup process, which should be a breeze for most users.
After installing Jaxx Liberty on your device, you'll be asked to create a new wallet or restore an existing wallet using a 12-word recovery phrase.
Choose to create a wallet, and Jaxx Liberty will quickly generate a new wallet and give you the option to create a backup—displaying the 12-word recovery phrase as three blocks of four words in the subsequent steps. This recovery phrase is needed to recover your wallet should anything go wrong and should never be revealed to anybody else.
Once you've backed up your wallet (or skipped the step), Jaxx Liberty will then load up, allowing you to access all its features.
Jaxx Liberty review: Ease of use
Jaxx Liberty's usability is arguably its biggest strength; the wallet is just plain simple to use. Each of its main features is neatly tucked away in a different section of the app, helping to avoid the clutter that sometimes makes wallets fiddly or difficult to use.
Sending payments is as simple as selecting an asset and clicking the send button to pull up the address and amount fields, while receiving payments is similarly simple thanks to the ability to share the address across a range of platforms from within the app. 
For those who transact with cryptocurrencies regularly, you may be disappointed to find that Jaxx Liberty lacks any contact list functionality, so you'll need to manually enter the address each time you make a transaction.
The portfolio tracking tool provides a brief snapshot of the overall state of your portfolio, but also provides more granular information about the performance of each individual cryptocurrency if needed. This, combined with the ease of sending, receiving, and exchanging cryptocurrencies in the app makes Jaxx Liberty easily accessible to less experienced crypto users.
Jaxx Liberty review: Features
Jaxx Liberty is one of the most feature-packed mobile wallets we've seen.
Its main features are split into separate modules, which are accessed via the bottom of the user interface. The portfolio module provides a brief overview of the performance of assets held in balance, showing the total portfolio value in addition to the individual performance of each asset supported by the wallet over several timescales. The markets module provides similar information, but includes assets that are not necessarily held in the wallet balance.
Users can purchase dozens of cryptocurrencies using their credit card directly in-app, using the 'buy cryptocurrency' feature. Jaxx Liberty provides this feature through its partnership with Simplex. This feature is available to users in more than 50 countries and purchases are subject to a minimum fee of at least 3.5%. Alternatively, you can exchange more than a dozen cryptocurrencies within Jaxx Liberty thanks to its ShapeShift integration.
Other prominent features include a news aggregator that supports several popular crypto publications, and an optional myJAXX rewards feature, which allows you to earn cryptocurrency by participating in various tasks.
It also has a built-in block explorer, allowing you to check the state of addresses, transactions, and blocks on a dozen different blockchains without leaving the app.
Jaxx Liberty review: Supported assets
As a multi-asset wallet, Jaxx Liberty includes support for well over 90 different crypto assets, but only a dozen of these are enabled by default. Assets enabled as standard include:
Bitcoin (BTC)

Ethereum (ETH)

Bitcoin Cash (BCH)

Litecoin (LTC)

Dash

Ethereum Classic (ETC)

Zcash (ZEC)

Dogecoin (DOGE)

RSK (RBTC)

Unity (JXX)

Augur (REP)
Jaxx Liberty users have the option to add or remove the visibility of any of the assets supported by the wallet. Some of the more prominent additional crypto assets supported by the platform include:
Digibyte (DGB)

Basic Attention Token (BAT)

Bancor (BNT)

Status (SNT)

Enjin (ENJ)

Chainlink (LINK)

Huobi Token (HT)

True USD (TUSD)

USD Coin (USDC)

Gemini Dollar (GUSD)

Paxos (PAX)

Dai (DAI)

and more than 60 others.
Jaxx Liberty supports five of the top ten cryptocurrencies by market capitalization and a good mix of stablecoins and ERC20 tokens.
Jaxx Liberty review: Security
Jaxx Liberty is a non-custodial wallet, meaning that you maintain control of your private keys and can transfer your balance to other wallets if you choose, using your 12-word recovery phrase. 
Its security features are, however, hamstrung by some baffling decisions. It offers password protection, with the ability to set a 4 to 32-character password. However, in a bizarre choice, this is an option and isn't enabled by default. That means if you don't set a password, anybody who accesses your phone could have unrestricted access to your cryptocurrency portfolio too.
Jaxx Liberty also lacks some security features offered by its rivals, such as biometric security and two-factor authentication. For that reason, it's better suited to holding small amounts of cryptocurrency for day-to-day use, rather than securing a substantial portfolio.
Jaxx Liberty review: Verdict
Jaxx Liberty is a well-built mobile wallet with support for an excellent array of the most popular cryptocurrencies, as well as some more niche ones. 
Its built-in cryptocurrency portfolio tracker and exchange features make Jaxx Liberty an attractive option for those looking to manage a diverse array of cryptocurrencies, and the included cryptocurrency purchase option makes for a simple on-ramp for new investors to gain exposure to cryptocurrencies.
But it's not all good. Some areas of the wallet suffer from crowding issues when used on smaller devices, while its security options struggle to match up to those from rival mobile wallets.
Source: decrypt