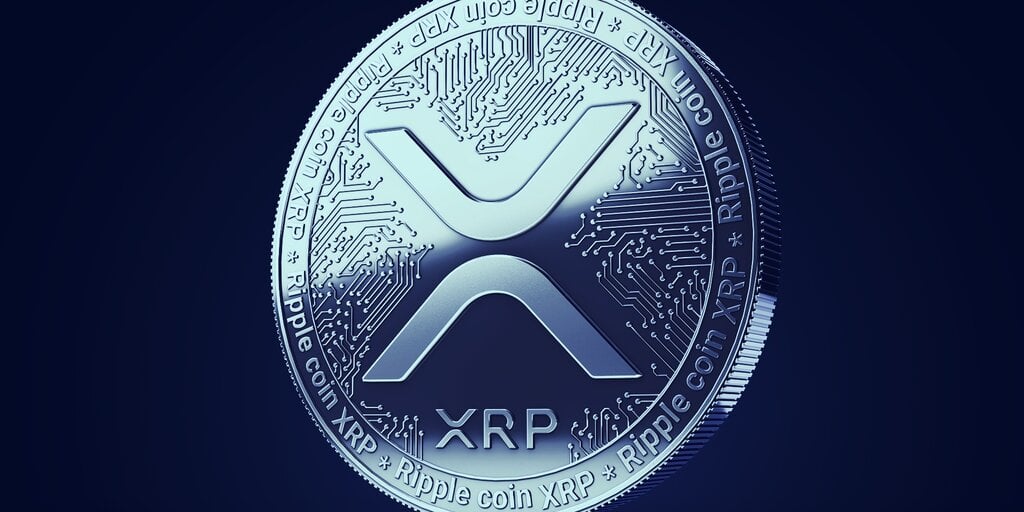 Ripple's XRP is one of the most popular cryptocurrencies on the market, with the third-highest market cap as of this writing, behind only Bitcoin and Ethereum. An individual XRP coin may only be worth a fraction of the price of those top currencies, but there are a lot more of them on the market.
Why is XRP a popular cryptocurrency? Ripple is a payments platform designed for the rapid settlement of transactions and affordable cross-border remittances, aiming to both disrupt and supplement the current financial system. As the platform onboards additional global banks and services and becomes more widely used, the value of its XRP coin could potentially increase.
If you're considering buying XRP, we've put together a quick guide to getting started.
What is XRP?
XRP is the cryptocurrency of Ripple, a digital payments platform. Unlike Bitcoin, which was designed to help people become independent of the traditional financial system, Ripple is primarily used by institutional clients for digital payments. It has become particularly popular for cross-border remittances, which can be costly and time-consuming through other methods.
By contrast, XRP has comparatively low fees and settles transactions in a matter of just a few seconds, taking a lot of the hassle and waiting out of the process of sending money anywhere.
Our robust suite of products and services helps eliminate friction in the global financial system. Discover how we're enabling payments for everyone, everywhere. https://t.co/FSi55Ypxvr

— Ripple (@Ripple) November 10, 2020
How and where can I store XRP?
XRP must be stored in a cryptocurrency wallet; either a software wallet, a hardware wallet, or on an exchange platform. A wallet holds the private keys needed to access your cryptocurrency holdings.
There are various options when it comes to XRP wallets. For example, if you want a wallet on your iOS or Android device, apps like Atomic Wallet or Crypterium are popular for XRP. A hardware wallet can also be used to secure your keys, such as the Ledger Nano S, Ledger Nano X, or Trezor Model T. Atomic is also a popular option for a computer wallet.
For any wallet to transact with the Ripple network, it must hold a minimum of 20 XRP, a measure implemented to prevent an overload of low-balance wallets from congesting the network. Granted, 20 XRP is not a particularly significant amount of money as of this writing (around $11), but you should still know that requirement going in.
Alternatively, you can hold your XRP within the built-in wallet of a supported exchange, but that is typically not considered to be an especially secure option. Exchanges typically recommend holding long-term assets in a dedicated wallet, especially in cold (offline) storage.
How do I buy XRP with USD?
Here is a walkthrough of how to buy Ripple with USD from Coinbase, a popular cryptocurrency exchange. You will need to sign up for an account with Coinbase and verify your identity to begin buying cryptocurrency via the platform. Once you have an account setup and ready, click on the Prices tab to bring up a list of the various cryptocurrencies that Coinbase sells.
Click on XRP to bring up the coin's page, which includes graphs showing the changing price of the currency over selectable spans of time. The page also shows the split between Coinbase users who are recently buying or selling XRP, the volume, market cap, circulating supply, popularity on the platform, and how long users typically hold the currency before trading.
On the right side of the page, you can type in the amount of USD you want to spend on XRP via your linked bank account. In this case, we input $10 and selected "Preview Buy." From there, Coinbase presents its offer: the amount you want to spend, less Coinbase's fee, will translate into how much XRP you'll get in return based on the current market value.
As seen, Coinbase took a fee of $0.99, and the remaining $9.01 USD exchanged for about 16.92 XRP at the then-current market value at the time. Click "Buy now," and within a few seconds the transaction will be completed, with the XRP available in your exchange wallet. From there you can send your XRP to an external wallet, or keep it on the exchange (though we'd advise against holding significant amounts of cryptocurrency on an exchange).
You can also exchange other cryptocurrencies for XRP on Coinbase, as well as exchanging your purchased XRP for other tokens.
How else can I get XRP?
Coinbase is just one example of how to purchase XRP using an exchange, but there are many other exchanges that allow you to purchase XRP. Some allow you to buy XRP directly using USD, while others may require you to use another cryptocurrency—which means you'll need to buy the other coin first and then exchange it for XRP.
$XRP withdrawals/deposits have resumed on https://t.co/AZwoBOy3iq.
Happy trading! pic.twitter.com/AT7zu8Y7i3

— Binance.US (@BinanceUS) December 12, 2020
As seen here, Binance.US is another exchange where you can buy XRP directly with USD, or you can exchange other cryptocurrencies if you choose. Kraken is another popular option for buying with USD or other cryptocurrencies.
Ripple does not specifically recommend or point to any particular exchanges, but those are among the most popular and reputable exchanges available to US-based customers.
The views and opinions expressed by the author are for informational purposes only and do not constitute financial, investment, or other advice.
Source: decrypt