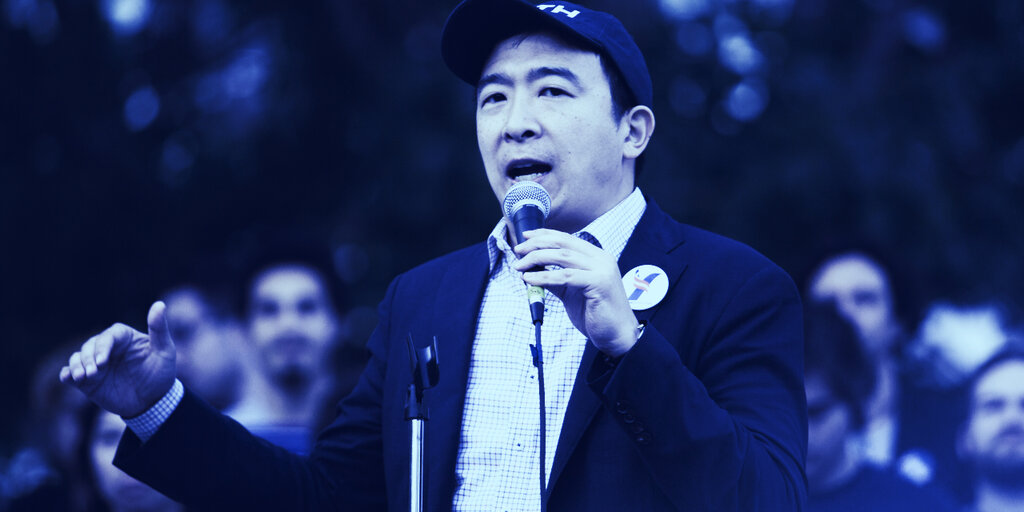 Former presidential candidate and crypto advocate Andrew Yang took to the op-ed pages of the LA Times on Tuesday to lay out his vision for how to make companies pay for their users' data. And lucky for Yang and his acolytes, there are crypto startups already working to make this happen.
In his op-ed, Yang announced the creation of a public-benefit corporation, the Data Dividend Project, which aims to help enable people to control the use of their data and allow for compensation of approved use of collected information by tech companies.
A possible future candidate for mayor of New York, Yang pointed out how large companies like Google and Facebook have taken full advantage in monetizing all the data they have captured from their users—all while the users of these platforms have received no compensation whatsoever in return. 
Yang said he believes users should have a right to decide what parts of their online data is shared with companies and advertisers. He's gone so far as to advocate for the establishment of a Data Bill of Rights and also recently launched a non-profit called Humanity Forward to advance his policies, such as universal basic income.
Streamr is one of several crypto projects currently working to make what Yang envisions as a "data dividend" a reality.
Streamr is a data protocol that is focused on building a decentralized infrastructure that allows users to control their data and monetize it by providing a marketplace. It believes in using cryptocurrency tokens as a transparent distribution channel for user data compensation.
"Policy alone is not enough to make a data dividend happen. Why? Look at the coronavirus stimulus checks fiasco," Streamr executive Marlene Ronstedt told Decrypt.
"Using crypto payments we can distribute money to everyone for their data, whether banked or unbanked, whether American citizens or not," Ronstedt said. 
Yang, as you might expect given his background as a politician, is also pushing political solutions to the current data privacy mess. The California Consumer Privacy Act, he said, "offers a good model for the nation," since it mandates that Californians have the right to know what data is being collected about them from tech companies as well as access to that data, among other considerations.
But Shiv Malik, Stremr's head of growth, doesn't necessarily see political solutions as the way to go—at least not if you want quick results. "My only worry is that fighting tech with the law is slow, clunky, expensive and filled with uncertainties," she said. "Fighting tech with tech and forming digital collectives that can actually license data sales from millions of people on our terms—seems like a better way forward, which is why we've taken that route for the Streamr project."
The Brave web browser and corresponding BAT token is another crypto project aimed at empowering users to have more control of their disclosed online data, while also receiving compensation in exchange. Brave browser Sr. Developer Relations, Jonathan Sampson, commented on Twitter by praising Yang's views on the value of personal data and explaining his company's approach:
"Brave goes several steps further; data stays on your device, and ads still go to the users for whom they're most appropriate. And, users get paid," he said.
Op-Ed by @AndrewYang: Make tech companies pay you for your data https://t.co/zPsGrya9EC

Great piece on the value of personal data. @brave goes several steps further; data stays on your device, and ads still go to the users for whom they're most appropriate. And, users get paid.

— Sampson (@BraveSampson) June 23, 2020
Regardless of the method, crypto industry insiders largely agree that data ownership is of paramount importance. Said Malik: "Fighting for the paradigm of data ownership is one of the best ways to tackle the huge global digital exploitation that is currently taking place."
Source: decrypt