How blockchain is tackling a mountain of electronic waste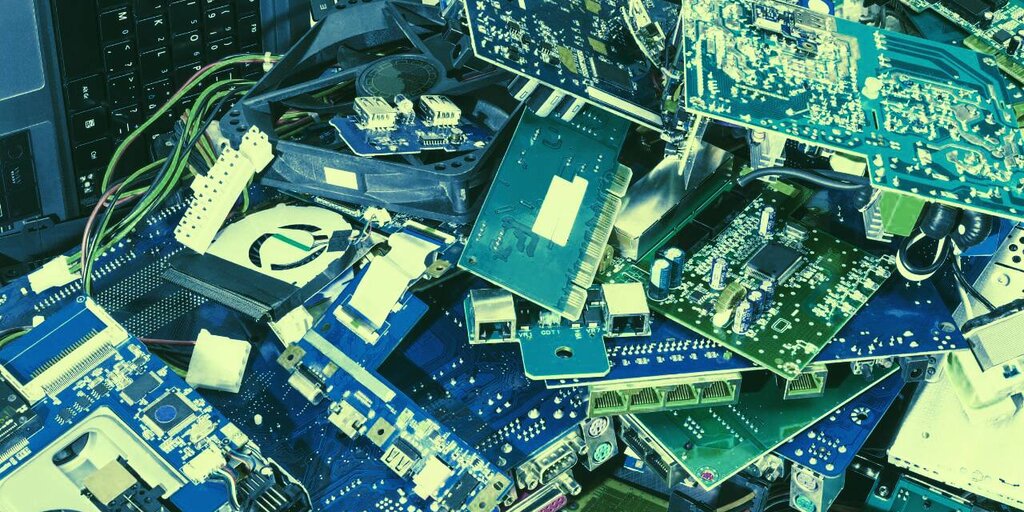 As the technology industry marches towards the future, it leaves a vast trail of detritus in its wake. E-waste, or electronic waste, refers to the ever-growing pile of old mobile phones, circuit boards, televisions and computers that accumulates as they're discarded in favor of this year's model.  
Consumers discard 44 million tonnes worth of electronics each year, according to a 2019 United Nations report, but only 20% is recycled properly. Some goes to landfill; much is undocumented, likely processed illegally. At scrap heaps like the Agbogbloshie dump in Ghana, the subject of 2018 documentary Welcome to Sodom, toxins from e-waste have entered the food chain.
The problem is only getting worse. At this rate, the world will produce 120 million tonnes each year by 2050. And it's a huge waste of resources: As much as 7 percent of the world's gold could be wrapped up in e-waste, according to the UN report.
Where there's muck there's brass, as the saying goes; and among those who spy an opportunity in addressing the e-waste problem are several blockchain companies. They're looking to track e-waste, to extend the lifespan of existing consumer electronics—and to tackle blockchain's own e-waste problem.
Tracking the circular economy
Everledger, a blockchain firm founded in 2015 in the heart of London, started as a company that traced the provenance of raw materials for luxury goods, like diamonds, CEO Leanne Kemp told Decrypt. Traceability is an important way to keep tabs on how these goods are produced; insurgents often mine diamonds to fund wars, usually in terrible conditions.
"And then I thought, what could be the future's most conflicted supply chain in the world by 2030 or 2050? It's very clear that uptake of batteries, electric vehicles and electrical devices is one of the greatest transformations we're going to see," said Kemp.
Electric batteries rely on rare natural minerals and metals such as lithium, cobalt and cadmium, which are harmful to the environment when processed incorrectly—or dumped, as they are at scrap yards like Agbogbloshie.
Resource Recovery: E-waste is being burnt in Ghana for precious metals (copper, gold, etc) from plastic coating! @everledgerio there in September to support delivering a €5 million GIZ project to build a sustainable, efficient recycling system at Agbogbloshie. @QChiefEntrepren. pic.twitter.com/RzexyuS7QA

— Leanne Kemp 【ツ】 (@leanne_kemp) June 20, 2019
Battery producers who hope to trace the life cycle of e-waste could harness three advantages of blockchain, said Kemp: First, there's "a requirement to have a versioning of the truth that everyone can agree upon," she said; the second thing it does well is "to bring together a consensus"—to let different people and devices interact with the chain; and the third element is security. 
Everledger is in the middle of a pilot with the US Department of Energy to help track the life cycle of batteries. In one pilot, a collaboration with the car company, Ford, Everledger will provide a "battery passport" for electric vehicles, a kind of digital identity that helps recycling companies determine the health, location and condition of a battery. This makes it easier to work out which metals they can reuse in new batteries, as well as ensuring that they're disposed of responsibly. 
Everledger announces pilot programmes with US Dept of Energy and Ford around sustainable Li-Ion battery life cycle solutions. Read all about it on our blog:https://t.co/jwzEMDfaWO#blockchain #Sustainability #WEF20

— Everledger (@everledgerio) January 23, 2020
Tracing the life of a battery straight from the point of manufacture not only reduces waste, but also prevents harmful materials from leaking out into the environment. For now, it's just a pilot. "There's not that many electric vehicles on the road," said Kemp. "We're now at the early stages of understanding where the technology should be placed."
New wine in old bottles
Status, a blockchain software development company, is taking a very different approach to e-waste: it wants to get the most life as possible out of old hardware, Corey Petty, Security Lead at Status, told Decrypt. Since not everyone has access to the latest $1,000 iPhone, Petty said that Status is producing communication tools "designed to be used by anyone in the long term, including those who only have access to resource-restricted mobile devices."
For instance, its research project, Nimbus, is designed to perform well on devices "including older smartphones with resource-restricted hardware," said Petty. Though not all its apps are yet optimized to run on older devices, "The long term vision is to make both our app and protocols viable and efficient no matter how old your device is and what resources are available."
Status isn't the only blockchain project touting its resource-restricted hardware credentials. HotCity, an Austrian government-funded initiative, tracks waste heat in cities through gamification; players traipse around the city and record information about various forms of heat waste, such as chimneys. They're rewarded with points, which are logged on—you guessed it—a blockchain. 
"We can run our full notes on a Raspberry Pi 3 or even on your mobile phone, maybe draining a little bit more of the battery. But that's it," said Alexander Pfeiffer, co-founder of the blockchain startup behind the project, Picapipe. Theoretically, the game could just as easily be used to address e-waste, with citizens scavenging in their metropolises for old SCART plugs or burned out electric cars. 
Blockchain's e-waste problem
The blockchain sector itself is no innocent bystander. Indeed, it's one of the biggest contributors to the e-waste mountain, because old miners get discarded as soon as they become obsolete. According to Digiconomist, a single Bitcoin transaction produces the equivalent to 1.77 golf balls worth of waste, and produces over double the e-waste produced by 10,000 VISA transactions.
Alex de Vries, founder of Digiconomist, thinks that as far as e-waste is concerned, the blockchain and crypto world needs to put its own house in order. He pronounces Bitcoin's computationally-intensive proof of work mechanism kaput. Nowhere was this more apparent than in the recent Bitcoin halving, when the block reward for miners was halved, forcing all but the most powerful machines offline. Purpose-built Bitcoin miners lack the ability to do anything else, so many went straight in the trash.
"The only way to make Bitcoin truly sustainable is to replace its mining mechanism," he wrote on Digiconomist, pointing to the proof of stake mechanism as a less computationally-intensive alternative. As Peter Lipovyanov wrote in 2019's Blockchain for Business, the benefits of proof of stake are manifold: "It doesn't consume enormous amounts of electricity, and therefore it is much more sustainable and environmentally friendly."
"It is about time that the Bitcoin community follows the example already set by others," added de Vries.
Original Source: Decrypt How blockchain is tackling a mountain of electronic waste