As the Bitcoin halving event approaches, blockchain analytics data provider, IntoTheBlock (ITB), has witnessed a significant growth of the number of addresses holding Bitcoin over the last 12 months, hitting an All-Time-High (ATH).
According to ITB, as of April 21, 2020, 18.99 million addresses were holding 10.83 million Bitcoin for over a year, indicating an increase in the level of hodlers.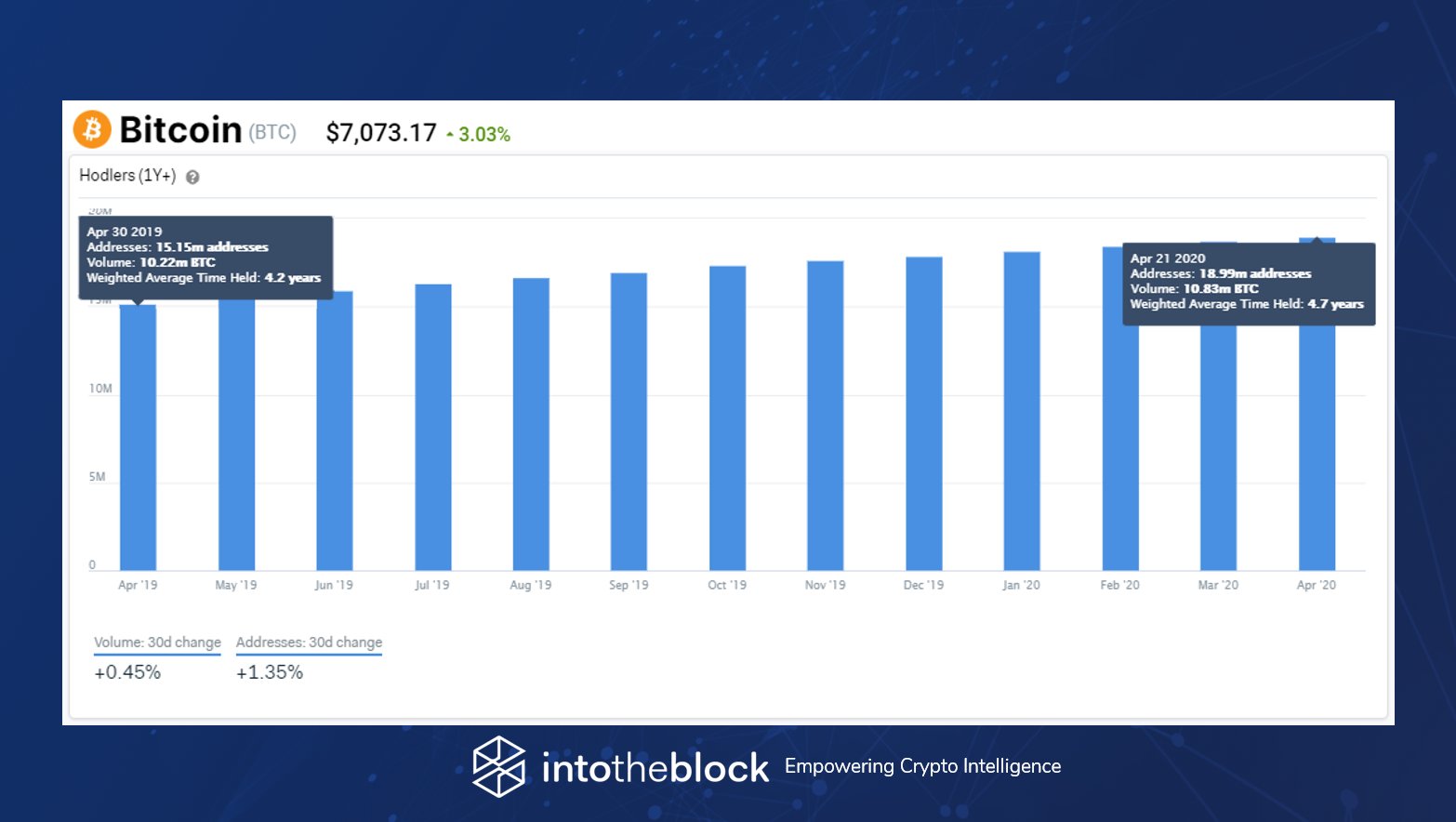 As of April 30, 2019, there were 15.15 million addresses holding 10.22 million BTC. The figure represents a 25% surge in the number of addresses holding BTC the same date last year. There was also a 5% growth in the volume of Bitcoin held in these addresses over the last 12 months. 
Coinfomania had earlier reported a significant increase in the number of bitcoin addresses holding small quantities of Bitcoin despite the massive sell-off on March 12. The increasing trend is a sign of more investors becoming comfortable holding the cryptocurrency regardless of the market condition.
Another reason for the surge in the number of Bitcoin addresses could be the upcoming halving event which experts think would lead to a surge in the price of BTC.  The event is expected to take place in less than 19 days, likely on May 12, 2020.
Bitcoin daily transaction volume drops
With 59% of the circulating bitcoin supply held in 18.99 million addresses over the last one year, the daily on-chain transactions volumes on the Bitcoin blockchain has dropped significantly as the halving approaches. As per data on blockchain.com, the daily transaction value went as low as $408.4 million earlier this month. As of April 21, the volume was $1.08 billion. 
Never miss out on our daily crypto news, stories, tips, and price analysis.  Join us on Twitter | Telegram | Facebook or subscribe to our weekly Newsletter. 
Source: Coinfo mania