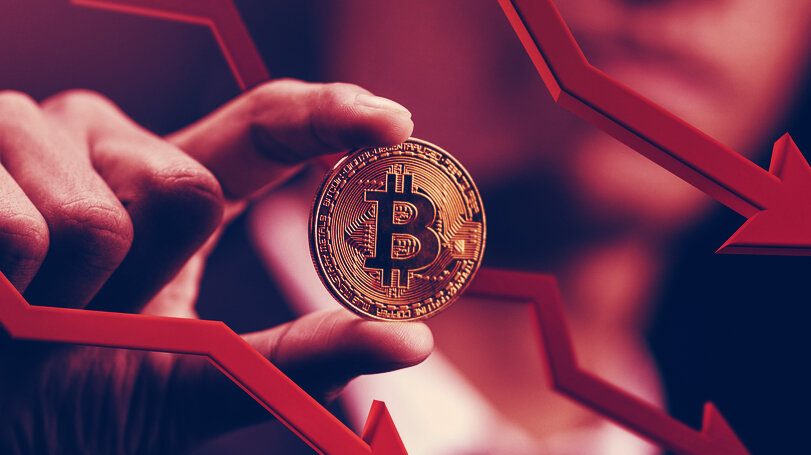 Since the start of June, the price of Bitcoin (BTC) has been gradually eroding, falling from a peak of over $10,000 on June 2, down to below $9,000 earlier this week.
Bitcoin then rebounded to $9,400 but its price is falling again. It's now down 1.28% today to its current price of $9,359—and down 1.8% for the last month.
And it seems Bitcoin's failure to break through $10,000 has been a problem.
"Bitcoin lost a lot of strength after so many rejections at $10,000. If we take into consideration all the fundamental metrics, the long-term outlook of Bitcoin remains strong, unfortunately, that doesn't necessarily mean we won't see Bitcoin slip below $9,000 in the short-term," Lorenzo Stroe, market analyst at FXStreet, told Decrypt.
Where did the volatility go?
Bitcoin is typically a volatile cryptocurrency, with a usual 7-day average volatility of two to four percent. Traders are able to capitalize on this volatility, for better or worse. But Bitcoin's price has been unusually flat in the last week.
"The stable price seems to have chased away the speculators," Mati Greenspan, founder at Quantum Economics, told Decrypt.
The 30-day average volatility for Bitcoin now sits at just 2.5% according to Buy Bitcoin Worldwide's volatility tracker — approaching its lowest value so far in 2020.
This is having a knock-on effect for trading volumes too. Bitcoin's daily trading volume is now at $19 billion, down more than 30% in a week and 50% in a month. It touched its lowest value in 2020 far on June 14—which doesn't bode well.
Bitcoin miners are struggling
Bitcoin has also seen its average hash rate—the computing power processing transactions on the network—decline considerably in recent months, recording back-to-back lower highs throughout March, May, and June 2020. This indicates that miners are leaving the network in general following Bitcoin's third block reward halving (where miner revenue was cut in half).
The 7-day average hash rate currently sits at exactly 110 EH/s, down from over 120 EH/s at its peak this year.
The Bitcoin network automatically adjusts the difficulty roughly every two weeks to ensure blocks are discovered in 10-minute intervals. However, Bitcoin's hash rate has been quite volatile, causing abrupt difficulty changes. On June 16, Bitcoin's hash rate experienced its highest positive difficulty adjustment in more than two years after gaining 15%, making it harder to mine.
"The long-term fundamentals for Bitcoin remain strong, but we have seen consistent resistance at $10,000, as post-halving selling pressure remains and miners are still trying to figure out how to adjust to the new block reduction and difficulty. Volatility has also been low. If the macro situation normalizes, we could see support for a steady, modest run later in the year," said Erstling, a trader at trading firm GSR.
That is, if the stock market doesn't crash again.
Source: decrypt