Grayscale Investments is bringing crypto assets to the mainstream with its OTC trusts. The recent launch of Litecoin (LTC) and Bitcoin Cash (BCH) trusts have ushered in massive increases in value.
The Grayscale Litecoin Trust became publicly traded this Tuesday and has traded with a wild premium since the launch.

Currently, the premium of LTCN is at a whooping 753%.

High retail demand for LTC exposure generates lucrative returns for the early investors of the trust. pic.twitter.com/Kcq8ZI6qz8

— Arcane Research (@ArcaneResearch) August 20, 2020
Six Billion and Counting
With over $6 billion dollars in crypto assets under management (AUM), Grayscale Investments is rolling in money. With the public listing of the Litecoin (LTCN) and Bitcoin Cash (BCHG) trusts, that number is likely to keep growing.
While institutional investors can access these assets through crypto exchanges, they are apparently opting to do so in traditional markets. And whoever they are, there are a lot of them.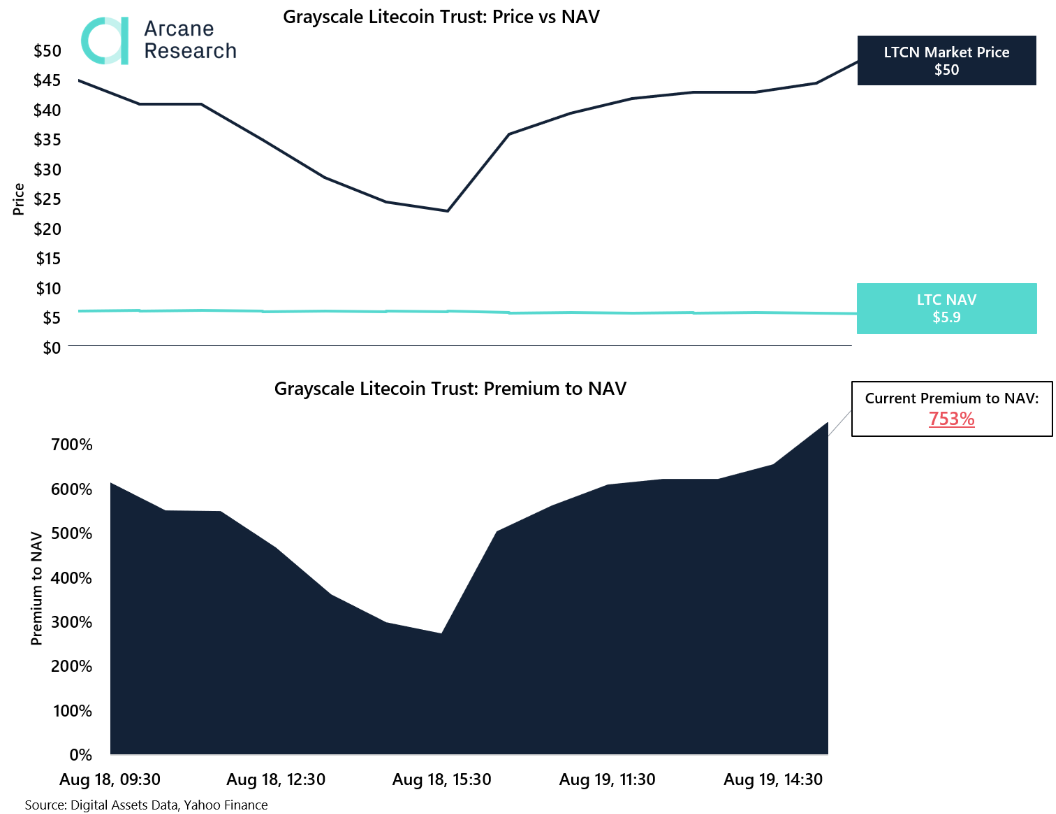 On Wednesday, just one day after the launch, the Litecoin Trust was selling at a 753% premium to the NAV (Net Asset Value), according to Arcane Research. This means that a share of the trust (which mainly holds Litecoin) is worth over 7 times its net value.
This morning the quote for LTCN was $65, i.e., the number of Litecoin per share equates to $5.50. (According to the Grayscale website, each share has 0.09400225 Litecoin). The price of 1 Litecoin on crypto markets was about $61 as of writing.
Still, buying in on Wednesday could have been profitable. The premium at the trust's peak of $78.74 was about 1400%.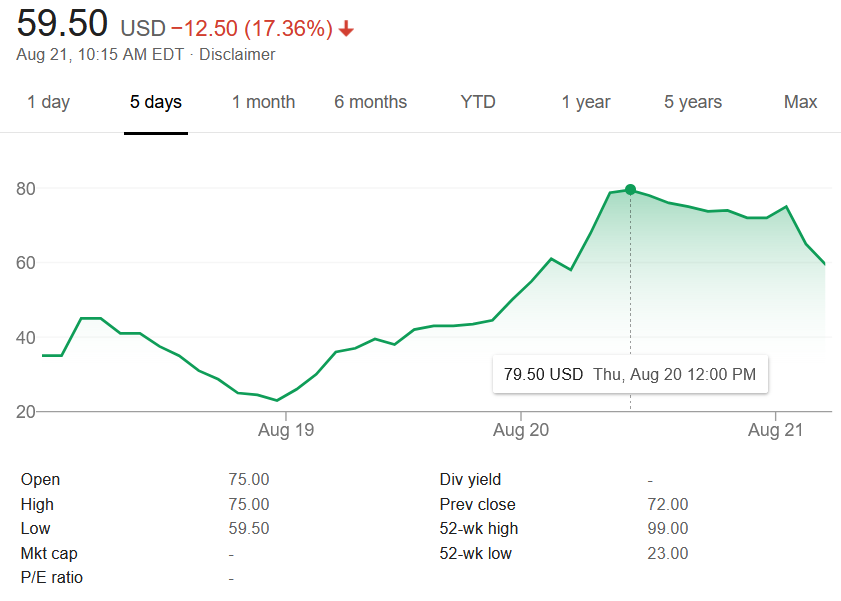 Similarly, the Bitcoin Cash Trust was trading quite a bit over the NAV. Grayscale says each share of BCHG has 0.00940023 Bitcoin Cash. With the current price at $293.70, that means each share is worth $2.76. The Trust, however, is trading at $18.03, a mere 653% premium.
In case an investor wants to diversify, Grayscale also offers a Digital Large Cap Fund (GDLC). It has Bitcoin (BTC), Ethereum (ETH), XRP, Bitcoin Cash (BCH) and Litecoin (LTC).
As of writing, LTCN is down 17% for the day to $59.
The Big Push
Unlike many crypto asset companies, Grayscale is bringing their offerings to the mainstream. A recent television commercial for Grayscale crypto trusts aired on major financial television networks, including CNBC.
Earlier this month, Grayscale applied to register their Ethereum trust with the SEC. The move would improve access and liquidity for the trust. Not surprisingly, its Ethereum trust was also trading at a 700% premium over Ether on exchanges.
Meanwhile, Grayscale has registered its Bitcoin trust successfully. That asset doubled in value and now contains over $5 billion in AUM. It now amounts to about 2.3% of the Bitcoin supply.
The continued success of Grayscale's trusts likely boosts public awareness. Excitement and hype get the public used to the idea that cryptocurrencies have real value. But the insane premiums they trade at highlight that the road to mainstream adoption won't be a smooth one.
The post Grayscale Litecoin (LTC) Premium Explodes 1100%+ appeared first on BeInCrypto.
Source: Be In Crypto