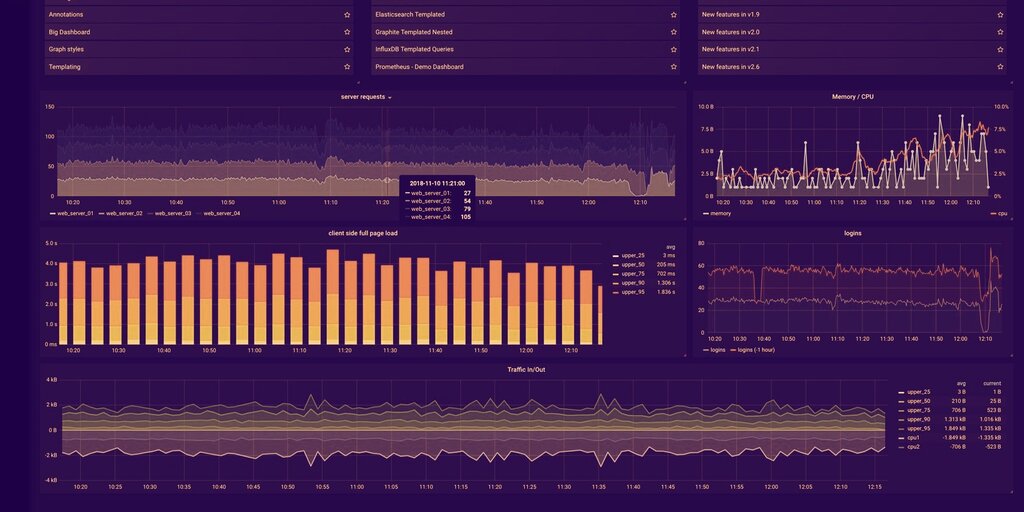 Raintank Grafana Labs, lead developer of open-source analytics and monitoring solution Grafana, has raised $50 million in a funding round.
Grafana is fast becoming a go-to tool for crypto startups, helping them visualize metrics, logs and to trace data. It supports integration with a variety of data sources including MySQL, Graphite, InfluxDB, PostgreSQL, and Prometheus. 
Grafana docker integration in @Cyphernode_io is a great way to visualize Bitcoin network data (e.g. your mempool by Satoshi/byte tx fees from the *only* source you can trust: your own Bitcoin Core full node. pic.twitter.com/VcBHO4j98O

— Frλ͎ncis ☩ (bullbitcoin.com) (@francispouliot_) December 30, 2018
One of the keys to its success is that it isn't tied to any single database and it has a focus on visualization—making data beautiful. It claims more than 500,000 active installations, and customers including the Bitcoin, Ethereum, Polkadot, and Iota communities, as well as Bloomberg, eBay, PayPal, and Sony.
For the upcoming #Coordicide testnet we really want you to actually see and better understand how our Fast Probabilistic Consensus protocol works. I hope that with the new integration of #Grafana and #Prometheus we can accomplish this!#IOTA pic.twitter.com/wWWfx9flkd

— Angelo Capossele (@AngeloCapossele) June 25, 2020
Announced on Monday, Grafana's series A round was led by Lightspeed Venture Partners with additional investment from Lead Edge Capital Management LLC. Both VCs took part in Grafana's first financing round in October 2019. At the time, the company said it had already achieved break-even status.
The new investment means New York-based Grafana has raised a total of $75.2 million since 2015.
The company said the new funds will be used to accelerate the development of the Grafana query and visualization project, its Loki logging software, and the Prometheus metrics platform, which is hosted by the Cloud Native Computing Foundation.
Grafana also said it's launching a new tracing product for application performance monitoring and announced an accelerator program to offer grants, equity financing, and developer access for early-stage startups.
"There are literally millions of developers around the world who are starting to see the value of these tools and we think there's an opportunity to nurture that community," stated CEO Raj Dutt.
In addition to the open-source platform, the company has two commercial products, Grafana Enterprise and Grafana Cloud.
The funding and rapid growth of Grafana is great news for the open-source services industry, which now boasts contributions by more than 30 million developers and, according to CB Insights, is expected to reach almost $33 billion in value by 2022.
Source: decrypt