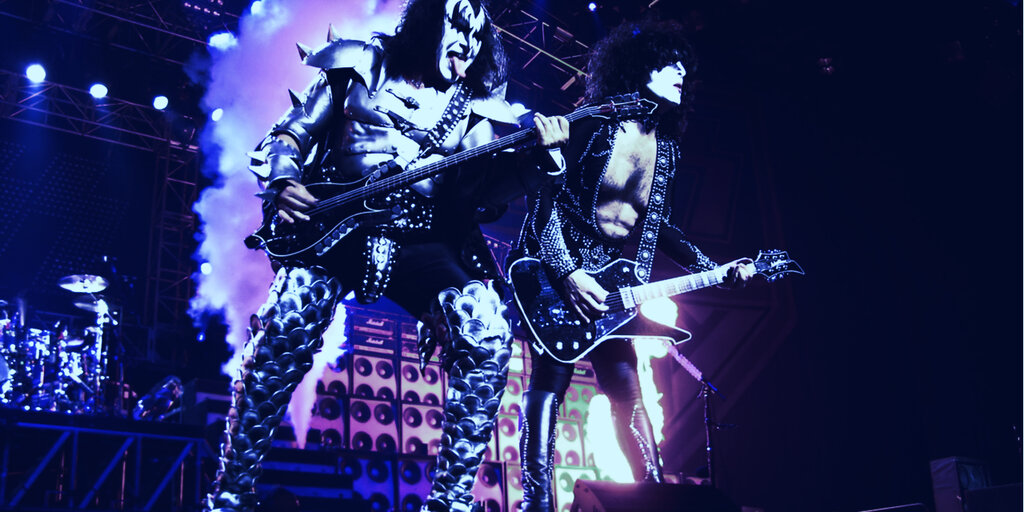 Kiss rocker Gene Simmons has seemingly endorsed Bitcoin via Twitter.
The oft-costumed bassist responded to a tweet by Cameron Winklevoss encouraging people to use bank accounts to buy Bitcoin and Ether. Simmons, presumably in a voice like The God of Thunder, declared, "I will. I am."
I will. I am. https://t.co/GQJMpDUYCH

— Gene Simmons (@genesimmons) September 15, 2020
Simmons didn't flex his nimble fingers to elaborate, but the man with the famous tongue has set tongues on Twitter wagging. The social network is awash in speculation about what Simmons' tweet means for Bitcoin…or, rather, just what it means.
Can you expand on that ?

— Crypto Mad (@crypto_madmax) September 15, 2020
Elaborate!?!?
Pleeeeeaasssseeeee!

— Digiknowassets (@digiknowassets) September 15, 2020
Is Simmons saying he will get a bank account? Perhaps he means to say, "I am a bank account." Or, like Gandhi, is The Demon saying he will be the change he wishes to see in the world? The most common reading from the Twitterverse, so far, is that Simmons is already buying cryptocurrency and will continue to do so.
Cameron Winklevoss' tweet thread is less difficult to parse. The co-founder of Gemini, a cryptocurrency exchange that has historically played nice with regulators, stands to gain from more people adopting cryptocurrency.
It's tough to say how much the man behind such hits as "Psycho Circus" and "Rock and Roll All Night" has in common with the guy who kinda invented Facebook, but if his lyrics are any indication, he should fit right in with the Bitcoin crowd.
No word yet on Ace Frehley's stance on Bitcoin.
Source: decrypt