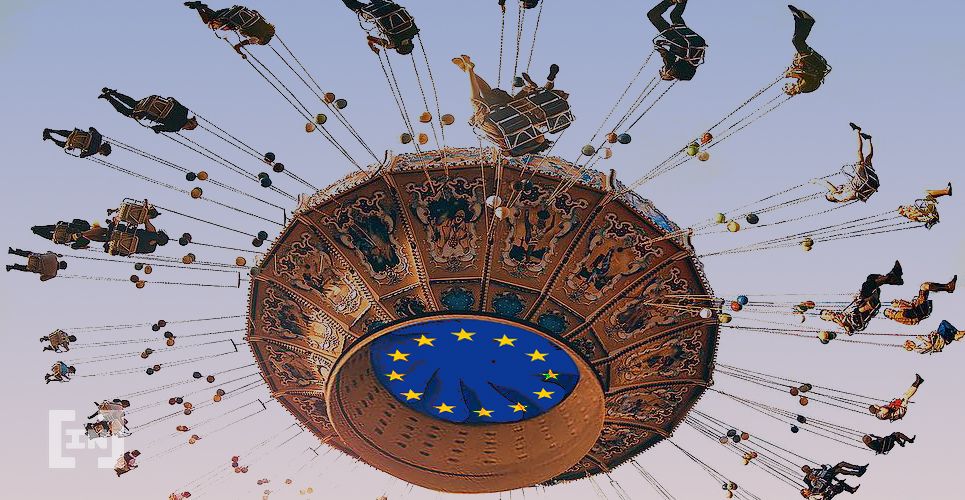 2020 started as a real challenge for the entire international community. The economic crisis caused by global quarantining due to the COVID-19 pandemic is forcing people to seek additional sources of income. Due to the high inflation of fiat currencies, investors need to look for new instruments and strategies to maintain profitability. Cryptocurrencies' low correlation with traditional financial assets makes them a great investment tool in these crisis conditions.
Since the crypto industry is growing rapidly, it is important to choose a reliable platform for diversifying a portfolio. In this article, we will cover the main aspects that investors and traders should consider in order to find a trustworthy exchange that will provide the user with a positive experience.
Main Criteria When Choosing a Cryptocurrency Exchange
When choosing an exchange, it is crucial to focus on a combination of factors rather than on one specific criterion. It is the only way to define a genuinely reliable platform that will meet your goals.
After thorough research and consultation, we have selected the following criteria that affect the user experience the most:
Trading Commission
Web Traffic
Available Currencies
Available Languages
For this comparative analysis, we first selected exchanges with a reasonably high popularity index among users. Web traffic was the main indicator. We reviewed the platforms with 500,000 and above monthly web visits. Based on the data from April of this year, there turned out to be approximately 50 exchanges that met these criteria.
The most important criteria for us was security. Although there are a lot of non-regulated exchanges on the market, we believe that operating within the legal framework and complying with the requirements of the regulators is the first step towards transparency. That is why we focused on platforms that have already obtained licences and comply with AML (Anti-Money Laundering) standards.
Thus, 8 exchanges with European crypto licences were selected:
Trading Commission
For the majority of the users, the trading commission is one of the most crucial criteria when choosing an exchange. Naturally, traders need to know how much they will spend on commission and the need to determine their profitability level.
For comparison, we have prepared a table* with calculated trading commissions of the selected exchanges based on the trading volume and transaction type. For each level, we have highlighted the best offers for both Taker- and Maker transactions.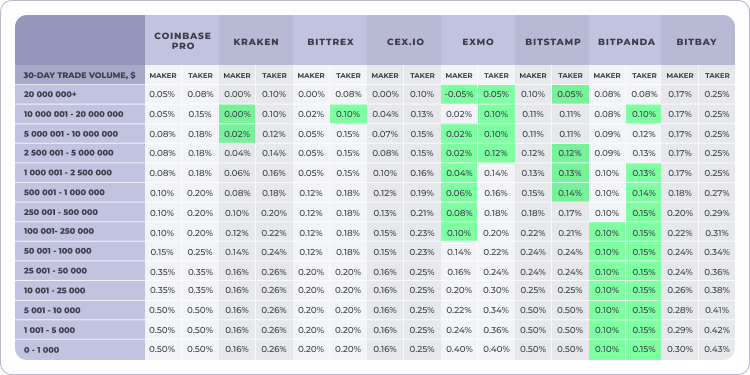 As you can see, EXMO and Bitpanda have the lowest trading commission among exchanges operating in Europe. EXMO will be a perfect choice for active traders who have medium/large trading volumes. Market makers will even receive an automatic rebate for Maker transactions without an additional contract. As for Bitpanda, it offers low commissions for beginners who are just getting familiar with the crypto world and have not reached sizeable trading volumes yet.
We also recommend paying attention to the special offers that the exchanges might have as it can help reduce the trading commission significantly. For instance, EXMO users can buy a Premium Cashback package and get an up to 100% discount on their commission. Moreover, Crypto/USDT and GBP/Crypto pairs have 0% trading commission.
Web Traffic
Another indicator of a trustworthy crypto exchange is the platform's web traffic. The more people that visit the exchange's website and operate on it, the more reliable it is. The exchanges with the biggest web traffic are Coinbase, Kraken and EXMO.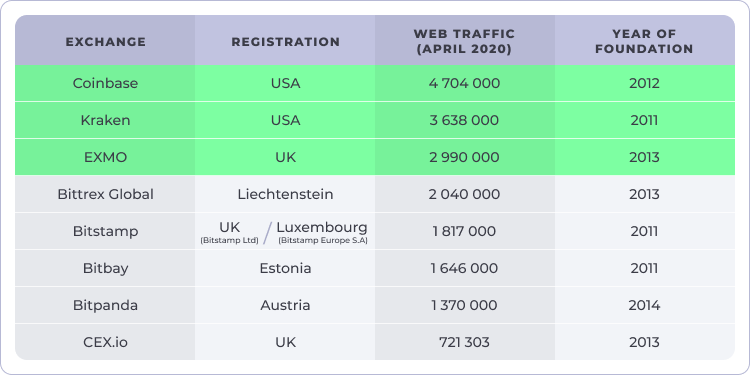 It is also helpful to consider how long an exchange has been established. The older the company is, the more likely it is to be a trustworthy platform. We advise staying away from "no-name" exchanges that have just recently entered the market. Trust your money only with reliable platforms that have a good reputation and years of experience.
Available Currencies
When choosing an exchange for crypto investing/trading, it is essential to consider available currencies. A convenient platform should offer a variety of crypto assets and stablecoins, as well as all major fiat currencies for trading. Table 3 shows how many cryptocurrencies, stablecoins, and fiat currencies each of the 8 selected exchanges has.
The largest number of both cryptocurrencies and stablecoins is presented on the Bittrex exchange. However, it is not always proof of the exchange's trustworthiness. For instance, many platforms list only the main crypto assets that show the biggest potential. In this perspective, a moderate amount of cryptocurrencies is preferable. On the other hand, Bitstamp and Bitpanda only have 5 crypto assets available, which does not give enough variety for a trader to make an informed choice.
As for the fiat currencies, EXMO offers the best variety. The platform has 8 fiat assets available including major currencies: EUR, USD, GBP.
We have also prepared a table demonstrating the number of pairs on each exchange.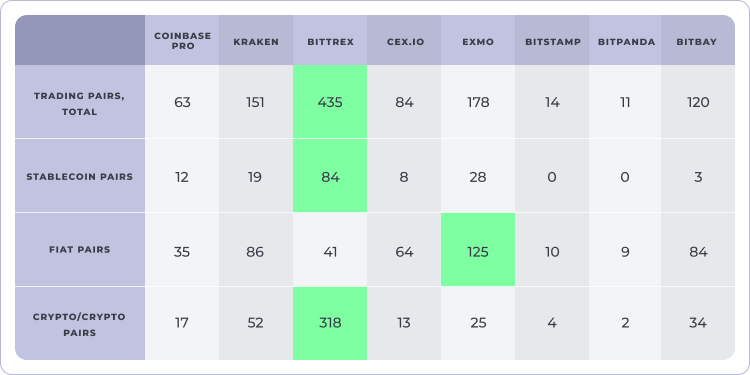 Bittrex has the biggest amount of crypto pairs, as well as trading pairs in general. However, when it comes to fiat pairs, EXMO occupies 1st place.
When choosing an exchange, make sure that it offers all the cryptocurrencies and fiat assets that you need and is suitable for your trading requirements.
Languages
Another criterion for the comparison was language availability. Since we focused on exchanges in the European market, we compared platforms based on the variety of European languages and their website support.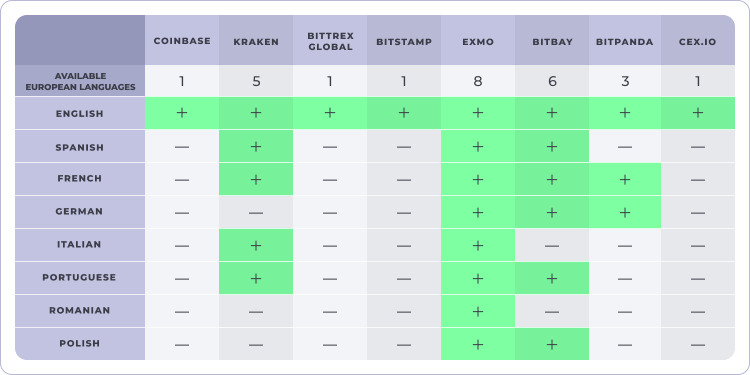 As you can see, all platforms have English available, but a number also offer other popular European languages. The EXMO exchange has the best variety (8 languages available). Kraken and Bitbay also have a good selection. The language selection of the remaining exchanges could use some improvement.
To Summarize
This comparative analysis of exchanges operating in the European market has shown that no platform can be completely perfect. The No1 aspect you should consider is security and legal compliance. Do not trust your assets with exchanges that do not have a licence and cannot guarantee transparency.  Pay attention to the four criteria that were used to compare the platforms for this article as they will make the process of choosing an exchange that is right for you a much less time-consuming and complex process.
There are such well-known exchanges as Kraken that have been on the market since 2011. However, you should not be afraid of platforms like EXMO that are only gaining their popularity. If the exchange corresponds to your needs, has great offers and operates legally, it will be a good option. Choose wisely and trade crypto.
The post European Cryptocurrency Exchanges: How to Choose the Best Platform appeared first on BeInCrypto.
Source: Be In Crypto