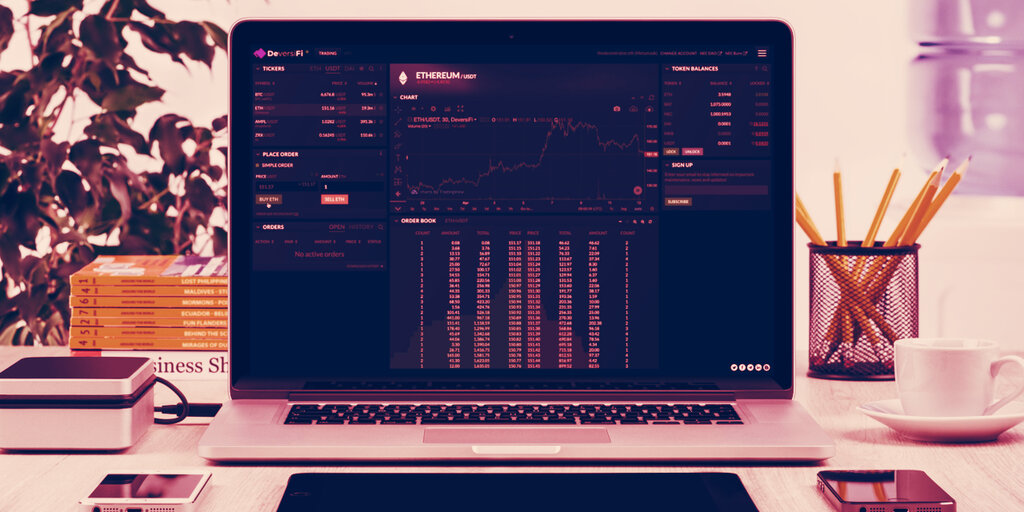 Decentralized exchanges are getting a little more professional. 
DeversiFi announced yesterday the mainnet launch of new upgrades to the DeversiFi decentralized exchange, bringing a host of new features to create a professional-grade exchange platform with experienced traders in mind. 
The upgrade includes support for StarkWare's ZK-STARK layer 2 scaling solution, enabling more than 9,000 transactions per second on the decentralized exchange (DEX). It's sure to be a major player in the crypto exchange landscape, where the popularity of decentralized exchanges is already growing rapidly. (StarkWare, which raised $30 million in a Series A in 2018, is backed by Ethereum incubator ConsenSys, which also funds an editorially independent Decrypt.)
1/3

The new DeversiFi built w/ @StarkWareLtd is now LIVE!

This reflects a milestone in self-custodial trading, delivering the experience of a centralised exchange while being able to trade at lightning speed from your choice of wallet. https://t.co/KUD4PtMbJJ
… pic.twitter.com/KhfTRTmO2w

— DeversiFi (@deversifi) June 3, 2020
The DiversiFi upgrade also brings self-custodial control for digital assets, allowing users to make trades without needing to first send their tokens to a wallet controlled by DeversiFi, as is required to trade on centralized competitors like Binance or Poloniex. Other changes include API improvements, improved market order mechanisms, and support for Ledger hardware wallets.
"Commercial grade Defi needs robust cryptography and ZK-STARKs are fastest in class, post-quantum safe and can easily scale to tens of thousands of transactions per second with no trusted setup," StarkWare co-founder and president Eli Ben Sasson said in a statement.
"Partnering with DeversiFi will bring the benefits of ZK-STARK technology into the hands of every trader. We are excited to see traders embracing self-custodial trading without sacrificing liquidity or speed."
Alternative decentralized exchanges, such as IDEX or Uniswap, enable basic token swapping, but often lack more advanced tools like order books, limit orders, and other tools often employed by professional traders. To achieve some of these features and the instantaneous settlement required for some advanced trading strategies, DeversiFi uses an off-chain order book, but still settles trades on the Ethereum blockchain.
ZK-STARK technology also offers greater privacy for DeversiFi users, as individual transactions are not visible on the blockchain, instead grouped into aggregate transaction blocks verified by hashes.
Before becoming DiversiFi, the decentralized exchange service was founded as Ethfinex in 2017 and incubated by the Bitfinex exchange for two years. DiversiFi became fully independent in August 2019.
The DiversiFi upgrade also introduces the Data Availability Committee (DAC), which records token balances off-chain (like tokens reserved for filling limit orders) to ensure that if the exchange goes offline, trades can still withdraw any tokens held in DeversiFi smart contracts. Members of the DAC include Infura, Nethermind, Cephalopod, and ConsenSys. 
Source: decrypt