Elon Musk's SpaceX launch was replicated in virtual reality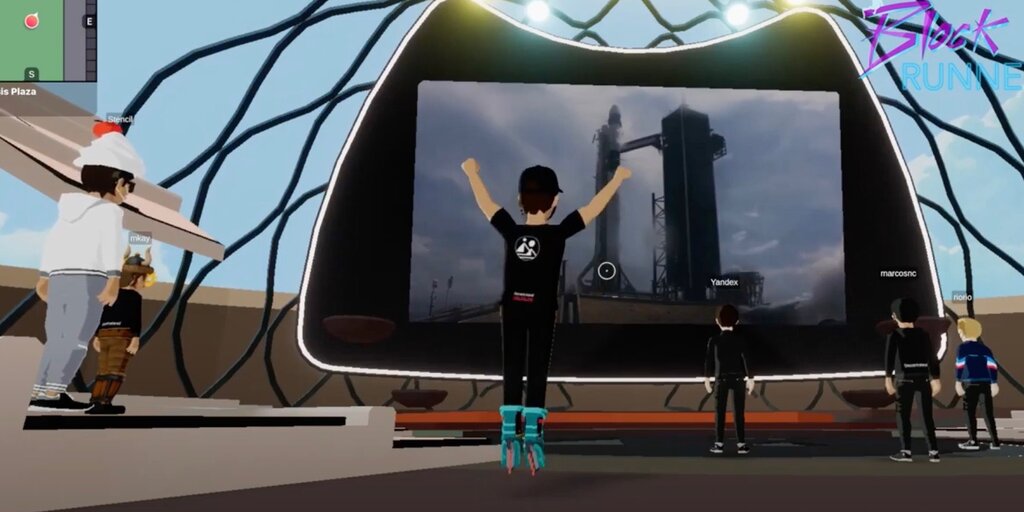 Saturday's historic SpaceX launch was reproduced in the blockchain-based, virtual universe of Decentraland. 
Virtual vlogger The Block Runner posted a video on YouTube of himself and around 30 others in Decentraland's auditorium watching the first successful commercial launch of humans into space. A few minutes in, the avatars were surprised by a virtual launch of the SpaceX rocket from within Decentraland itself. 
The real SpaceX, which was founded by Elon Musk, launched two astronauts into orbit, marking the first human mission from US soil in 11 years. Pundits hailed a new partnership between industry and government which could re-energize America's space ambitions.
Meanwhile, Decentraland's avatars showed their enthusiasm for this prospect by jumping up and down.   
"We can all watch the same livestream on YouTube or Twitch or whatever, but there's something about having your own personal avatar together in a group, it adds a little more intimacy to the experience," said The Block Runner.
The virtual economy
The Decentraland world is built on the Ethereum blockchain, and launched in February 2020. Users can buy land parcels, and other assets, with the native MANA token. 
It features attractions including a museum district, casino, trading centre, market place and conference center where—just hours before the SpaceX launch—the avatar of Ethereum founder Vitalik Buterin could be found giving a presentation.
New forms of participation and income generation are swiftly emerging in virtual worlds such as Decentraland and Minecraft: people pay to attend virtual nightclubs; buy virtual versions of designer clothing on Animal Crossing, and attend online concerts in Fortnite.
Earlier this month, L'Atelier, a research company that's part of the French international banking group BNP Paribas, identified a virtual economy with an output equal to Bulgaria's GDP ($66.2 billion,) with 2.5 billion users.
"We expect to see a marked acceleration in the growth of the virtual economy as people commit more and more of their professional and personal lives to digital platforms and mixed reality," said L'Atelier CEO John Egan at the time.
As the US starts a new era of corporate-driven space missions, the hope is that this success will be mirrored on Decentraland and other VR platforms, as they colonise virtual space. 
Original Source: Decrypt Elon Musk's SpaceX launch was replicated in virtual reality