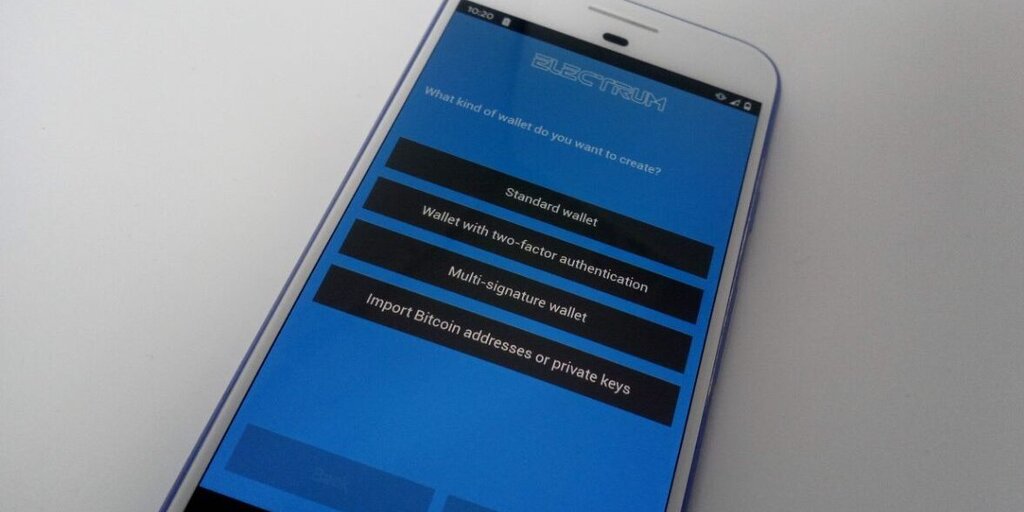 One of the first Bitcoin wallet clients ever released, Electrum remains one of the most recognizable names in the space.
The desktop version of Electrum has been in development since 2011, but an Android version of the client was released back in 2016. It's gone on to become one of the most-used mobile Bitcoin wallets, with over 100,000 installs.
Much like its desktop counterpart, Electrum for Android features a fairly simplistic design with few frills. But its speed, usability, and strong feature set make it worth checking out.
Electrum wallet review: design and UX
Electrum's design is somewhat basic compared to many of its rivals, with little to no visual flair in its two-tone blue and black color scheme.
Despite the dated design, the app is one of the most usable Bitcoin wallets we have tested. The user interface is clean and simple, with three main tabs making it easy to navigate between sending, receiving and checking your balance. Some of the more advanced options, however, are tucked away behind less intuitive menus.
The app is currently only available on Android, but a desktop version of the client can be downloaded for Linux, Windows, and macOS.
Electrum wallet review: getting started
Creating a wallet in Electrum is a straightforward process that should take no more than a few minutes to complete.
Once the app is installed, you'll be able to create a variety of different wallet types, including a standard wallet, multi-signature wallet, and a wallet with two-factor security. Electrum also gives users the option to create a wallet by importing their private keys from an external client.
The most popular method is the standard wallet, which can be created in either Segwit or Legacy formats. During the standard wallet creation process, Electrum will provide you with your 12-word mnemonic recovery phrase and will ask you to re-enter it using a virtual keyboard loaded in the wallet interface. Once this is confirmed, you'll then need to choose a six-digit PIN code, after which Electrum will then load your wallet.
Electrum wallet review: ease of use
If you have ever gotten to grips with the desktop version of Electrum, then the mobile client will feel instantly familiar.
Making a Bitcoin transfer on the app is as straightforward as entering an address (or scanning a QR code), picking an amount and hitting pay. This simplicity makes Electrum ideally suited to those with little to no experience of working with Bitcoin.
More advanced users will be pleased to find a wide array of additional options to customize the way Electrum looks and works tucked away in the settings menu. This includes the option to manually choose a server, enable and disable change addresses, and connect through a proxy.
Electrum wallet review: features
As a Simplified Payment Verification (SPV) wallet, Electrum doesn't need to download the entire Bitcoin blockchain to get up and running. Instead, it automatically connects to servers that index the blockchain, ensuring the wallet can run on even low-end mobile devices. Users can choose to either connect to a random server from a pre-defined list, or manually enter their own server to connect to.
Electrum can be used to manage a standard single-signature wallet, or you create or import a multi-signature wallet if you need more than one person to authorize a transaction before it is broadcast. You can also create a simple "watch-only" wallet to easily and securely track your transactions and balances from your mobile device, or use the wallet to create unsigned transactions offline, which can later be signed from a separate online device.
The Electrum wallet is compatible with both Bech32 (Segwit) and legacy address formats, and users can import their Pay-to-ScriptHash (P2SH) Bitcoin addresses using the import private key feature. Like most popular wallet clients, Electrum features no lock-in, allowing users to move their funds to any other compatible wallet using their 12-word recovery phrase.
Unlike many mobile wallets, Electrum also gives users the opportunity to choose their transaction fee and also gives a rough estimate of the fee needed to ensure the transaction is confirmed within a fixed number of blocks. Electrum stands out as one of the few wallets to support replaceable fee transactions (Replace-by-fee).
The Electrum Android client can be used to manage multiple Bitcoin wallets at once, allowing you to easily separate your Bitcoin finances if needed.
Electrum wallet review: supported assets
In contrast to most other mobile wallets, Electrum doesn't support a wide range of different cryptocurrencies. Instead, it supports just one: Bitcoin.
You do, however, have the option to choose between the newer and cheaper Segwit address format or use legacy addresses for maximum compatibility.
The wallet is open source and there are a variety of spin-offs built to work with other cryptocurrencies, including Electron Cash (for Bitcoin Cash) and Electrum-LTC (for Litecoin).
Electrum wallet review: security
Electrum is a relatively secure wallet, but it isn't completely bulletproof. The main security feature is a six-digit PIN that is set during the wallet creation process, but users can also opt to enable multi-signature verification by creating a multi-sig wallet within Electrum.
You can also create a wallet with two-factor protection, which is essentially a 2 of 3 multi-signature wallet, where the last key is held by a third-party known as TrustedCoin. TrustedCoin will only sign transactions after the user provides a two-factor authentication code from a separate Google Authenticator app. TrustedCoin charges a small fee for each transaction processed using this system.
Unlike the desktop version of Electrum, the mobile client is not compatible with the Ledger Nano X hardware wallet, but it does provide full access to each wallet's private keys and seed phrases, ensuring any funds can be easily recovered should anything go wrong.
Electrum wallet review: verdict
Electrum is a simple Bitcoin-only mobile wallet that's both accessible for Bitcoin novices, but also offers more advanced features to cater to experienced users. The app certainly won't win any awards for design, but its usability and efficiency make up for its otherwise dull appearance.
Electrum 3.3.8 was released, with bugfixes and performance improvements. Release notes and download from https://t.co/Y2DXoUyOgk

— Electrum (@ElectrumWallet) July 11, 2019
The wallet offers everything you need to set up and manage both standard and multi-signature Bitcoin wallets, but lacks some modern conveniences found in alternative mobile wallets apps—like built-in cryptocurrency exchange and investment features. Electrum is also one of the few mobile Bitcoin wallets to support watch-only wallets and offline transactions, making it ideal for security-conscious Bitcoin users.
If you're looking for a simple and secure way to manage Bitcoin, then Electrum is a solid option, but don't expect regular updates—the wallet was last updated close to a year ago.
Rating: 3.5/5
Source: decrypt