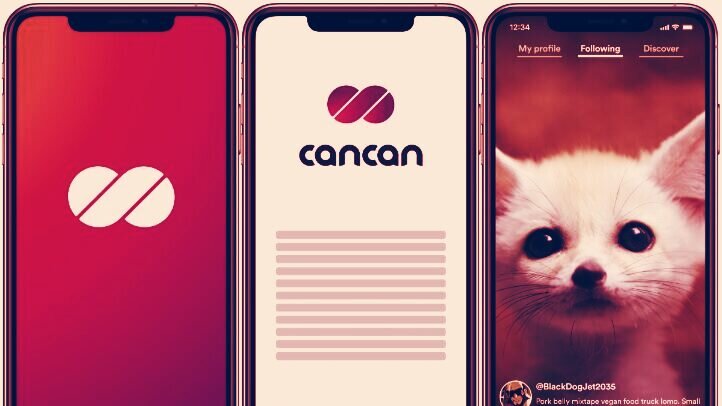 Today, Dfinity, a San Francisco-based blockchain startup that wants to "free" the Internet from the grip of major corporations, showcased a decentralized version of TikTok, free from large corporations and even bigger privacy concerns.
The startup announced CanCan: "An open alternative to TikTok that is not owned or operated by a corporate or government entity." This follows its earlier demonstration of "LinkedUp," at the World Economic Forum 2020 in Davos, a take on, you guessed it, LinkedIn.
According to the announcement, CanCan was built using less than 1,000 lines of programming code—while Facebook contains over 62 million—and should serve as a good example of the Internet Computer's capabilities.
"For the first time, developers and organizations get a taste of the new computing paradigm in action. Software is created by simply uploading it directly to the internet, where it runs on a global network of independent data centers within a tamper-proof environment," said Dominic Williams, the founder and chief scientist at Dfinity.
Dfinity opens up to third-party developers
Dfinity is giving third-party developers access to its platform on July 1. Developers and companies that are interested in utilizing it will be able to submit an application on the project's official website. It's calling this its Tungsten launch.
The "Internet Computer" is designed to counteract the monopoly of tech giants by building a secure, cost-effective and decentralized cloud computer. It will be housed in a network of machines around the world and put to work running the next generation of mega-applications—decentralized versions of Uber, eBay, Facebook and more.
"The Tungsten release of the Internet Computer is a great leap forward leading to a fully decentralized and public extension of the internet. It is an upgrade of the internet so it can natively host software and services," added Williams.
Dfinity announсed that the most successful and promising projects may receive support from the Beacon Fund, a fund managed by the not-for-profit Dfinity Foundation and Polychain Capital.
"One of the biggest problems emerging in technology is the monopolization of the internet by Big Tech—companies that have consolidated near-total control over our technologies. They collect vast amounts of information about us that they sell for profit and leverage to amass greater market share, and acquire or bulldoze rivals at an alarming rate," said Dominic Williams, the founder and chief Scientist at Dfinity.
Part of this "new paradigm" is Motoko—a specialized programming language introduced in the Copper update and designed by Andreas Rossberg, a co-creator of WebAssembly, to further support the Internet Computer's unique features.
Building new applications
In preparation for the launch, Dfinity organized an internal 48-hour hackathon in mid-June that aimed to demonstrate how fast developers can code and deploy apps on the Internet Computer. The effort resulted in quite a few innovative applications curated in Dfinity's GitHub repository.
One of those projects is Magnify, a secure video-conferencing application. Development was spurred by recent user data leaks on services such as Zoom—and privacy concerns that ensued.
An open Zoom
A dating app
A marketplace connecting at-risk people with volunteers

See the early hacks that were built on the #InternetComputer at the Tungsten Hackathon: https://t.co/oUrHkpJxCJ

— DFINITY Foundation (@dfinity) June 26, 2020
Another example is Dual, a social app that allows users to create various challenges for their friends and family and complete tasks designed by others. In its turn, the system tracks completed challenges and displays them on user profiles—akin to "achievements" in video games.
Shield, an app that connects at-risk people with nearby volunteers, as well as random generator app Hero and open publishing app Bookworm were also created and deployed on the Internet Computer in just two days during the course of Dfinity's hackathon.
The next stages for Dfinity are the Sodium and Mercury releases that "will introduce the Internet Computer as an extension of the public internet later in 2020," the company added. Considering Dfinity was slated to launch in 2018, let's hope they won't take as long as this milestone.
Source: decrypt