New data shows DEX volumes at their peak, with 2020 recording $5.1 billion in the first half of the year. This number far eclipses volumes from the same period in 2019 and bodes well for the DeFi space, which has already shown signs of sustained growth.
Decentralized exchanges are showing tremendous growth, as data from Dune Analytics reveals that DEX volume in the first six months of 2020 was five times greater than in the same period in 2019. The year 2020 has seen $5.1 billion in volume on DEXs, recording $1.5 billion in June alone.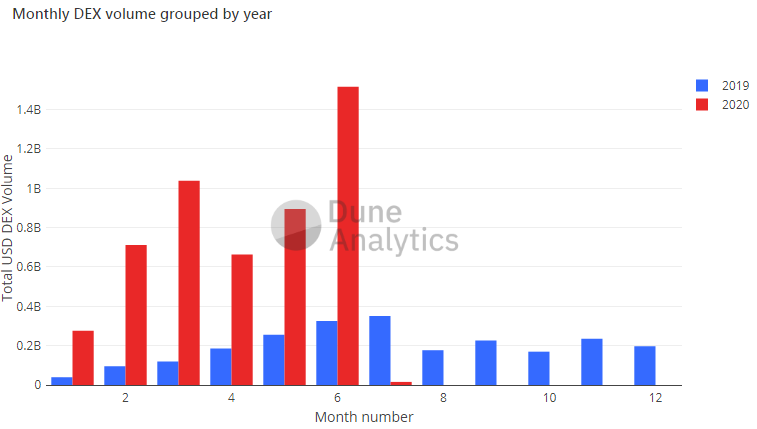 Further data shows that Uniswap and Curve contributed the most towards volume, making for more than 50% of all volume in June.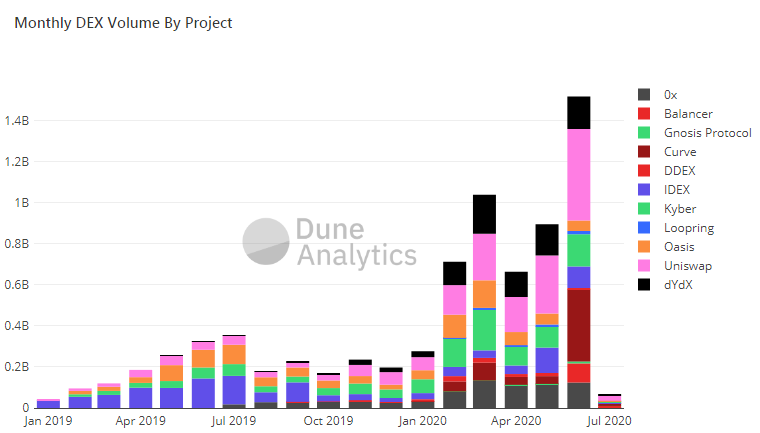 The growth is noticeable, even by the standards of the DeFi market, which has surged since the introduction of Compound Finance's COMP token. DEXs posted a volume of roughly $894 million in May⁠—growing by 70% at the end of June, where it recorded $1.5 billion. In June 2019, volumes were at a meager $325 million.
A Coming of Age for DEXs?
DEXs have long been heralded as being the next step in the cryptocurrency market, bringing faster trades, negligible transaction fees, and greater security.
However, the relatively complicated technical nature of the exchanges has prevented wider adoption, though some, like the recent release of 0x's Matcha, have attempted to overcome that particular hurdle.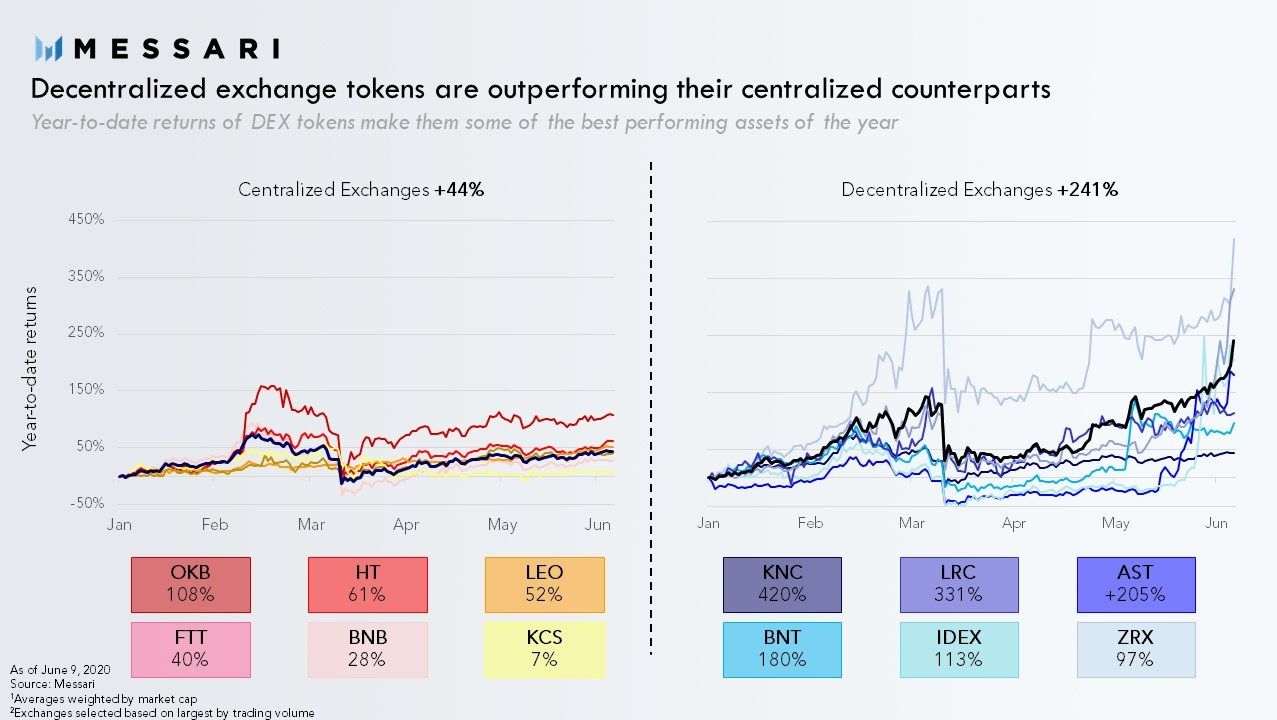 DEX tokens have also outperformed centralized exchange tokens by five-fold, according to a report published by Messari. Compared to the exchange's token average rise of 44%, DEX tokens have risen by 241%, with Kyber Network showcasing the highest gains at⁠ over 400%.
The arrival of more streamlined DEX experiences and a new slew of features that promise higher-than-average returns have attracted new investors. Other trends that have accompanied the growth in DEX volume are increased stablecoin usage and a rise in locked funds in DeFi.
DeFi Underscoring Its Role as A Cornerstone of the Market
Several platforms and launches have contributed to the incredible surge of the DeFi space in 2020, not the least of which are yield farming programs launched by the likes of Compound Finance, Balancer, and Synthetix. bZx is also expected to launch a similar program.
At the time of publishing, the total value in DeFi stands at $1.7 billion, according to Defi Pulse. While Ethereum's price has gone sideways many expect the DeFi niche to spark price growth.
That said, the related protocols are still relatively new, and developers and founders have warned that there is still much refining to be done. An exploit in the Balancer protocol recently led to the theft of $500,000 in Ethereum.
The post DEX Volumes in 2020 Five Times Greater Than Previous Year appeared first on BeInCrypto.
Source: Be In Crypto