The latest food-themed token has launched, and this one hopes that it has more meat on the bone than some of the others. BurgerSwap launched on DEX Binance Smart Chain in recent days, and it's looking to capitalize on the "flaws" of the SushiSwap project to gain a foothold in the decentralized finance market.
Now that DeFi project BurgerSwap is on Binance Smart Chain, it has captured the attention of Changpeng Zhao (CZ). The Binance chief tweeted about it, which on the heels of the SushiSwap fiasco was met with skepticism. One follower suggested that there are already enough "scam projects," in response to which CZ pointed to the "pros and cons" of the decentralized world, noting that "anyone can build anything" and Binance "can't stop them."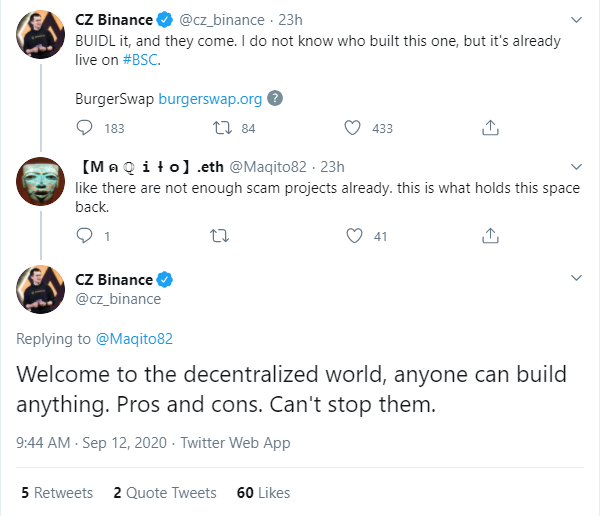 Meat on the Bone?
BurgerSwap is off to a running start, based on the amount of attention it's received so far and volume on its platform since its launch on Sept. 10. According to them citing the Binance Smart Chain Explorer,
"We have generated a record number of transactions on the Binance Smart Chain and attracted people from all over the world to use our application."
So far, there have been 120,509 BurgerSwap transactions, according to BscScan.
Now BurgerSwap has come out swinging, defending itself against the critics who are skeptical that another food-themed coin in the DeFi space could be legitimate. First, they maintain that unlike SushiSwap's Chef Nomi, BurgerSwap is not an anonymous project — they've just been "busy buidling."
The BurgerSwap team explains in a Medium post —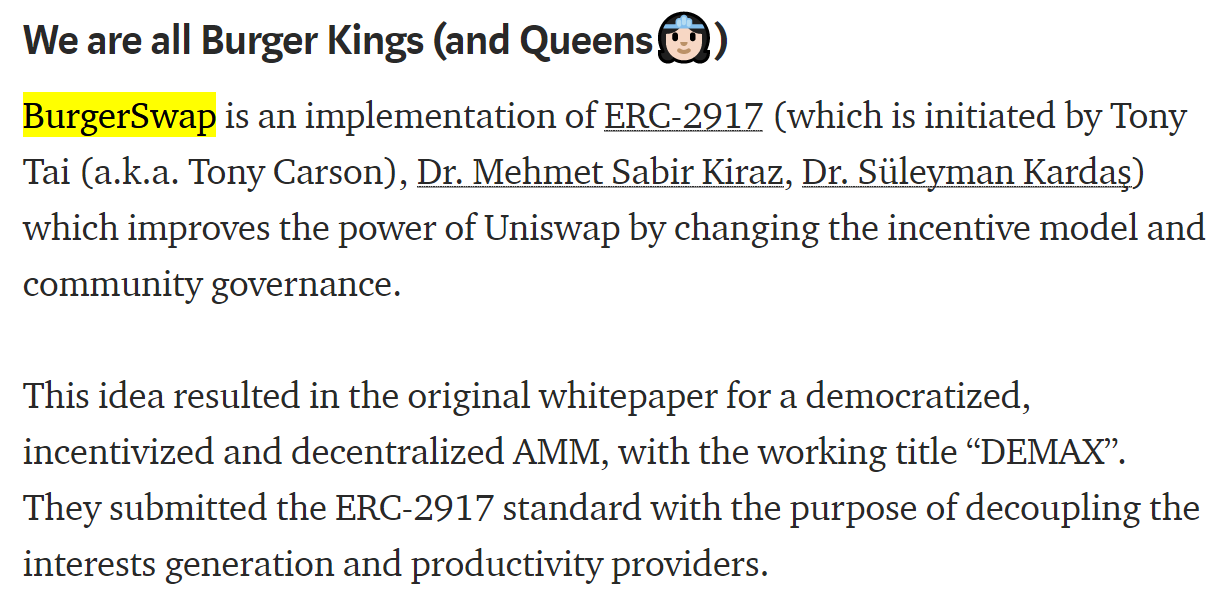 They say they count Ankr co-founder Ryan Fang as an advisor and have people working on the project in the U.S., U.K., China and Turkey. BurgerSwap is also hiring.
Riding the Food Wave
Unlike SushiSwap, which is a fork of Uniswap, BurgerSwap's core code, which they call DEMAX, "is not forked or copied." They say,
"It is built from the ground up and was open-sourced within 24 hours after BurgerSwap launched."
Burger tokens are available to farm, but audits are currently only being done on an internal basis. They are looking for outside auditors to add more credibility to the project and are offering a reward of 1,000 BNB to the first one to complete the task.
BurgerSwap chose to ride the food wave as purely a marketing decision, and they say are focused on building DeFi tools that further the space. Time will tell whether this decision works for them or backfires on them.
The post DeFi Project BurgerSwap Comes Out Swinging Amid Criticism appeared first on BeInCrypto.
Source: Be In Crypto