Soteria, a blockchain based mutual to share the risks of DeFi on the Binance Smartchain, has started to add Insurance Function for BakerySwap users yesterday (Jan 25). This is the second project of Soteria after the launch of PancakeSwap insurance service on Jan. 20. BakerySwap is a decentralized automated market-making (AMM) protocol on Binance Smart Chain(BSC) and the 1st NFT trading platform on BSC – 'Bakery NFT Supermarket', and Soteria is a DeFi mutual insurance based on the Binance smart chain that protect losses caused by vulnerabilities and hacker attacks of smart contracts, and even the theft of escrow funds of centralized exchanges, in turn, it provides risk protection for DeFi products. Let's review the 12 days since Soteria has been launched.
On January 13, Soteria, a DeFi insurance mutual, was launched on the market, and on January 18, the number of users reached 440 in 5 days, and on January 19, Soteria launched its insurance service for PancakeSwap users, which grew to 590 members. The service was staked with 500,000 SOTE in 5 hours on the day of January 20. On January 21, Soteria's IFO opened 22.7 times overcapitalized, breaking Pancake's highest record. As of today, Soteria has 1317 members (independent addresses).
After registering as a Soteria member and exchanging BNB for SOTE, users can purchase Bakery's insurance services on the platform and Stake SOTE for risk assessment rewards; Simultaneously, Soteria, a community-based insurance platform, allows users to be both revenue recipients and risk takers by staking tokens. Token holders can use the tokens they hold to determine how much insurance coverage a project can have, as well as to decide whether to approve claims, etc.
Both BakerySwap and PancakeSwap are automated market maker (AMM) on the Binance Smart Chain (BSC); these decentralized finance (De-Fi) protocols support swaps and yield farming, but only Bakery support NFT applications.
Soteria and Bakery 's Collaboration and Win-Win
According to the data mentioned above, Soteria was lauched an insurance service for Pancake users in the middle of this month with, and received 500,000 in staked in 5 hours, another record was 22.7x overcapitalized after Soteria IFO on Pancake, which is impressive. This is also an example of what Pancake has built for Bakery and Soteria users – Soteria itself gets a large growth in users as well as premiums, and the security performance of the business in the Bakery platform is guaranteed by the capital.
Moreover, for Bakery users, Soteria's online Bakery insurance contract is a boon. After logging in to the Soteria website and paying the 0.1BNB membership fee, users can find BakerySwap on the Stake page (see below), select it, and insure the transaction.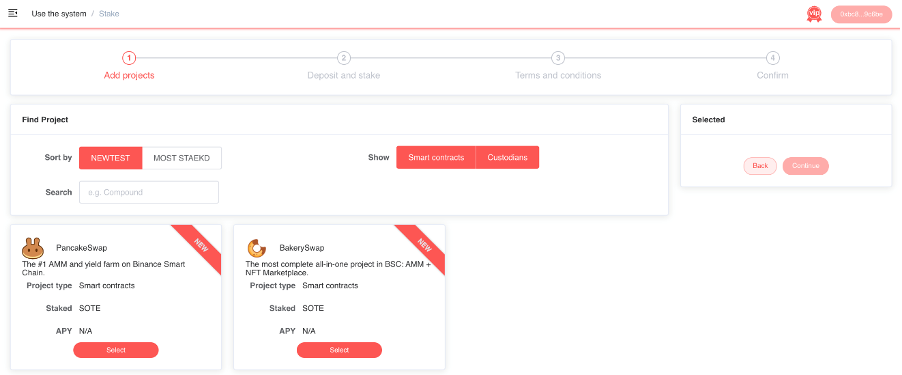 Under the premise of not losing the liquidity of their own assets, the security of their own transactions is guaranteed by paying a small amount of premiums. SOTE tokens themselves also have high value; in essence, Soteria is a liquidity pool model. Community members provide Soteria with BNB funds, and users can obtain SOTE tokens by depositing BNB. After users provide liquidity, they will get liquidity share tokens, while SOTE is equivalent to the liquidity share tokens of the fund pool in Soteria, and liquidity providers can obtain transaction fee income.
Soteria's Unique Cover Model
Soteria, a DeFi mutual insurance built on BSC, was launched on January 13, with 440 members on January 18, and reach 1,317 members today, with data mentioning the core demand of the current DeFi market, the security guarantee of every transaction. On Soteria, Users can insure a specific smart contract for a period of 30 to 365 days. Each insurance is priced in the platform token SOTE and allows BNB to be paid.
Not limited to the traditional insurance function for risk reduction and the financial benefits of liquidity pools, Soteria also creates value at the same time. By staking SOTE tokens, users can assess the security of a specific smart contract and become a revenue recipient. The insurance industry itself is profitable from the premiums generated by the large number of safe policies, but Soteria gives this profit to the platform users, which means that although the users use their own SOTE or BNB to buy insurance, this profit is returned to them in another form. From the user's perspective, not only is the risk of loss reduced by using hedging, but the premiums earned by Soteria are staked back through a new round of hedging.
Although Soteria is a platform that offers DeFi insurance functions, users can also earn Wrapped SOTE by participating in mining with a locked position (since SOTE tokens are circulated only within the platform, Wrapped SOTE can help SOTE tokens to be traded freely over the counter and both can be converted).
Benefit from decentralized trading, Soteria is developing more new projects with high quality based on the integration of traditional insurance and the use DeFi instruments. With such a high degree of freedom of construction, more trading methods, lower risks, and newly created and even unimagined ways of using decentralized blockchain technology will be created on the Soteria platform in the future.
Soteria's Enrichment of the BSC Ecosystem
The frenzied wave of DeFi seems to have subsided in the surging cryptocurrency market, but BSC's new project Soteria has once again brought BSC's entire DeFi ecosystem to the public's attention. BSC, which has cast a pervasive net throughout the crypto world, has finally waited for the moment to close the net. The head Dapp Pancake has been floating steadily around 10,000 daily active users, the total value of smart contracts on Bakery has exceeded $1 million in a single day, and the new project Soteria Mutual Insurance has collected more than 1,300 users on its 12th day of launch. (It is worth mentioning that the industry leader NXM has only had less than 4,000 users for almost a year) Once again, if we look at the ecological map of BSC, we will see that many of the businesses backed by the parent company have already put their roots in the DeFi world, and today, these businesses have already grown a lot of leaves on BSC.
Soteria is bound to have a great impact on BSC's ecosystem and BNB's transaction scenario. Through its current performance, Soteria has the potential to enrich BSC's ecosystem in its entirety just from the launch of the insurance business for Pancake users.
As more people have a deeper understanding of blockchain and crypto market, more and more capital is pouring in, and BNB continues to rise in the past year, we have sufficient reasons to believe that BSC, Bakery, Pancake, and Soteria will continue the second wave of DeFi that led by BSC. This wave represents the initial heart of BSC – the spirit of reason, true value, and exoteric finance.
The post DeFi ecological blowout on Binance Smartchain: Soteria Added insurance Function for BakerySwap appeared first on BeInCrypto.
Source: Be In Crypto