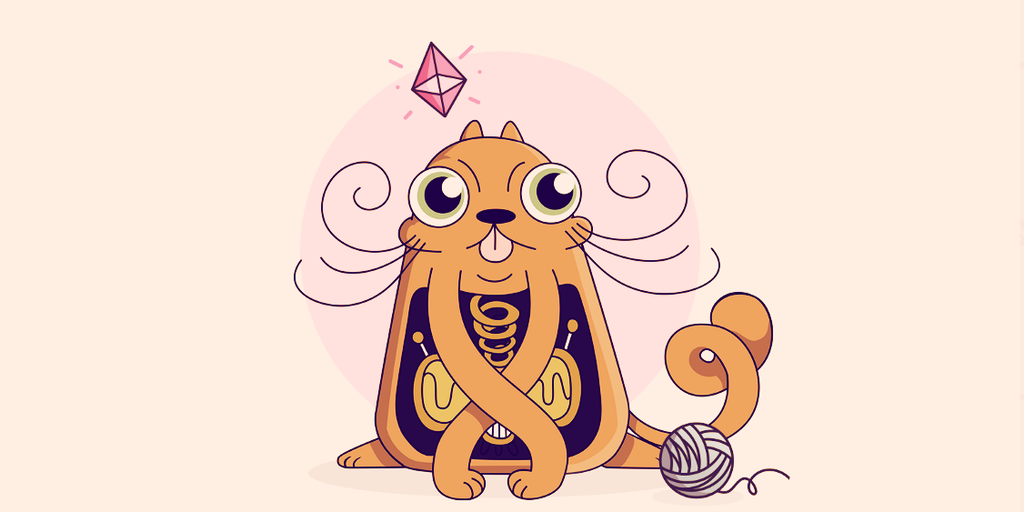 CryptoKitties drawn by the project's brand ambassador, Chinese artist Momo Wang, were debuted today on Nifty Gateway, the crypto collectibles fine-art marketplace backed by Tyler and Cameron Winklevoss, the founders of Winklevoss Capital and the Gemini crypto exchange.
Wang is best known for illustrating a sticker of a white rabbit that Facebook and WeChat users share tens of millions of times each day. Her next illustration, of a cat—a Crypto Kitty called "Catterina"—will go live on the Nifty Gateway marketplace at 4pm PST today. There are one hundred images for sale, priced at $100 a piece, and half of the profits will go to charity.  
We've had over 100 user sign ups since the announcement went out about the special @CryptoKitties drop by Momo Wang … don't be late or you might miss out! https://t.co/uOsiGCCdOz

— Nifty Gateway (@niftygateway) May 14, 2020
Duncan Cock Foster, co-founder of Nifty Gateway, told us that the CryptoKitties crossover came about by way of an accident; the image was originally designed for another company, but the deal later fell through and so Wang's masterpiece was passed to Nifty Gateway, which had previously worked with the project on credit card purchases.
CryptoKitties, for the unaware, are a form of crypto collectibles—digital art registered on the blockchain. They were launched in 2017 and were, for a time, all the rage among the crypto faithful, even briefly crashing the Ethereum network under the weight of their popularity. Though the images are identical to the one above, the ownership of that specific image is unique. That, apparently, is enough for some to fork out hundreds of thousands of dollars for crypto kitties.
That there's a marketplace for these things is good news for digital artists, who can once again sell limited editions of their artworks. And artists can also take a cut of sales from secondary markets, since each transaction is logged on the blockchain; it can take a while for artists to be discovered, so that they can profit from their own success makes digital collectibles an attractive proposition. 
Nifty Gateway is one such marketplace for crypto collectibles. The platform has been around since 2018, but the team relaunched the platform in March after receiving backing from the Winklevoss twins, the billionaire brothers behind Gemini. 
It wants to be a high-brow marketplace, full of only the finest crypto-enabled art Bitcoin can buy. The platform features three or four artists every two weeks.
Cock Foster said that 33 of 51 artworks featured on the site sold out completely and that many sold out within hours. (Cock Foster said everything has gone swimmingly since the launch, "though won't disclose figures"). 
Wang's "Kitties look very unique," he said of the 100, er, identical JPEGs. "They're definitely a lot more artsy than other crypto kitties. That's why we thought it would be a good fit."
Original Source: Decrypt CryptoKitties go live on Winklevoss-backed marketplace