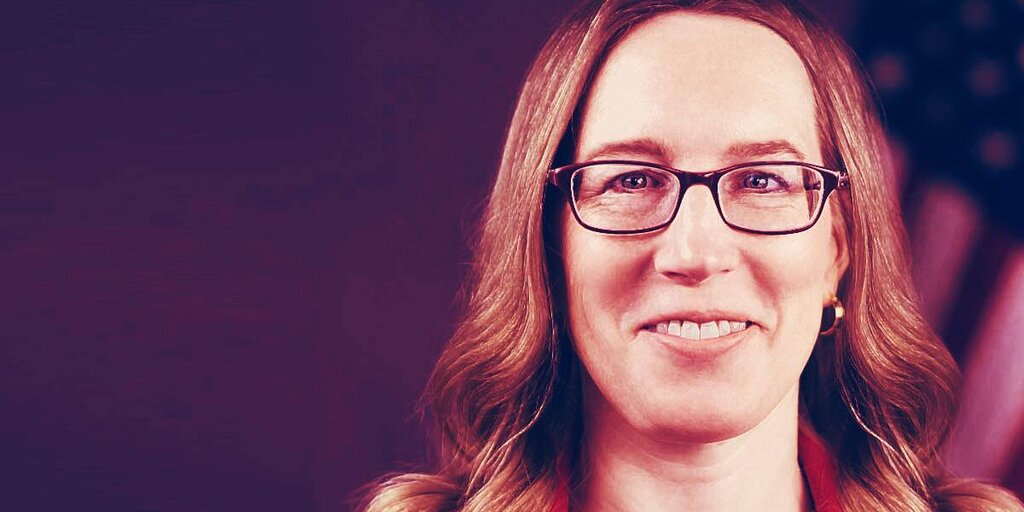 Hester Peirce, aka "Crypto Mom," won't be leaving the SEC any time soon. The crypto friendly commissioner of the US Securities and Exchange Commission was today sworn in for a second term.
The SEC announced that she had secured the second term, which lasts for five years, on August 6. 
Peirce is known for her progressive stance on cryptocurrencies. She won over the crypto faithful in 2018 after she criticized the SEC's rejection of a Bitcoin ETF, or exchange-traded fund. ETFs let you trade "funds" of assets, like a big Bitcoin fund, on the stock market. Peirce was concerned that the SEC's approach "undermines investor protection by precluding greater institutionalization of the bitcoin market."
Since then, Peirce has continued to support cryptocurrency regulation, erring on the side of crypto startups behind large ICOs—the controversial fundraising schemes that gained popularity throughout 2017 and early 2018, which the SEC has claimed almost all constitute an illegal sale of securities under US law.
"[Crypto] is clearly going to be here to stay, and I would like us to set up a regulatory framework that works well for crypto," Peirce said during her nomination hearing on July 21.
Last month, Peirce said that she objected to the SEC's court case against Telegram, a chat app with 400 million users that raised $1.7 billion in a 2018 ICO. The SEC's case against Telegram eventually caused the messenger company to abandon its blockchain project, two years in the making, and return the money raised in its ICO to investors. 
"What the SEC's Telegram complaint cast as evidence of an illegal securities offering[…] I see as a necessary prerequisite for any successful blockchain network," Peirce said in a speech. "Who did we protect by bringing this action? […] Would-be innovators, who will now take additional steps to avoid the United States?"
One Peirce proposal, hoped for by many crypto projects, is a three-year safe harbor period for crypto ICOs. This will give them time to decentralize; if crypto projects are sufficiently decentralized, they might not be subject to US securities laws, and thus avoid SEC scrutiny. 
Peirce was sworn in alongside Caroline Crenshaw, who joined the SEC in 2013. Concerning her own second term, Peirce said in a statement: "I am honored to be able to continue to serve our investors and protect the integrity and efficacy of our markets together with the SEC staff and my fellow commissioners, including my newest colleague, Commissioner Crenshaw."
SEC Chairman Jay Clayton said: "Hester has been a tremendous advocate for our markets and investors, and I know she will continue to be a strong voice for them in the years to come."
Source: decrypt