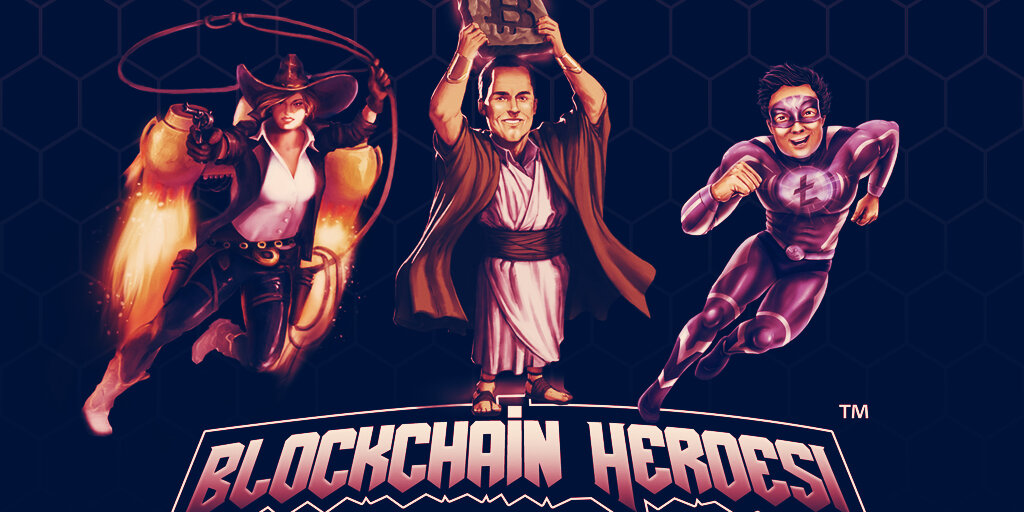 Some of the crypto communities top creators, investors, and advocates have larger-than-life personalities—so large, in fact, that a game studio has turned them into superheroes for an upcoming blockchain-based collectible card set.
Blockchain Heroes is the creation of Joel Comm and Travis Wright, co-hosts of The Bad Crypto Podcast, and the digital card set features 50 different heroes in its debut set releasing this August. As the name teases, all of them are based on people from throughout the blockchain world.
Some of the heroes teased so far include Captain Currency, The Prophet, Lady Lightning, and Data Avenger. None of the personalities have been officially revealed just yet, but Comm told Decrypt that the community chatter around roster could be a metagame of sorts.
LiteSpeed is fast. In fact some say he is four times faster than his big brother! pic.twitter.com/JX3DjGJiEl

— Blockchain Heroes (@bc_heroes) June 11, 2020
"The cards are a parody of real personalities, but we aren't releasing the names of who inspired each hero," said Comm. "However, it will be obvious for many of the heroes. Some others might lead to interesting community conversation and debate."
Blockchain Heroes runs on the WAX blockchain and was funded via a grant from WAX Labs. Each card is individually minted as a non-fungible token (NFT) on the blockchain, and the packs will have a randomized selection of cards within. Cards will be available at different rarity levels, ranging from common up to mythic, with varying designs for each level.
According to Comm, the 50 heroes are sorted between five categories: Celestials (investors), Creators (inventors), Defenders (advocates), Champions (personalities), and Boosters (communicators). And a second set is a very real possibility, too.
"We started filling in heroes [and] there are so many we could choose from," said Comm. "So if the set is well-accepted, perhaps there will be a second series."
Blockchain Heroes was announced in the wake of Topps' Garbage Pail Kids digital trading cards on WAX. The set sold out in 28 hours, with today's release claiming secondary market resale values of up to 25 times the original price.
Source: decrypt