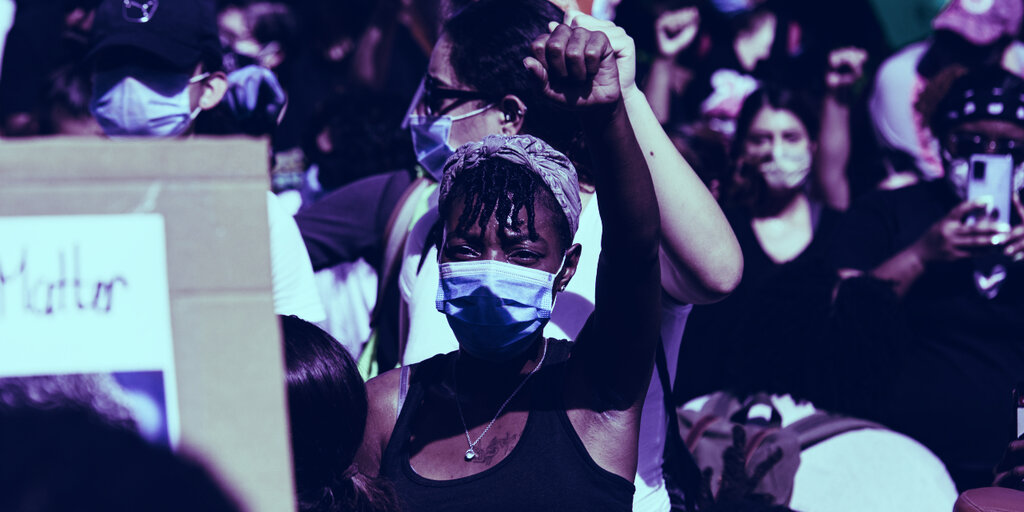 The Giving Block today announced the launch of a Crypto for Black Lives donation campaign, encouraging cryptocurrency holders to donate towards several nonprofit organizations with matching funds provided through Gitcoin.
The drive was announced in the wake of global protests against police brutality and injustice towards black Americans, following the police murder of George Floyd in Minneapolis on May 25.
Round 6⃣, @gitcoin Grants: I'd setup a grant for my ecosystem work https://t.co/kBZIYrfkDm

But since then, far more important things have happened & one of them is helping setup @CryptoForBLM

Any contribution you'd have made to me, please direct to https://t.co/52SRYKE9fc

— Simona Pop (@Sim_Pop) June 16, 2020
"We've had donors reach out wanting to support nonprofits addressing the civil rights crisis, so we quickly mobilized to onboard nonprofits in this space so they could accept crypto," The Giving Block co-founder Alex Wilson told Decrypt.
Initially, the campaign supports seven nonprofit organizations: the National Black Chamber of Commerce, Black Girls CODE, The Bail Project, Nashville Bail Fund, Justice Committee, the Center for Constitutional Rights, and Movement 4 Black Lives.
Users can donate a variety of cryptocurrencies, including Bitcoin, Ethereum, DAI, Litecoin, ERC-20 tokens, Bitcoin Cash, and Zcoin. The Giving Block has waived its subscription fees for participating nonprofits, and the company has also taken the #CryptoForBlackLives pledge established by Emerging Impact CEO Robert Greenfield.
Gitcoin is currently providing matching funds up to $25,000 via a community grant, but Wilson said that they're hoping to boost that tally to $500,000 by bringing in more matching donors. The Giving Block previously partnered with Gitcoin for the #cryptoCOVID19 campaign and raised more than $1 million in total donations, which they aim to do again for Crypto for Black Lives.
"Our hope is to ultimately reach $1 million like we did for COVID," said Wilson.
Decrypt recently examined the crypto community's response to the Black Lives Matter movement and protests against police brutality. According to Greenfield, there's still much more that crypto firms can do to improve equality across the industry.
Source: decrypt