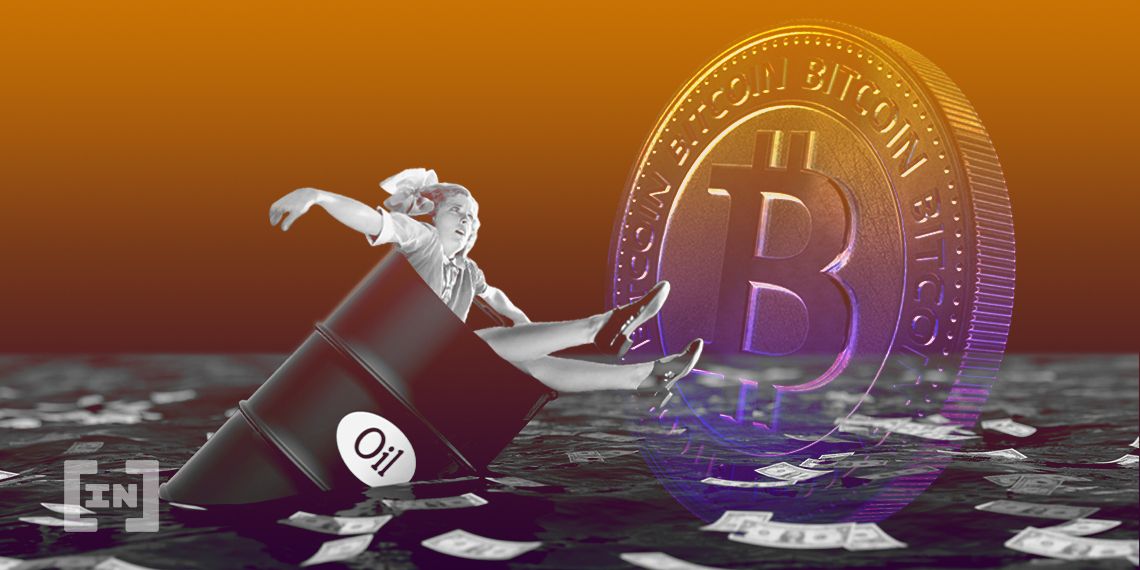 Since the March 13 drop, both Gold and Bitcoin have recovered the entirety of their losses and have created new highs. The price of Oil, however, has yet to recover, currently trading 30% below its March high.
During times of turmoil, commodities such as Gold and Oil are often considered safe havens. While Bitcoin is a relatively new asset, some believe that it might share this same property with both Oil and Gold.
In this article, we will take a closer look at the price movements of these three assets, and compare their recovery since the March 11 crash.
Oil
The Oil price has trended downwards for the entirety of 2020. However, it has recovered dramatically since reaching a low on April 13. It recently moved above the 0.5 Fib level of the entire decline ($35 resistance area).
The recovery has yet to show any weakness, which could manifest in the form of bearish divergence in the RSI. Therefore, the price should continue rallying towards the next resistance area at $145.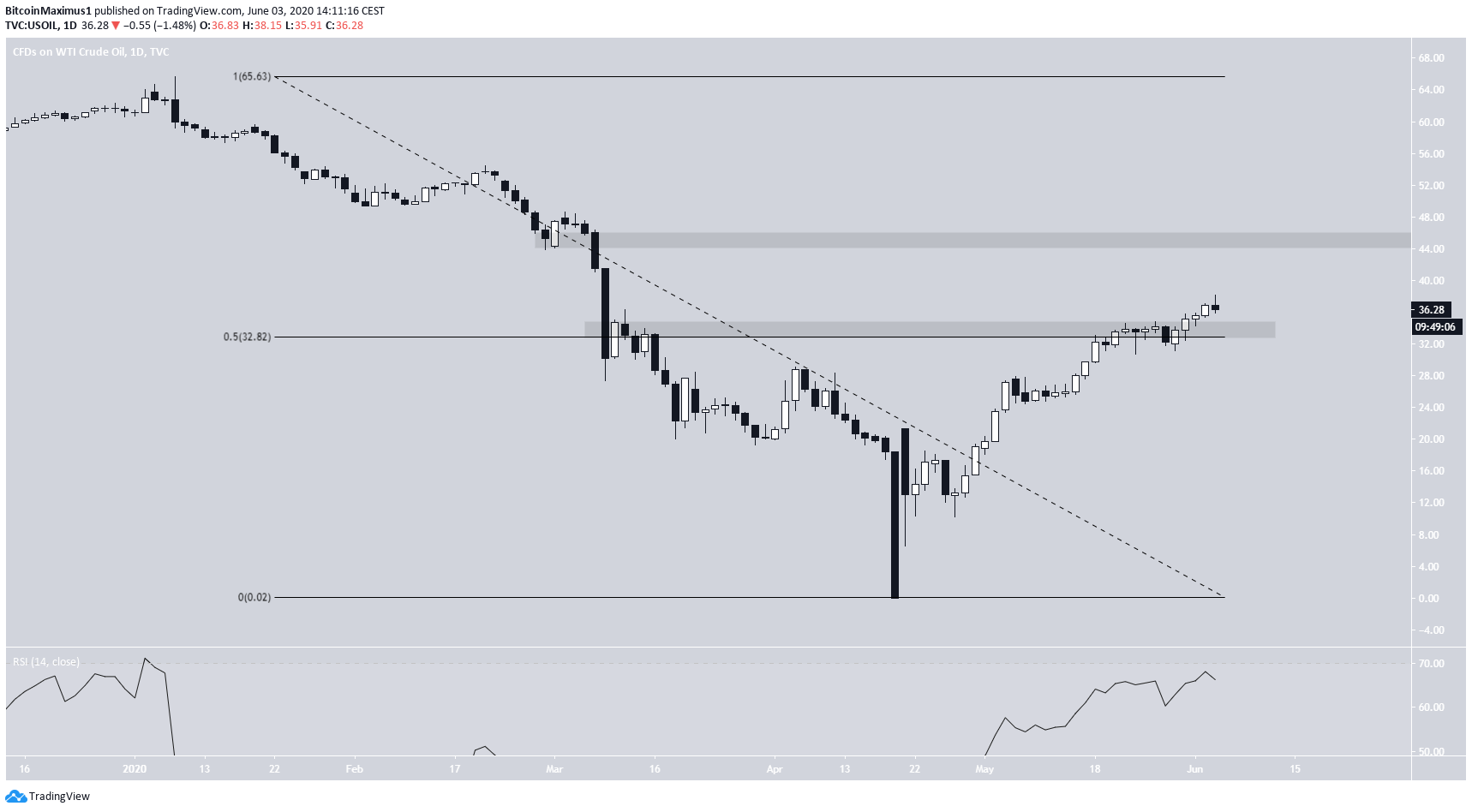 Oil maximalist @Walter_Wyckoff provided a bearish oil scenario (chart below) with price trading right at a descending resistance line.
He mentioned that the next move would likely be lower. However, as seen above, the price has already broken above this line and validated it as support.

Gold
The gold chart shows an entirely different situation. The price has moved above the $1,680 area and is now using that as support. Therefore, the price has effectively erased all of the losses stemming from the March decline.
Price action remains bullish as long as Gold is trading above this level. However, it has also begun to show weakness in the form of bearish divergence in the RSI, and the possible creation of an ascending wedge, which is considered a bearish reversal pattern.
Therefore, the price may decline and test the $1,680 support area once again.
Comparison to Bitcoin
The prices of Gold (Green), Bitcoin (red), and Oil (orange) are shown in the image below in the period beginning on March 1. For a full BTC analysis, click here.
The first difference between the three is that while Gold and Bitcoin are up 8.17% and 7.83% respectively since March 1, Oil is trading a full 22.96% below.
In addition, both BTC and Gold reached their bottom in the middle of March and have been increasing ever since. On the contrary, the price of Oil continued to decrease until the end of April, before it eventually began its upward climb. This could be one of the main reasons why the recovery has lagged considerably below the other two.
However, the movement of Gold and Bitcoin are very similar, with the exception that both increases and decreases are more pronounced in the price of the latter.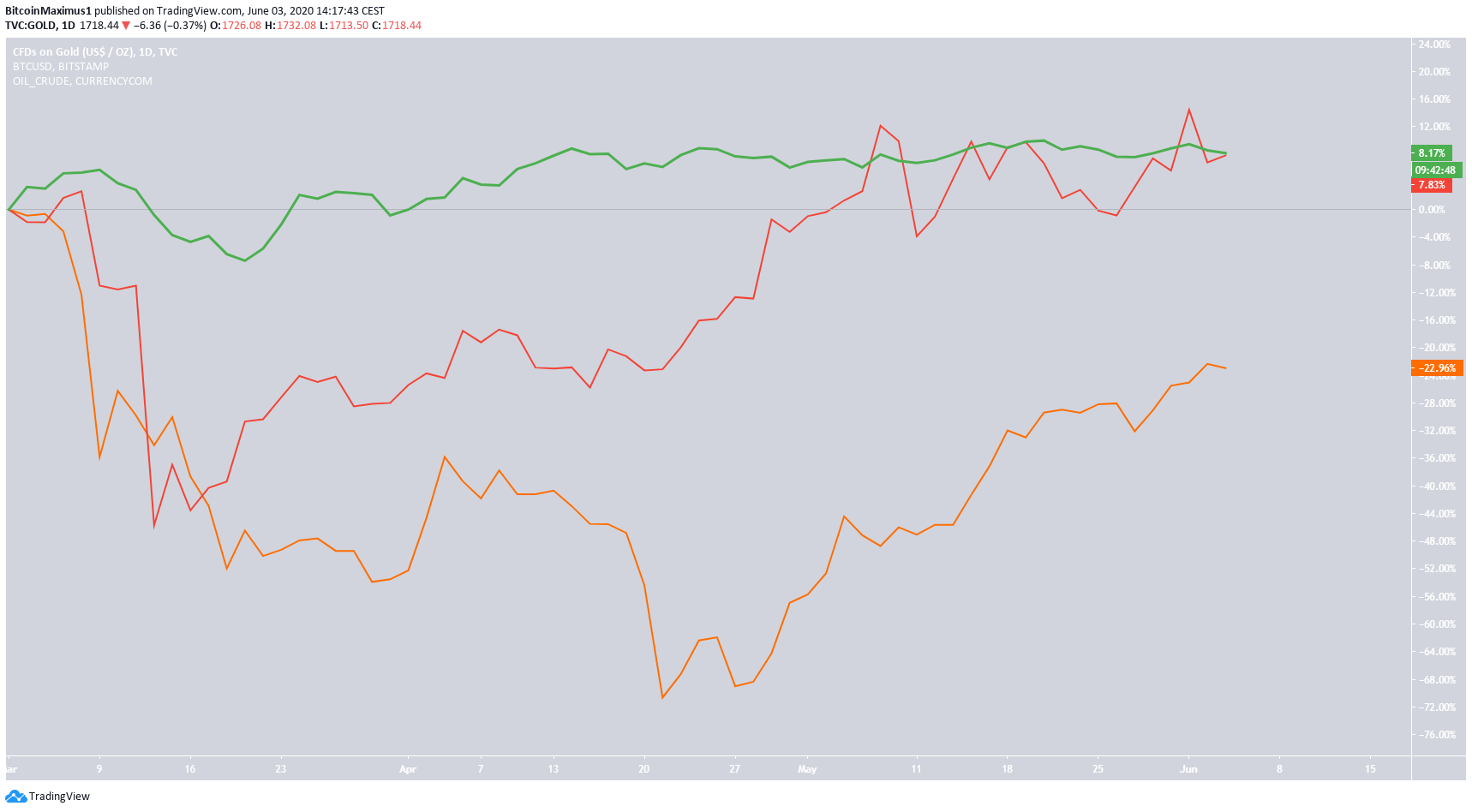 The post Comparing Bitcoin's Recovery to That of Gold and Oil appeared first on BeInCrypto.
Source: Be In Crypto