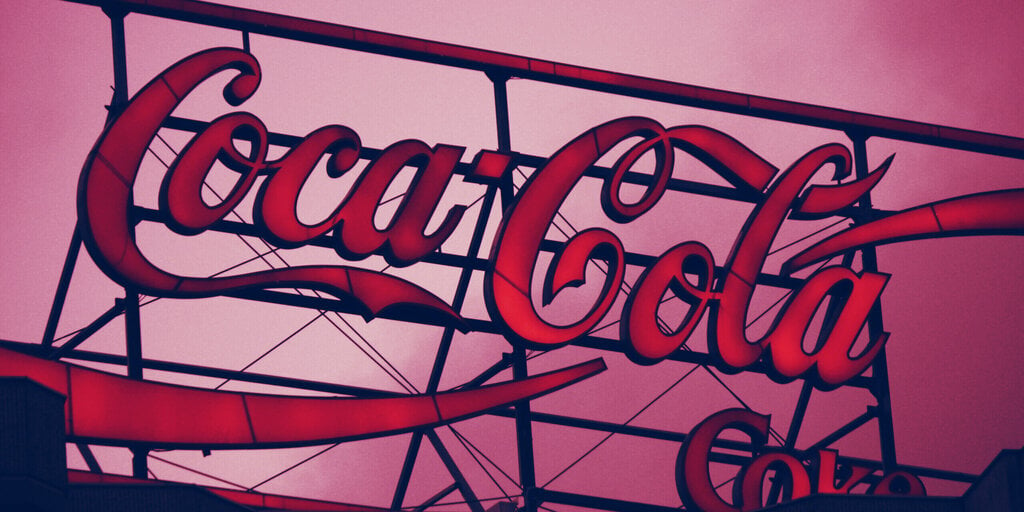 North America's Coca-Cola bottling supply chain is dipping its toes in the decentralized finance (DeFi) ecosystem.
A new project, announced on Monday, will see CONA Services (Coke One North America,) the tech partner of the largest Coca-Cola bottlers in the region, establish a "Coca-Cola Bottling Harbor" to reduce technical barriers for suppliers.
The project is enabled by The Baseline Protocol, a middleware solution for large companies. It enables them not only to communicate and transact privately on the Ethereum public blockchain, but also to access DeFi applications, and tokenize assets.
Launched in March 2020 by Microsoft, professional services firm Ernst & Young and Ethereum venture studio ConsenSys (which funds an editorially independent Decrypt,) the protocol allows confidential and complex collaboration between enterprises.
In essence, it offers a set of tools—including zero-knowledge proofs—that allow business transactions, smart contracts, and communications to remain private when organizations use Ethereum's public mainnet. 
"Companies use all kinds of sophisticated internal systems to transact internally, but when they communicate with each other, they mostly use email and spreadsheets and EDI [electronic data interchange], which is basically text messaging," Paul Brody, principal and global blockchain leader at Ernst & Young, told Decrypt, when Baseline launched. 
A technical backbone
Baseline is not CONA's first Ethereum integration. 
In 2019, the organization adopted Ethereum's Hyperledger Fabric, which runs on software multinational SAP's blockchain-as-a-service platform.
The idea was to streamline cross-organizational supply chain transactions and boost transparency for the bottlers' complex supply chain.
With the introduction of Baseline, CONA is extending its use of the Ethereum platform. It wants to reduce technical and cost barriers to entry for Coca-Cola bottling suppliers from beyond its internal network through streamlining the provisioning process for suppliers, such as raw materials' vendors.
Requests, proposals, purchase orders, delivery, invoices, and payment can now all be automated, minimizing errors, and making it easier for minor suppliers to integrate with the network.
For CONA's network, expanding to Ethereum's mainnet also enables a key feature: the use of tokens which allow parties to access blockchain-based tools such as loans via DeFi applications.
A digital token representing a purchase order, for example, could be used by a supplier as security and used to obtain working capital.
For CONA, introducing Baseline Protocol will allow it and its suppliers to use Ethereum for business transactions much the same way people use the internet, but more privately. 
The project is scheduled to showcase its initial results in Q4 2020.
Source: decrypt