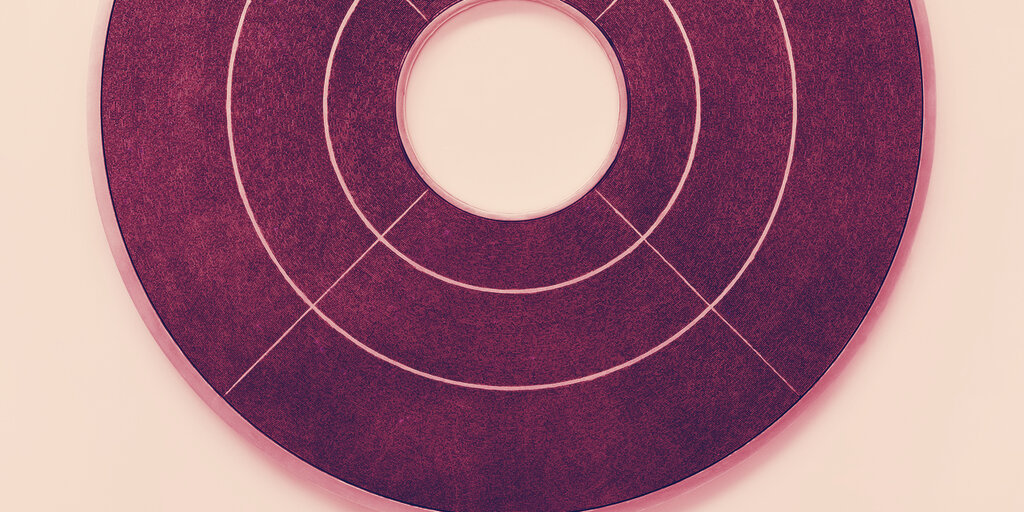 Block 21, an artwork and accompanying non-fungible token (NFT) "digital portrait" of Bitcoin inventor Satoshi Nakamoto, fetched $131,250 at an auction at Christie's today. It was the first-ever NFT sold at a major auction house.
Fabricated by the artist Ben Gentilli and attributed to the Robert Alice project, the work is just one of a series of 40 total objects, collectively titled Portraits of a Mind.  Each of these panels—imposing, circular structures with their centers removed—displays a section of Bitcoin's v0.1.0 code. Some 322,048 digits were individually inscribed across the series; this particular panel was selected for public auction as a reference to the eventual maximum supply of 21 million Bitcoin.
The piece was featured in a wide-ranging sale of post-war and contemporary art, alongside work from the likes of Robert Motherwell, George Condo, Ed Ruscha, and Yayoi Kusama. The bidding, which took place in the auction house's New York sale room, started at $22k and quickly climbed to a hammer price of $105k. Christie's initially estimated that Block 21 might sell between $12k and $18k.
The "realized price" of the artwork, including fees, was $131, 250 and the identity of the buyer wasn't immediately known. The previous record price for an NFT was $105k, set a month ago.
A portrait of Satoshi
It's meant to represent what Gentilli calls an attempt at "a portrait of Satoshi Nakamoto." Lines that run through the code, across each panel's surface, form a kind of implied crosshairs with a central blankness as its target, in an explicit nod to the anonymity of Bitcoin's creator.
"Bitcoin's original codebase is like a historical document, and I wanted to celebrate it and preserve it in the same way as a document like the Magna Carta," Gentilli told Decrypt in a recent interview. "But I also wanted to try and answer the question of how one might make a portrait of Satoshi Nakamoto, when there is no image of him."
Gentilli has said that the distribution of these objects across a handful of private collections (per the Robert Alice website, the first 20 panels have already been sold) was an intentional riff on the concept of decentralization, and that each panel is meant to be taken in individually. "For me," said Gentilli, "this work is a portrait of Satoshi, decentralized around the world, in the same way that Bitcoin itself is.
Block 21 also comes along with its own NFT component, giving the physical panel a digital presence. The NFT was compiled on a platform called Async Art, which deals in digital, programmable "paintings," that can change over time, and is designed to react to the natural day/night cycle; the work's purchaser will be able to adjust its coordinates, so that the cycle of the NFT aligns with the cycle where the physical work is displayed. "The artwork's dematerialisation into cyberspace is something the connected generation has come to take as standard," reads a statement from Christie's. "The lights do not go out on digital art."
Source: decrypt