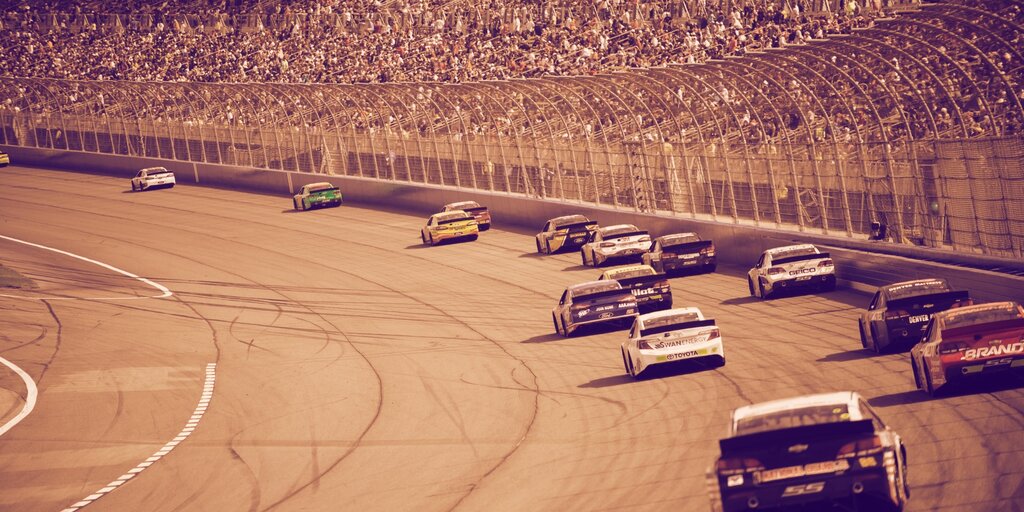 Payment services firm Cash App has detailed the Bitcoin logo onto NASCAR driver Darrell "Bubba" Wallace's signature motor, as part of a multi-year sponsorship announced yesterday.
Bubba's Bitcoin embellished No. 43 Chevrolet Camaro will be showcased to around three million viewers during the O'Reilly Auto Parts 500 race this Sunday, according to a press release.
The event, a popular 500-mile dash around the Texas Motor Speedway in Fort Worth, will serve as CashApp's sponsorial debut. Bubba's Chevrolet Camaro will don both the Bitcoin and CashApp logos for four further events after that. Plus, Cashapp will remain an associate partner for the duration of the 2020 NASCAR Cup Series (NCS) campaign.
"Bubba Wallace is a once-in-a-generation talent and we are proud to partner with Richard Petty Motorsports to usher in this new era of racing," said Garrett McManus, artistic development lead for Cash App. "We stand with Bubba and we are thrilled to team up on the next part of his journey."
The partnership between Bubba's team, Richard Petty Motorsports, and CashApp has sparked tremendous enthusiasm within the Bitcoin community. Early this morning, Jack Dorsey, founder of Twitter and Cash App, added to the fervor by tweeting out pictures of newly sponsored Chevrolet Camaro, adorned with the Bitcoin logo.
#bitcoin @BubbaWallace pic.twitter.com/tNSio3qnTz

— jack (@jack) July 14, 2020
Trump's Twitter tirade
The excitement follows controversy. Last month Bubba hit national headlines after successfully managing to persuade NASCAR to ban the use of the confederate flag in the sport—a historical but contentious remnant of the American Civil war.
This was followed by the discovery of what appeared to be a noose in Bubba's team garage, prompting accusations of racial hatred. The alleged noose in question was later deemed by the to be a "door pull" by the FBI.
Both incidents caught the attention of President Trump. Trump slammed Bubba—accusing him of conducting a 'hoax," calling on him to make an apology and claiming that he had caused NASCAR ratings to slip. Instead, NASCAR ratings marked an 8% hike after returning from its coronavirus-led hiatus.
Has @BubbaWallace apologized to all of those great NASCAR drivers & officials who came to his aid, stood by his side, & were willing to sacrifice everything for him, only to find out that the whole thing was just another HOAX? That & Flag decision has caused lowest ratings EVER!

— Donald J. Trump (@realDonaldTrump) July 6, 2020
Despite the dispute, one commentator on Twitter suggested that the snafu could bolster both Bitcoin and Bubba's reputations as a quasi form of protest against Trump. But is he being too optimistic?
Source: decrypt