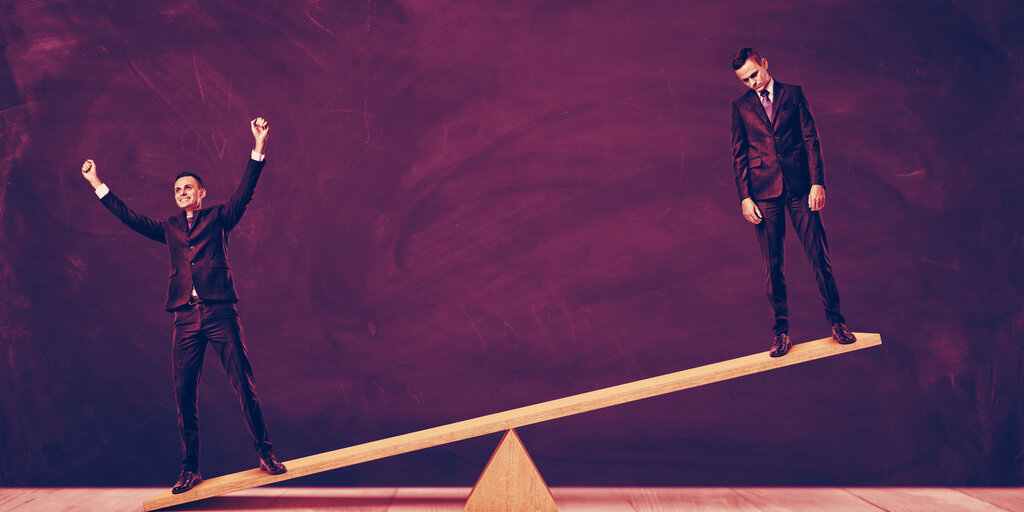 Following an uncharacteristically strong start to the week, the price of Bitcoin, the largest cryptocurrency by market cap, ended the week much where it started. Meanwhile, stocks boomed. 
The debate of whether Bitcoin really tracks the stock market is ever-raging. A week of data isn't enough to conclude much at all. But from this week, it's clear that traders wished that Bitcoin, for once, did track it.
Take a look at the graph below. Bitcoin started the week at around $9,500, then jumped up in an instant as the clock rang in Tuesday, hitting highs of $10.200, according to data from CoinMarketCap. 
Analysts are calling it Bitcoin's "Bart Simpson" moment because, well, it looks a little like the haircut of Bart from The Simpsons.
Lennard Neo, Head of Research at Stack Funds, told Decrypt that its retrenchment a day later is a "sign of a hard psychological ceiling at US$10,000 for many traders, given that this was Bitcoin's third time testing the US$10,000 multi-year resistance." 
However, Neo postulates that "another substantial break upside above the US$10,300 could see the digital asset soon retest US$12,000." 
When Neo will be proven right—if ever—is anyone's guess. But his predictions did not come true during the rest of the week, when Bitcoin's price stumbled around the $9,500 – $9,600 mark. 
Its current price, as of Saturday afternoon, is $9,678, according to data from metrics site CoinMarketCap. 
Stocks soared
Meanwhile, the US stock market rallied and ended the week in a far better position than when it started. 
Take a look at the chart below. Just as Bitcoin traders struggled to sustain their weekly highs, the S&P market takes it away, rising about 200 points in the week.
Stocks rose when news of the unemployment report broke in the US. The report revealed that 2.5 million jobs were added to the economy in May, meaning that the unemployment rate had declined to 13.3%. That's down from April, when the US unemployment rate was 14.7%.
What will next week bring?
The views and opinions expressed by the author are for informational purposes only and do not constitute financial, investment, or other advice.
Source: decrypt