Bitcoin (BTC) appears to be consolidating in the $43,000 range, which could see more volume pushing the crypto to another all-time high
Following bitcoin's recent all-time high, it looks like another one could be on the cards. BTC has managed to hold well over the $42,000 price range. The small consolidation could see more upside potential sooner rather than later. 
It looks as if bitcoin could be challenging $50,000 next. The recent news surrounding Elon Musk's Tesla investment of a mammoth $1.5 billion could send the leading crypto to another new high. 
Bitcoin Popularity Growing Fast
Bitcoin adoption over the past month only appears to be gaining traction. It was recently announced that cryptocurrency asset management firm Grayscale had purchased a whopping 42,000 BTC over the course of January. The amount was over 1.5x the total supply of newly mined BTC in January. 
The recent whale purchases by Grayscale would have been an early indicator of what was to come. And Tesla has now joined the fray and will look to diversify its portfolio into cryptocurrencies. 
The recent tweetstorm by Tesla Founder Elon Musk recently centered around Dogecoin. Cryptocurrency traders speculate that Musk was seriously vested in the meme coin. Dogecoin has performed well above its normal price over the last two weeks. 
However, Musk recently commented that cryptocurrencies could potentially become the new world currency in the future. It appears Musk has taken steps to back up these comments. 
Another All-Time High on the Cards?
Bitcoin has now settled above $43,000 and looks set for more traction towards another high in the coming days.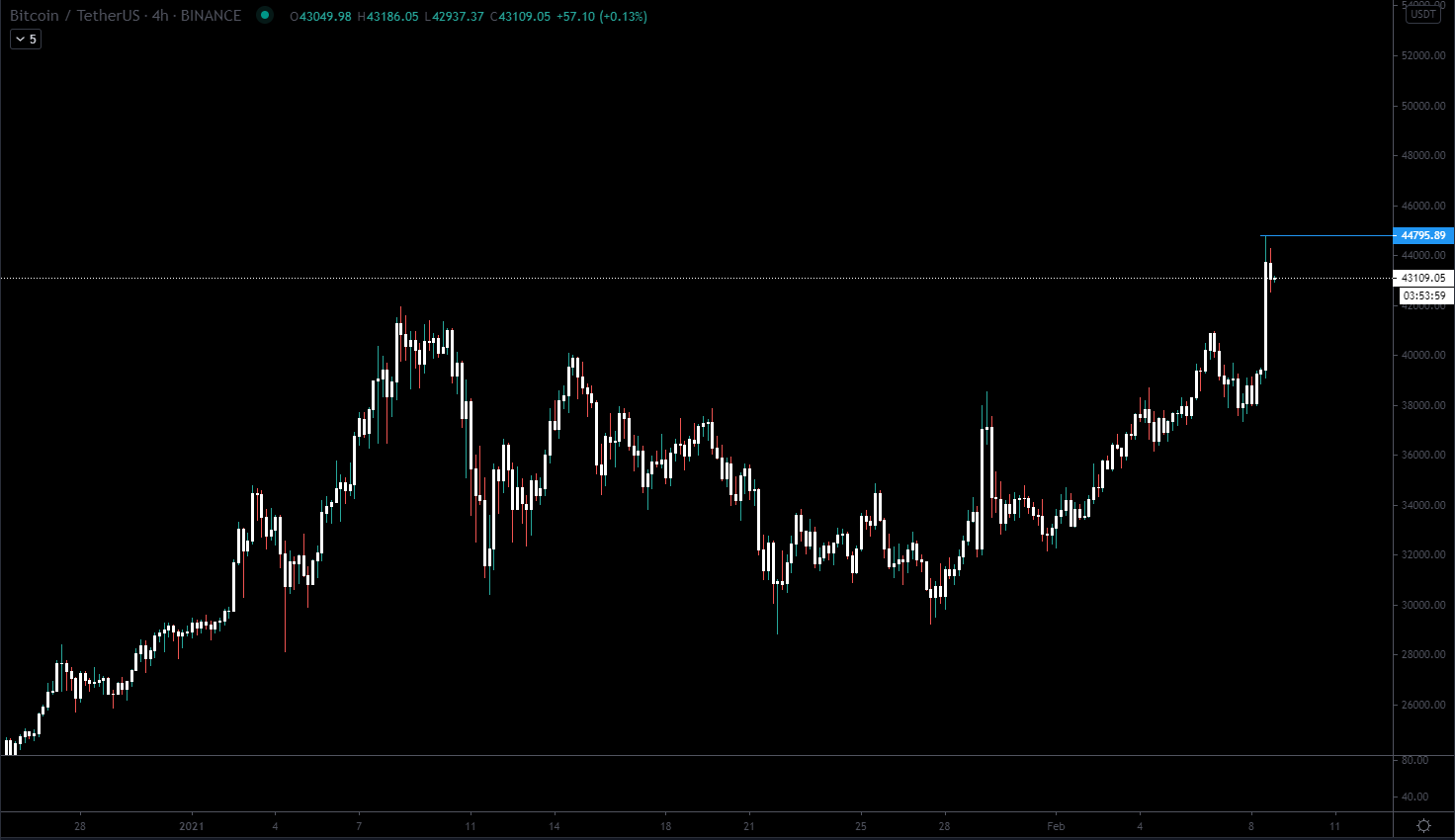 Bitcoin has now seen a 55% increase in price year-to-date with no potential price target for where it could end up by the end of 2021. Pantera Capital CEO Dan Morehead has already predicted that bitcoin could hit $115,000 in 2021. 
All eyes will be on what it does next. The cryptocurrency is gaining traction at a rapid rate. With corporates now finally taking note of the digital asset, it's likely a new all-time high towards $50,000 is on the cards. 
The post Bitcoin Passes $43,000, Heading for New All-Time High appeared first on BeInCrypto.
Source: Be In Crypto