On Sept 8, Bitcoin (BTC) created a bullish reversal candlestick inside a long-term support area.
It is not yet clear whether the price has completed its correction or if there is one more wave down before the price reverses its bearish trend.
Bitcoin Forms Hammer at Support
Since the rapid drop in price on Sept 2-3, the Bitcoin has been trading near the $10,100 long-term support area. Inside this area, BTC has created five successive long lower-wicks.
On Sept 7 the price created a bullish hammer, which is normally considered a bullish reversal candlestick when coming after a downtrend.
Technical indicators have begun to turn bullish:
There is a bullish cross in the stochastic RSI, which is moving upwards out from the oversold region.
The MACD has begun to increase, creating successive higher momentum bars.
However, the RSI is still decreasing and has not generated any bullish divergence.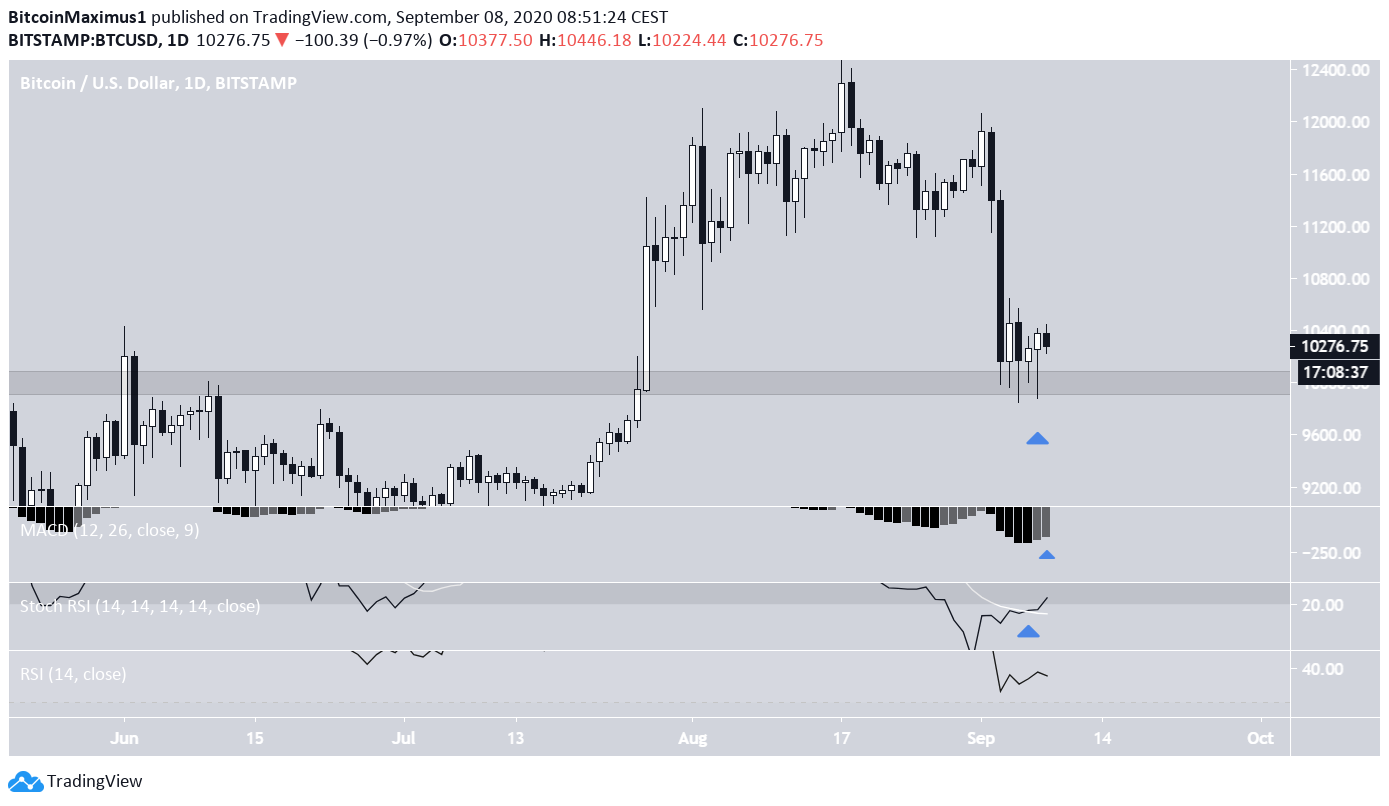 Short-Term Breakout
The hourly chart shows that BTC has broken out from a short-term descending resistance line. Prior to doing so, BTC created a double-bottom pattern, which was combined with a bullish divergence in the RSI.
However, both the MACD and Stochastic RSI show a loss of momentum. This could mean a price decrease to validate the resistance line as support before resuming the upward movement.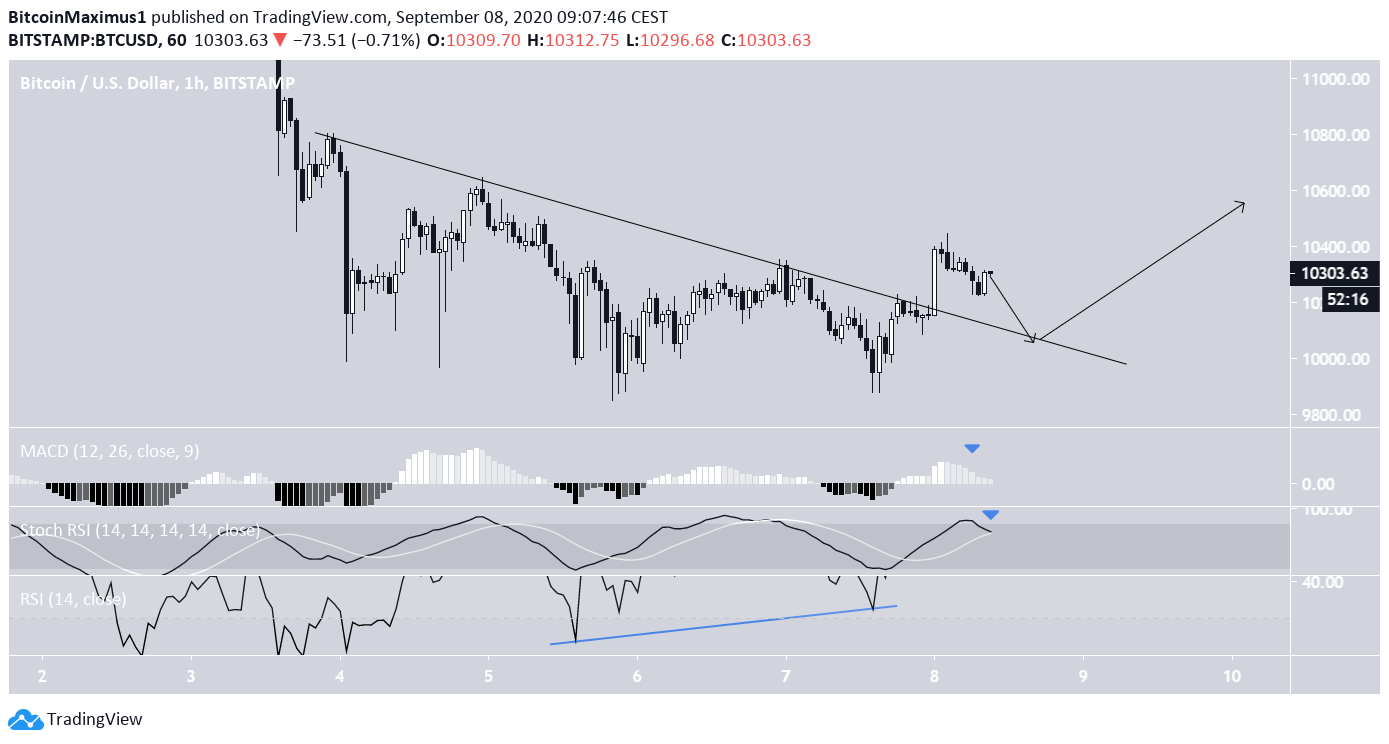 BTC Wave Counts
In BeInCrypto's Sept 7 Bitcoin analysis, we stated that:
It is likely that BTC has completed wave 4 of a five-wave bullish impulsive formation, by reaching a bottom of $9,825 on Sept 5.
In addition, two wave counts were analyzed. The first suggests that the bottom has already been reached, while the other shows that there could still be one more wave down before the actual bottom is reached.
The original wave count suggests that the downward impulsive move has ended and BTC has begun a new upward movement. It would mean that the movement since the bottom (outlined in black below) is the beginning of a new upward trend.
However, due to the frequent overlap between new highs and the succeeding lows, the movement seems more corrective in nature than it does impulsive, suggesting that the price is still correcting.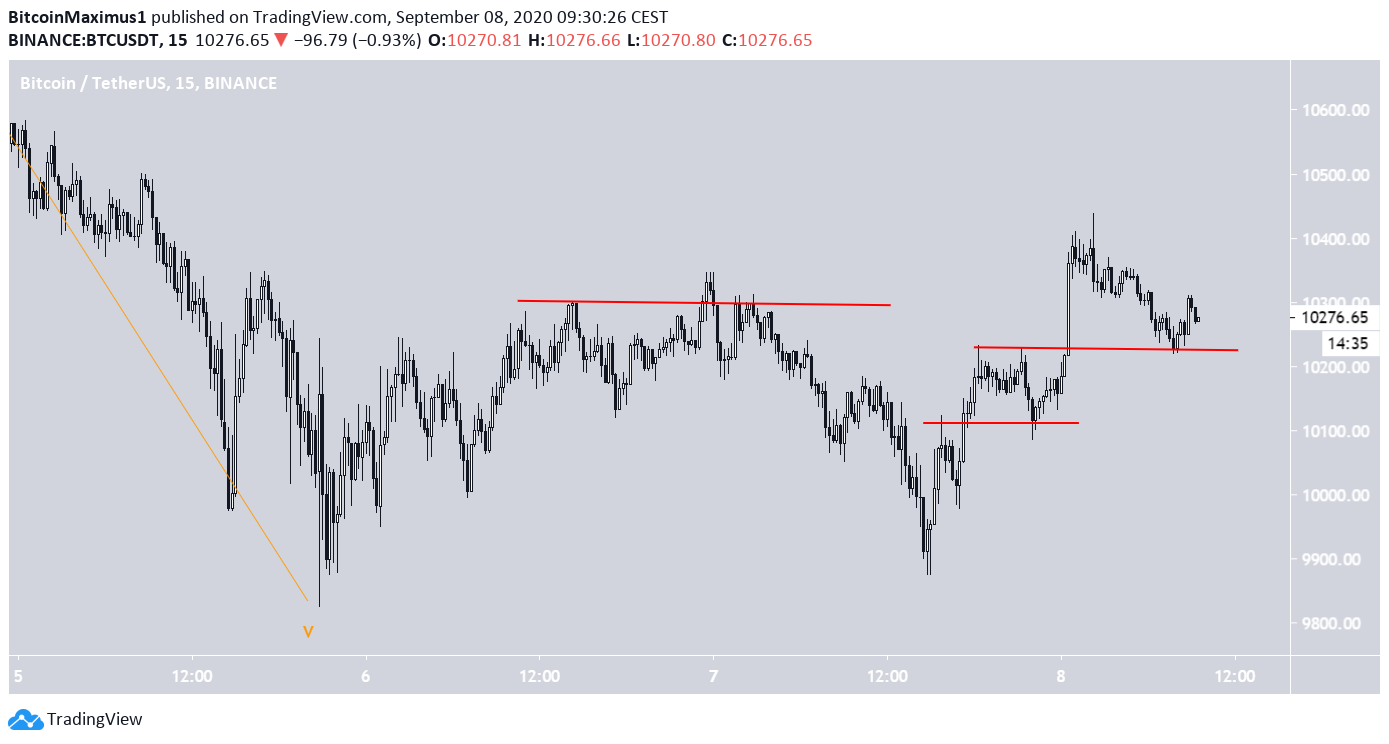 Alternative Wave Count
Therefore, the alternative wave count would suggest that the price is still in wave 4, with another wave down to go. The issue with this count is that wave 4 (in yellow below) has taken too long relative to wave 3, making it an unusual formation.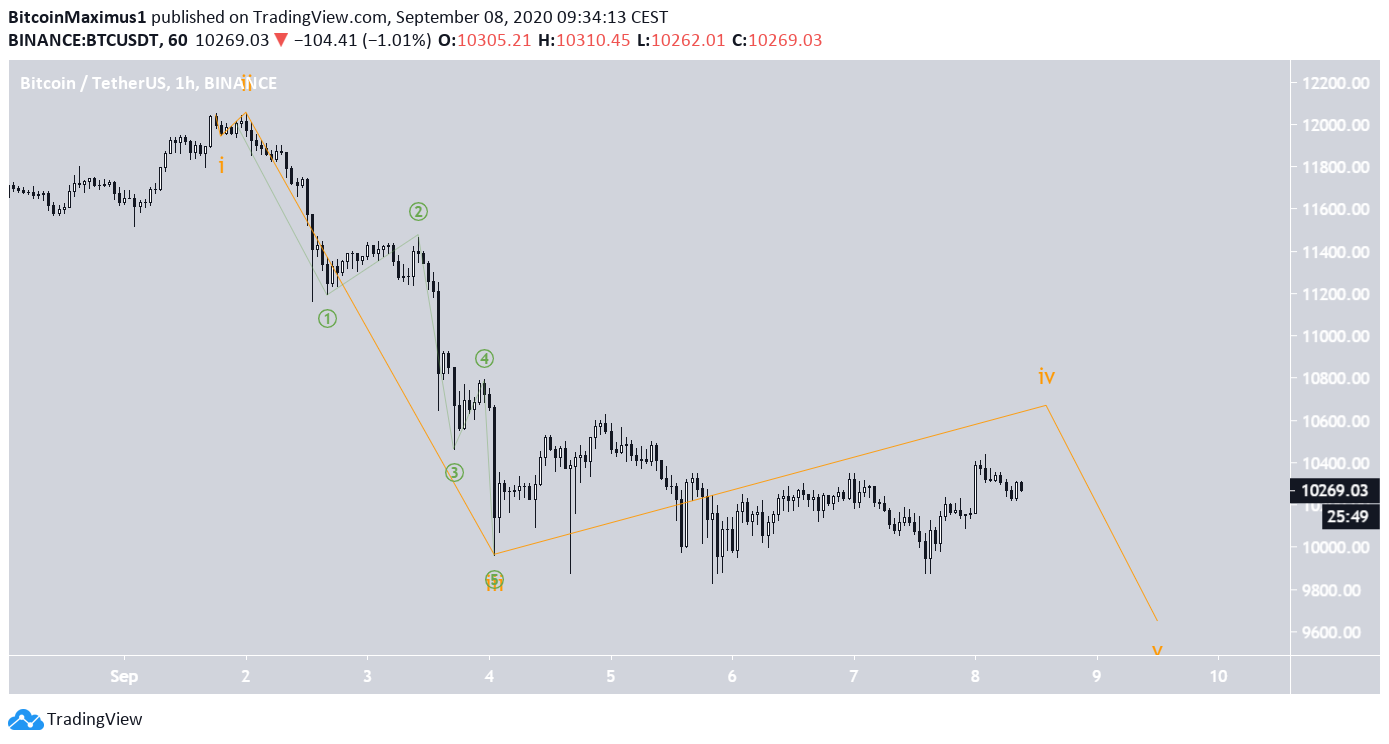 This suggests that the price is mired in a complex W-X-Y correction (in red below), whose wave count fits perfectly with the price action.
Therefore, it is more likely that the BTC price is still correcting, and has one more impulsive wave down before it resumes any major upward movement.
To conclude, it seems more likely that the Bitcoin price will create another leg down before reversing its bearish trend.
For BeInCrypto's previous Bitcoin analysis, click here!
The post Bitcoin Holds $10,000 Level But Fails to Escape Lows appeared first on BeInCrypto.
Source: Be In Crypto