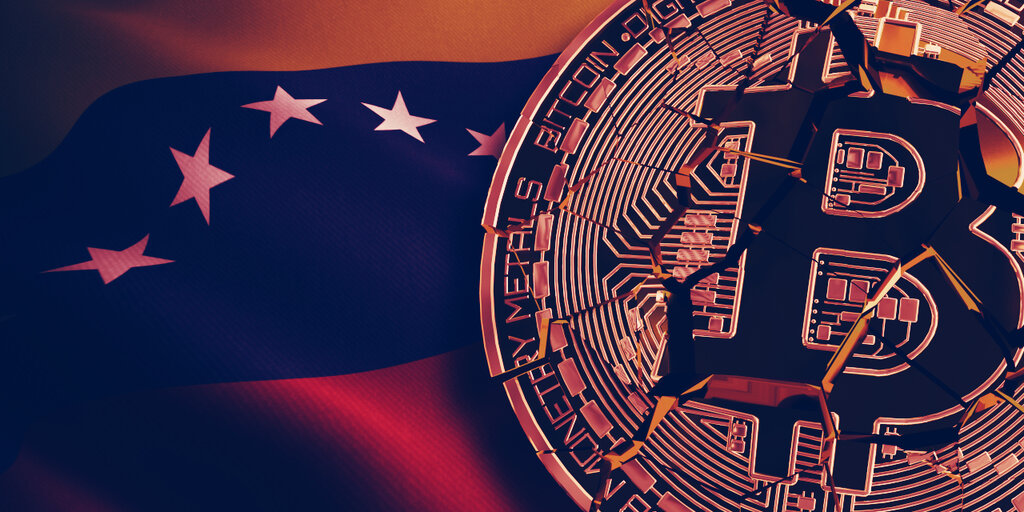 Local Bitcoin trading in Venezuela, which leads the Latin American region in terms of volume, has now become more difficult.
Peer-to-peer Bitcoin exchange Paxful yesterday sent notice to its customers that it will no longer allow trades using Venezuela's largest and most important bank due to the US government's sanctions against the country.
The email sent to Paxful customers stated that any trades making use of the state-owned Bank of Venezuela would be "deactivated." The reason, the company said, is because its "compliance team must follow the [Office of Foreign Asset Control's] sanctions in the United States."
A post on Paxful's website from April indicates that Venezuela is included on the list of sanctioned and high-risk countries. As a result, although trading is not entirely prohibited for Venezuelans, crypto traders in the country must verify their identities to prove that they are not individuals who will "threaten international stabilization efforts." At the moment, only trades using the Bank of Venezuela have been banned.
The decision took traders and crypto enthusiasts in Venezuela by surprise, as payments through the Bank of Venezuela have been allowed for years despite sanctions being in place. 
Paxful did not immediately respond to Decrypt's request for comment. The firm did, however, reply to a request for clarification on Twitter from one of its users: "Venezuela, and now this government-regulated bank, are part of the list of countries sanctioned by OFAC," the firm wrote.
Hola, lamentablemente Venezuela, y ahora este banco regulado por el gobierno, forman parte de la lista de países sancionados por la OFAC. Como estamos regulados en Estados Unidos debemos cumplir con las sanciones de esta oficina. Puedes leer más aquí: https://t.co/6Jt7AgxVkB

— Paxful LATAM (@paxful_LATAM) June 10, 2020
Meanwhile, other peer-to-peer Bitcoin platforms such as LocalBitcoins and Binance continue to allow trades from clients who use Bank of Venezuela. In fact, LocalBitcoins accounts for the vast majority of Bitcoin trading volume in Venezuela, far outpacing Paxful, according to data from metrics site Useful Tulips. Trading volume on Paxful, however, has been gaining in other parts of the world, such as India.
"To me, it seems like a case of over compliance with the sanctions, and sadly this only affects the people of Venezuela and not the government per se," Mauro Quiaragua, a Venezuelan lawyer specializing in administrative law, told Decrypt. "It's very similar to when Adobe and Oracle stopped supporting Venezuela, alleging they had to comply with the economic sanctions; it doesn't make sense."
Paxful users in Venezuela similarly expressed their displeasure with the exchange's decision on social networks and private chat groups.
"I think this measure affects the development of the crypto ecosystem in Venezuela," said Luis Elvis, a Venezuelan trader known in the community for promoting the use of the state-backed petro cryptocurrency. "It seems to me that the company is exaggerating [the effect of the sanctions]," he said.
The ban may not have a large effect on Bitcoin trading in the region, given the current volume on Paxful. But should other P2P platforms follow its lead, Bitcoin trading in Venezuela could be in trouble. For now, however, "better options" still exist, said Elvis.
Source: decrypt