During the week of July 20-27, the Bitcoin (BTC) price increased considerably, reaching a high of $10,170 and further solidifying its bullish trend.
However, the price is currently trading inside a long-term resistance area, and a short-term pullback would be expected.
Weekly Bitcoin Outlook
During the week of July 20-27, the Bitcoin price created a bullish engulfing candlestick, reaching a high of $10,111 and a close only slightly below $10,000.
Currently, the price is very close to the $10,300 resistance area, which has been in place since September 2019. A breakout and close above this level could trigger a very rapid upward move. However, the price has been rejected each time it has reached this area, creating some type of bearish candlestick.
The current upward trend has been in place since March 12. Indicators show that while the price is still in an upward trend, the trend is losing strength. This is visible by the lower volume during the increase and MACD reading, which has been decreasing since June. However, the latter seems to have broken a bearish momentum trend, so there are mixed signals.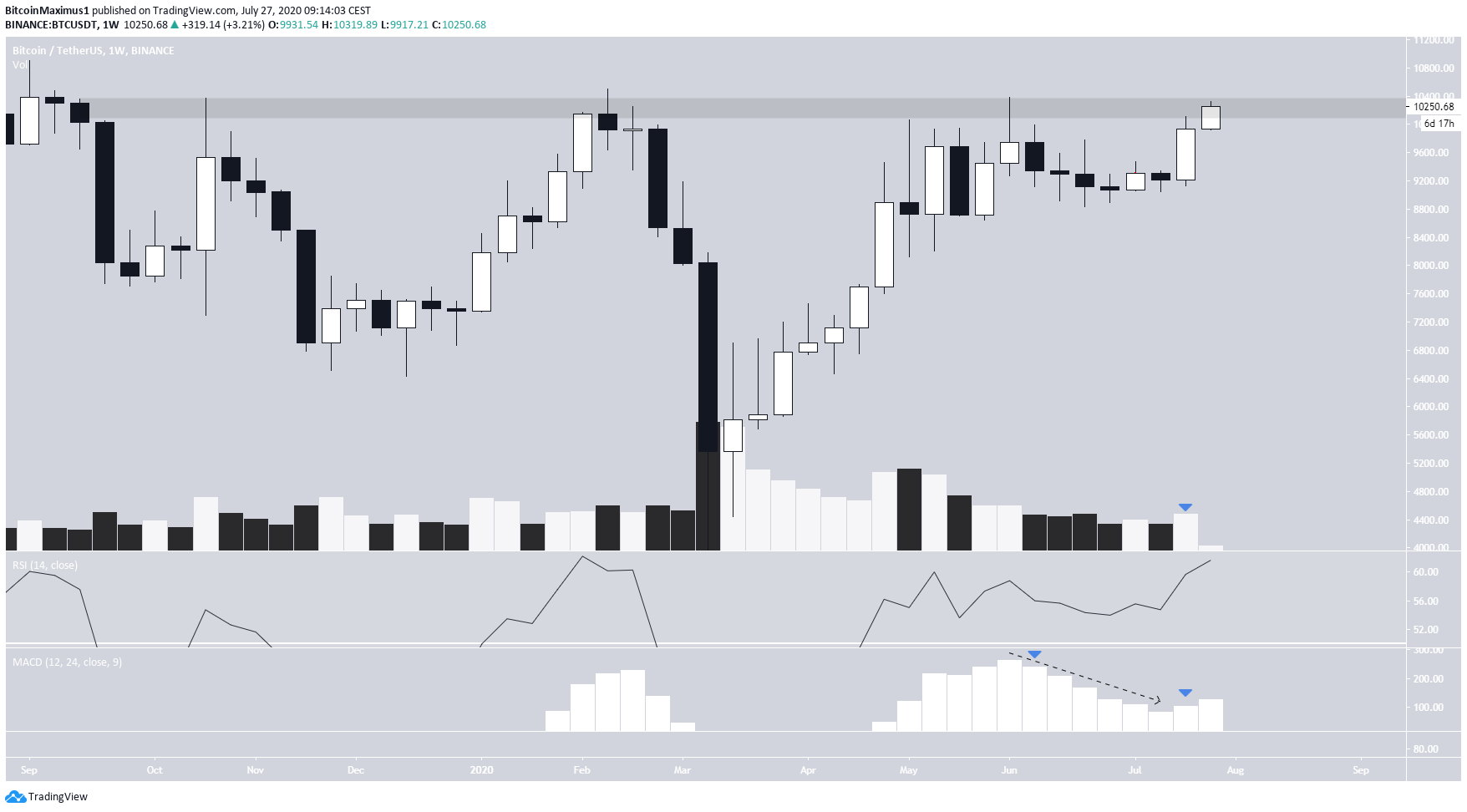 Strength of the Trend
The daily chart shows that the price has almost reached the June 1 high of $10,373. This would be a very likely reversal area if the price increases, possibly creating a double-top.
Technical indicators show that the trend is still strong. Volume was high yesterday, the MACD is increasing, and the RSI is not yet overbought, nor has it generated any type of bearish divergence.
Therefore, while the price is overextended, there are no clear reversal signs yet.
However, the hourly chart shows several reversal signs.
There is decreasing volume during the recent highs, the RSI has generated a bearish divergence, and the MACD has begun to lose steam.
Furthermore, the price has created a harami pattern, which, when coming after an upward move can be read as a reversal sign. Thus, while the trend is clearly bullish, a short-term pullback would be expected.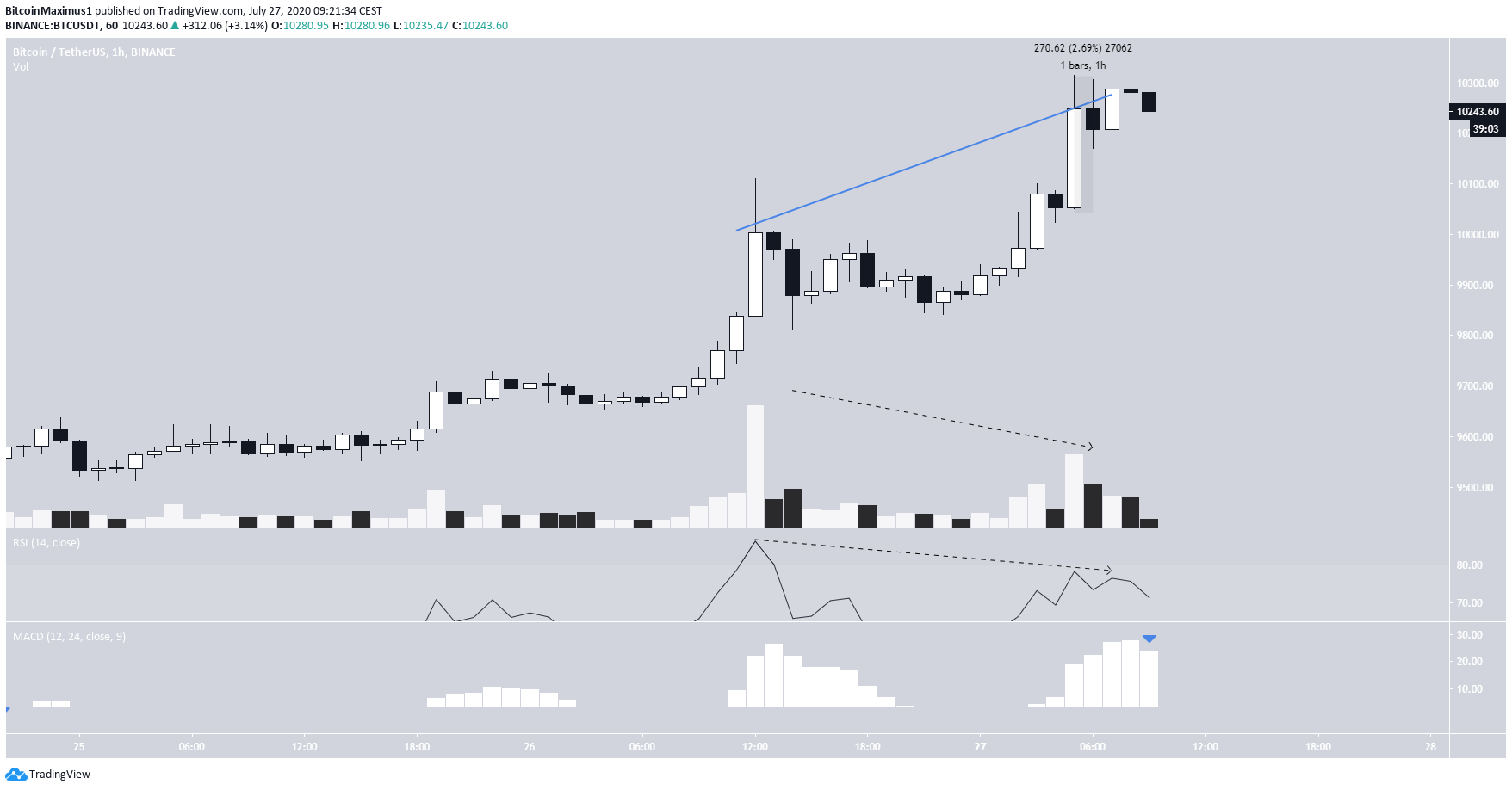 Wave Count
Beginning on July 6, BTC has seemingly begun a five-wave Elliott formation. Currently, it has just finished the third wave, which has become extended, or is very close to doing so.
We can also outline the sub-wave count for wave 3 (in green below). In it, the fifth wave has become extended. A common level for an extended fifth wave would be the 1.618 Fib of waves 1-3. This would give us a high of $10,440, only slightly above the June 1 high.
It is important to note that on June 1, the price first created a harami pattern, and followed that up by creating an evening star, a bearish candlestick pattern created by three candlesticks. This is a strong reversal sign, and its highs are expected to act as resistance in the future.
While we cannot determine reversal levels until the price actually reaches a high, a likely place for the impending wave 4 to end would be at the top of the previous channel at $9,800, or at its middle around $9,650.
A decrease below $9,450 would likely invalidate the wave count.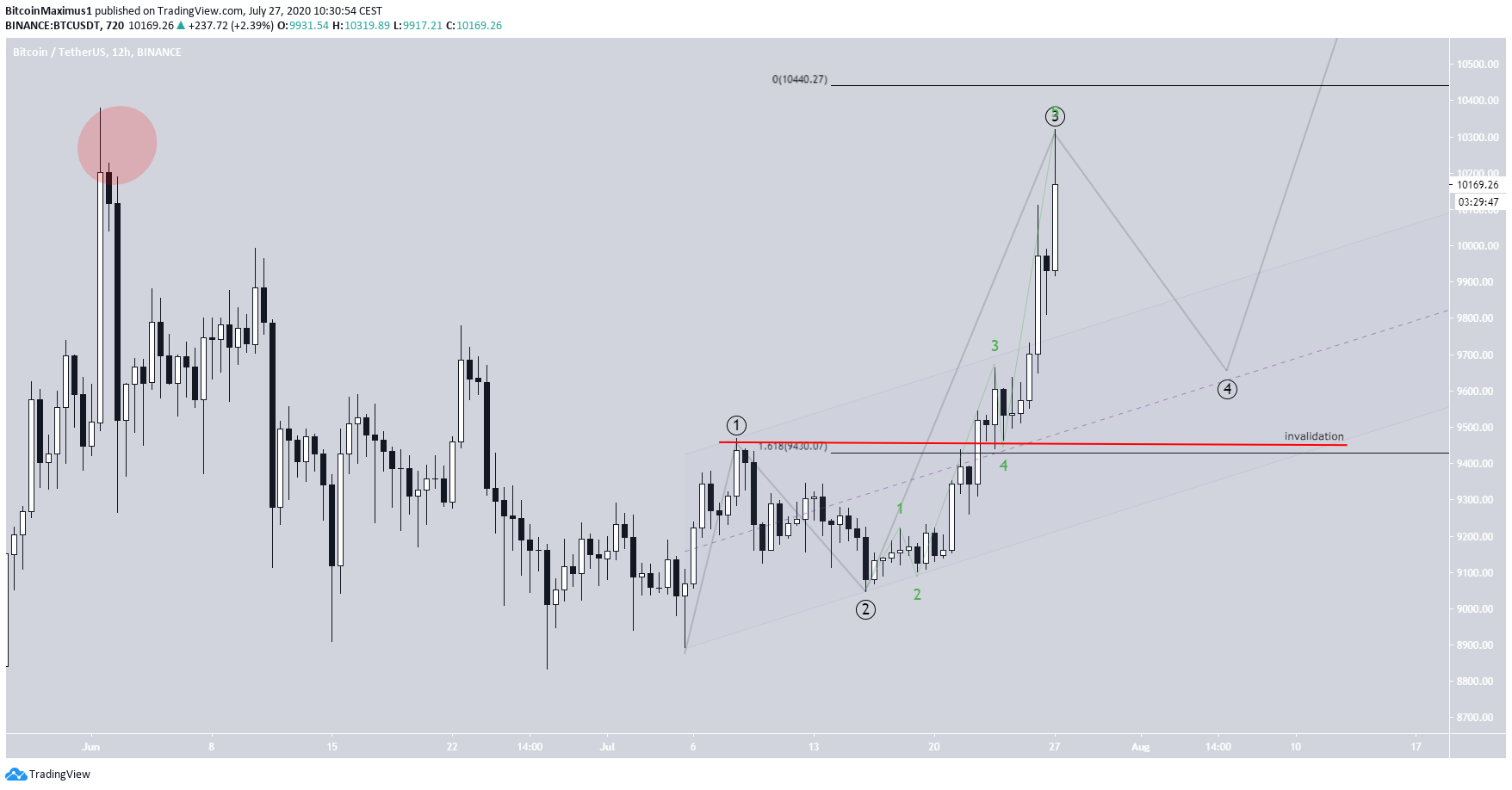 The shorter-term wave count indeed suggests that we are nearing the end of the move.
It is possible that the price will create another pump and reach the previous target of $10,440, but it does not seem likely that it will go much higher than that this time around.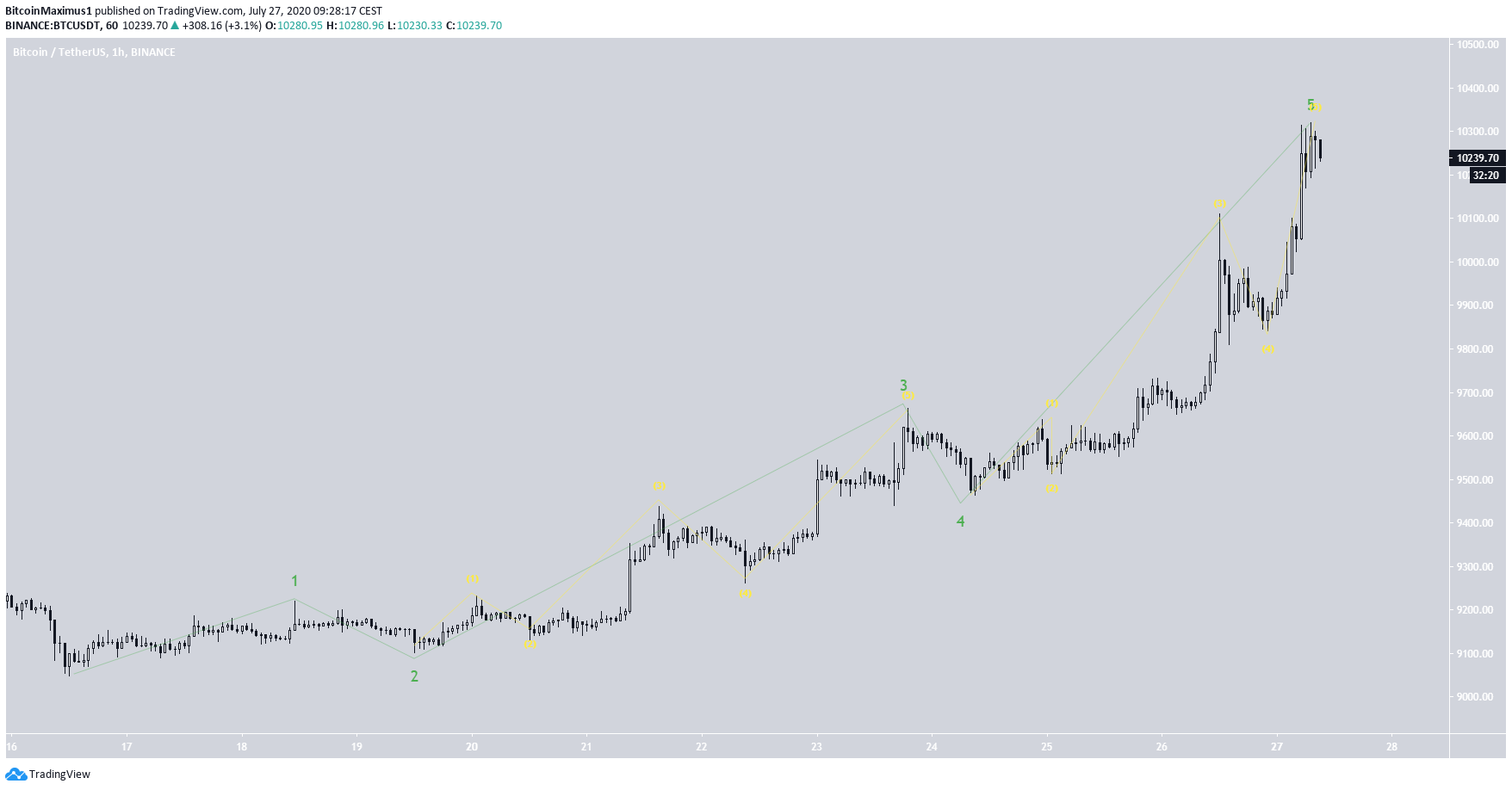 To conclude, while BTC is clearly in a bullish trend, it has reached a long-term resistance area. A short-term retracement is expected.
For our previous analysis, click here.
The post Bitcoin Cranks Back Above $10,000 With a Vengeance appeared first on BeInCrypto.
Source: Be In Crypto